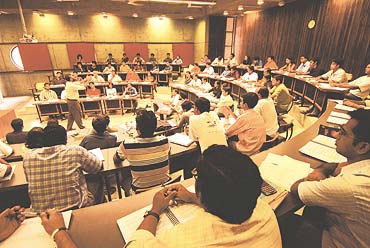 The Indian Institute of Management (IIM) have added 115 more seats this year but the overall registration for CAT  (Common Admission Test) has come down. The number of registrations have declined from 2.14 lakh      in 2012 to 1.94 this year recording the lowest in the last five years.
The number of CAT aspirants from Tamil Nadu has shown a dip of 6% over the last year. As against with 13,121 candidates in 2012, only 12,348 registered this time. The sudden decline is understandable due to the economy slowdown. The existing sentiments of the graduates that there is no job in the country despite a management degree has affected registration. Earlier MBA degree was a safe bet but now there are apprehensions whether it is worth it. With the B-school fees going up from Rs10 lakh to Rs15 lakh for the two-year course, many aspirants feel that the cost is too high compared to the returns after completion of the course.
A total of 115 seats have been added to the IIMs, taking the tally to 3,335 seats. Maharashtra has the highest number of registrations, at 25,333, followed by Uttar Pradesh, Delhi and Andhra Pradesh. Tamil Nadu comes fifth on the list, followed by Karnataka.