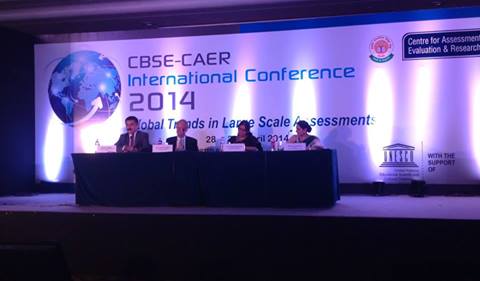 The Central Board of Secondary Education (CBSE) and Centre for Assessment and Evaluation Research (CAER) recently organized an event entitled "CBSE-CAER International Conference 2014". The purpose of the conference was to disseminate information on education assessments and global practices across India and the globe. It was also to provide a platform for constant sharing of ideas than can strengthen global education and contribute to enhancement of student performances in classrooms. Various stake holders participated in the conference which included academicians, policy makers, school educators and noted experts in the field of assessments.
Dr Sarita Manuja, Director, CAER, stated that the two-day conference saw the academicians indentifying national and international resources that will help meet the assessment needs and develop fruitful partnerships that will promote international exchange on ideas.
This collaborative effort of CBSE & CAER aims at providing a platform for knowledge sharing and dissemination. The conference was divided into four sessions, namely, Transitioning from Norm-referenced to Standards-referenced Assessment: Perspectives and Strategies, From Examinations to School-based Assessment: Opportunities and Challenges, Technology-enhanced Assessments: The Way Forward, and Approaches for Evidence-based Decision Making.
On the occasion Vineet Joshi, Chairman, CBSE, said "Our interaction with Pearson and CAER made us realise that we are better off de-emphasising external exams. It is very important that as educators we are not only able to provide in-depth education but we are also able to judge the potential of the child aptly. With CCE, CAER has shown us the way to help children develop themselves better."

The speakers, amongst others, included Shri Vineet Joshi(Chairman-CBSE), Dr. Sadhana Parashar, (Prof & Director -Academics, Research, Training and Innovations – CBSE), Prof. Jim Tognolini (Senior Vice President, Research and Assessment, Pearson plc. and Professorial Fellow, Wollongong University-Australia), Dr. Jon S. Twing (Executive Vice President, Pearson) and Prof Jo-Anne Baird (Director, Oxford University Centre for Educational Assessment) among others.

br>