A default purification of knowledge-transaction
Technology:
A recent TV commercial by GE shares a simple truth about technology: "…it doesn't discriminate between people, no matter who they are, where they're from…technology opens the door every day and tells that there is hope…". It is an undeniable fact that technology doesn't discriminate, offering its benefits (and limitations) to everybody who come to explore it. A classic example is the recent revolution in technology-enabled marketplace that has ushered a newer paradigm for the consumers.
I intended to buy a Sony tab from an online marketplace <ebay.in> where it was being offered at a much lower price than the MRP. It was as good as bought, but then eBay prompted a notification asking me to check the same commodity on a 'partner site' – <snapdeal.com> – which was offering the same thing at a price lower than eBay! Finally, I got my Sony Tab from Snapdeal!
As a buyer, I was delighted by the choices offered by both the marketplace sites Eventually, both the sites found a loyal and a returning customer in me. Such is the impact of marketplace! Sellers aim to satisfy the customers, while doing the right business.

An Eye-Opener:
Prof. PremVrat, Vice Chancellor, ITM University, in his talk during last year's World Education Summit, shared a research done on Private Engineering Colleges in India. Identifying some parameters as a direct influence to the performance of an educational institute. The study ranked, in terms of priority, the following: Quality of faculty, Teaching Learning process, Leadership, Quality of admissions, Alumni Relations, Physical Infrastructure, Collaboration, Sport Activities and Cultural Activities.
It then compared the 'what-shouldbe' ranks to the 'what-actually-is' ranks. The results were shocking!
The importance of Sports and Cultural activities is placed prior to that of Teaching-learning process and institutional leadership. While the parameters of Alumni Relations, Collaboration and Quality of Admissions were almost similarly treated, there was still a deferration from the ideal score. The biggest shocker, however, was the facts, that even though we have entered the age of online education and eLearning, institutes continue to prefer physical infrastructure over the quality of faculty. They perhaps forget that teachers make an educational institute, not the tall buildings or majestic domes. The research was published in the May 2013 issue of Industrial Engineering Journal. The objective of education has been marred by the intrusion of 'business vendors', who neither understand education nor respect it.
Am I against the Education-Business?
No, I am not against Education-business, but what worries me is the loss of the focus from the primary purpose of education. I started this article with a correlation of Technology with nondiscrimination and hope, now I shall try to elucidate with the following example of Online Learning Marketplace which is absolutely pro-student and non-discriminative to the Education Providers. The final hope that is summarized below is a hope of giving required importance to the Quality of Faculty and Teaching-Learning Process which is being diminished in the abovementioned research outcome!
Online Learning Marketplace (OLM)
OLM is a place where knowledge-transaction is considered as the primary purpose of the business. The conventional mentality sometimes hesitates to accept students as consumers, and teachers as sellers. But the fact remains unchanged that in knowledge transaction, students consume the knowledge imparted by the teacher.
Example:
The following example will illustrate how an OLM (online learning marketplace) benefits both the students and teachers/teaching institutes:
>> Let us suppose there is an Online Course on Robotics available on the OLM, from a premier institute like IIT; priced at `50,000/-.
>> A similar course on Robotics, with similar modules, is also available, but from a non-reputed Institute/ individual (Say XYZ); priced at `10,000/-.
>> The online marketplace is a smart ecosystem. Based on a built-in algorithm, it promotes the course from IIT, to students interested in the field of 'Robotics'. The course gets 1000 interested students (in Business jargon, we call them 'Leads'). Eventually, 50 students enrol in the IIT Robotics course (we can now safely call them 'Closed leads'). There are 950 students still interested in 'robotics' but may not be willing to pay such a high price.
>> By that same in-built algorithm, Online Learning Marketplace promotes the Robotics course from XYZ, to the rest of the 950 interested students (by the way, they are still 'leads', not 'closed leads').
>> Since the XYZ course is priced at a lower price, (with perhaps an added feature of 'money back guarantee'), 1% of the 950 join the course offered by XYZ.
>> As a thumb-rule, quality of education needs to be given priority in order for a course to be featured in OLM! As a result, XYZ imparts an excellent course to those 9-10 students who got enrolled.
>> 50% of the enrolled students give 'excellent feedback' on XYZ's course.
>> This feedback helps XYZ's course index better and gain a better searchability in the OLM.
>> As a direct consequence, the next batch of the same robotics course from XYZ will have every possibility of getting more students.
>>Slowly XYZ develops a brand and gains greater visibility. Thanks to the smart, default mechanism of the Online Learning Marketplace. l In this process, everyone wins; the IIT, the students and XYZ. The ultimate winner is theeducation!
Conclusion
If one understands the business of knowledge, and its primary purpose, the Online Learning Market place can be a place of huge success. It can bring great opportunities for online teachers as well as online learners; beyond our imagination. More importantly, it can strengthen the education fraternity by doing away with the nitty-gritties, through its default mechanism, thus making sure the focus lies on Knowledge-transaction alone.
An Online Learning Marketplace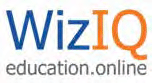 WizIQ.com is an Online Education Platform equipped with a state-of-the-art virtual classroom and other advanced teaching-learning tools for online delivery of courses.
The site has not stopped its efforts only by providing a set of teaching tools to the teachers; it has also endeavoured to create an Online Learning Marketplace (OLM) to strengthen the primary purpose of education. WizIQ connects teachers and learners via its OLM which eventually benefits learners to have access to the best teachers from their fields of interest and it also helps teachers to get learners for their courses. The inbuilt algorithm of Online Learning Marketplace of WizIQ provides a plethora of choices for the consumers (as learners) and helps the quality teachers to get more business through the default leaner-feedback based rankings in the online search.
This mechanism of WizIQ Online Learning Marketplace even assures a not-so popular teacher/teaching institute to improve its ranking just by focusing on the quality of teaching and delivery of the courses. If the teacher/ teaching institute focuses consistently on the knowledge-transaction and improves on student satisfaction/feedback, the search-rank gets better. This eventually makes the teacher/teaching institute to become comparable with the socalled branded teachers/institutes easily. Isn't it thought provoking?.
---
About the author:


Kalyan Sarkar presently takes care of Team Academic Liaisons at
WizIQ.com. He is an MSc & M Phil in Clinical Psychology. Before
joining WizIQ, he has served the Indian Air Force for more than 15
years; he also is credited with a degree in Mechanical Engineering
and a Masters in Mathematics. Readers may send their feedback
and queries to know more about Online Learning Marketplace @
WizIQ.com, to kalyan@wiziq.com.
---

br>