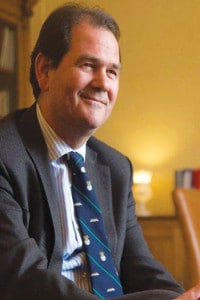 David Boddy, Principal Partner, Anglo School International Service (ASIS), gives an overview of the challenges and opportunities of studying abroad
What are the problems faced by students applying for overseas studies?
The opportunities to study via digital learning are limitless, but the greatest challenge is to have the motivation to keep going once a start has been made. Too many courses are uncompleted because distance or digital learning requires considerable amount of self motivation.
Which are the most favoured nations to study abroad and why?

Education opportunities are becoming universal. The UK and the US are most favoured as they are recognised all over the world. Digital learning is gaining credibility with employers fast, but it certainly helps when the awarding body of the degree is well known.
Tell us about the students' most preferred colleges and universities?
This depends on the course. Some of the less well known institutions are gaining high credibility because of the quality of their courses. Students should look for course, which provides what they are looking to learn and then consider the standing of the awarding body.
What are the eligibility criteria for students, who aspire to study abroad and does it seal a promising career?
These vary, but usually digital learning institutions want some evidence of previous academic ability and that the prospective student has the motivation to see the course through. Digital learning offers mature learners new opportunities, so often a reference from an employer, plus a work experience, helps a student get enrolled in a course.
What is the visa requirement for students, who opt to study outside India?
It depends on each country and how much of the digital learning course may be spent abroad.
What is the expenditure that a student has to bear to study abroad and what is the scope of getting scholarships for the students?
Not many institutions offer scholarships for digital learning, but I predict that in the future they will come. Where distance learning courses are in modules, expenditures on a module by module basis are within the capacity of most working people, who are looking to upgrade their qualifications. Students should always shop around, but should be aware that the cheapest course is not usually the best.
Do the agencies, which send students abroad to study, take care of the safety and security of the students?
Yes, the institutions to which they go take care of all forms of security and they are very good at it.

br>