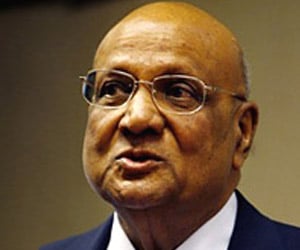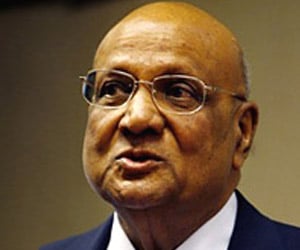 NRI industrialist Lord Swraj Paul has been honoured with a Lifetime Achievement Award in recognition for his work in elevating Indo-UK educational ties.

"It is always nice to know when your own community recognises you," Lord Paul said in reference to the award presented to him by the Global Skill Tree consortium at a gala ceremony at Madame Tussauds waxworks museum on Tuesday night.
"Education is one field India can be a world leader in. We need universities in India, which are world class and education needs to be the first thing on the agenda of any Indian government. The new government has started talking about it and I hope they stick to it," said Paul, Caparo Group chief and Chancellor of two major UK universities – Wolverhampton and Westminster.
Other key awardees of the evening included his niece Sushma Berlia, president of the well-known Apeejay Stya Paul Group of Education in India.
She was among a select few Indian educationists to be awarded an international certificate and award for her role in "promoting the credibility of Indian education within India and globally".
Apeejay Stya University is credited as being the first to initiate and promote liberal studies since its establishment under one of India's noted visionaries, the late Dr Stya Paul – brother of Lord Swraj Paul.
"Education does not have boundaries and this is a very opportune time, as a new government takes over in India, to have a proactive policy in the field of Indo-UK educational exchange," Berlia said.
"This is one field where the more we share, the richer we will become. Apeejay was founded 48 years ago by my father, Dr Stya Paul, who was the inspiration behind this institution based on human values and excellence.
"Over the years, we have invented and re-invented and gained from a lot of knowledge sharing with collaborations in India and internationally. With Britain, there is a strong shared history that we can build on," she added.
Global Skill Tree is an India-based think tank which has launched a new 'Great Place to Study – India' initiative to promote India as a global hub of international education in the coming years.
India's first consortium of Indian private universities and institutions is backed by Lavasa Corporation Limited, the construction giant behind a first-of-its-kind hill city in India.
"The thinking behind this new platform and new initiative is that India is great in everything and can be great in education as well," said Shekhar Bhattacharjee, founder of Global Skill Tree.
Whistling Woods International film school, XLRI, Manipal University and Yenepoya University were among some of the other Indian educational institutions recognised with awards, which were presented by Dame Asha Khemka, chairperson of the Association of Colleges in India and only the second Indian-origin woman to be awarded a Damehood by Britain's Queen this year.
British Indian lawyer Sarosh Zaiwalla, Liberal Democrat parliamentarian Lord Navnit Dholakia and NRI businessman Richie Nanda were also recognised with Global Leader Awards for their work in the fields of law, race relations and entrepreneurship respectively.