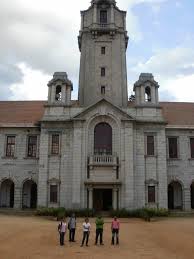 The Indian Institute of Science (IISc) has emerged as India's new No 1 in the latest rankings for universities from BRICS and other emerging economies. The Times Higher Education (THE) Rankings 2015 has placed Bangalore-based IISc at No 25 in the overall 100, topped by China's Peking University.
According to the latest rankings, India has four varsities in the top 40 –- IISc, IIT Bombay (37), IIT Roorkee (38) and Chandigarh's Panjab University (39) -– and seven more in the top 100. "There is some good news for India as it has universities in the top 100, which is a good sign and it also has entirely new entrants arriving in the higher echelons of the table," said Phil Baty, editor of the Times Higher Education Rankings.
Baty, however, said there are "some major challenges for India's higher education system and there is clearly a national priority to improve quality across the system." "These leading universities need special extra levels of funding to stay competitive and pay competitive salaries. They also need improvements to infrastructure and there is a need to invest more in research as well as teaching," he added.
The other seven universities that complete India's tally of 11 institutions in the 2015 list — up from 10 last year — are: IITs Kharagpur (43), Madras (44), and Delhi (56). The Jawaharlal Nehru University (71), IIT Kanpur (74), Aligarh Muslim University (78) and IIT Guwahati (98). Some 22 countries classified as emerging economies by FTSE have been analysed for the rankings, including Brazil, Russia, India, China, South Africa (BRICS).
China has dramatically strengthened its position as the number one nation of the emerging economies, matching its economic dominance with rapidly improving universities. "The big story this year is that China dominate these tables so powerfully and has increased its dominance yet further," said Baty. "India for example is some distance behind China and this should be a concern for India's future economic strength and its global competitiveness," he said. The new annual tables are based on a comprehensive range of 13 separate, rigorous performance indicators used to create the definitive The World University Rankings, covering all aspects of the modern university's core missions (teaching, research, knowledge transfer and international outlook).
The indicators have been specially recalibrated to better reflect the character and development priorities of universities in emerging economies. The top five after Perking University is completed by China's Tsinghua University, Turkey's Middle East Technical University, University of Cape Town and MV Lomonosov Moscow State University, respectively.

Follow and connect with us on Facebook, Twitter, LinkedIn, Elets video
>