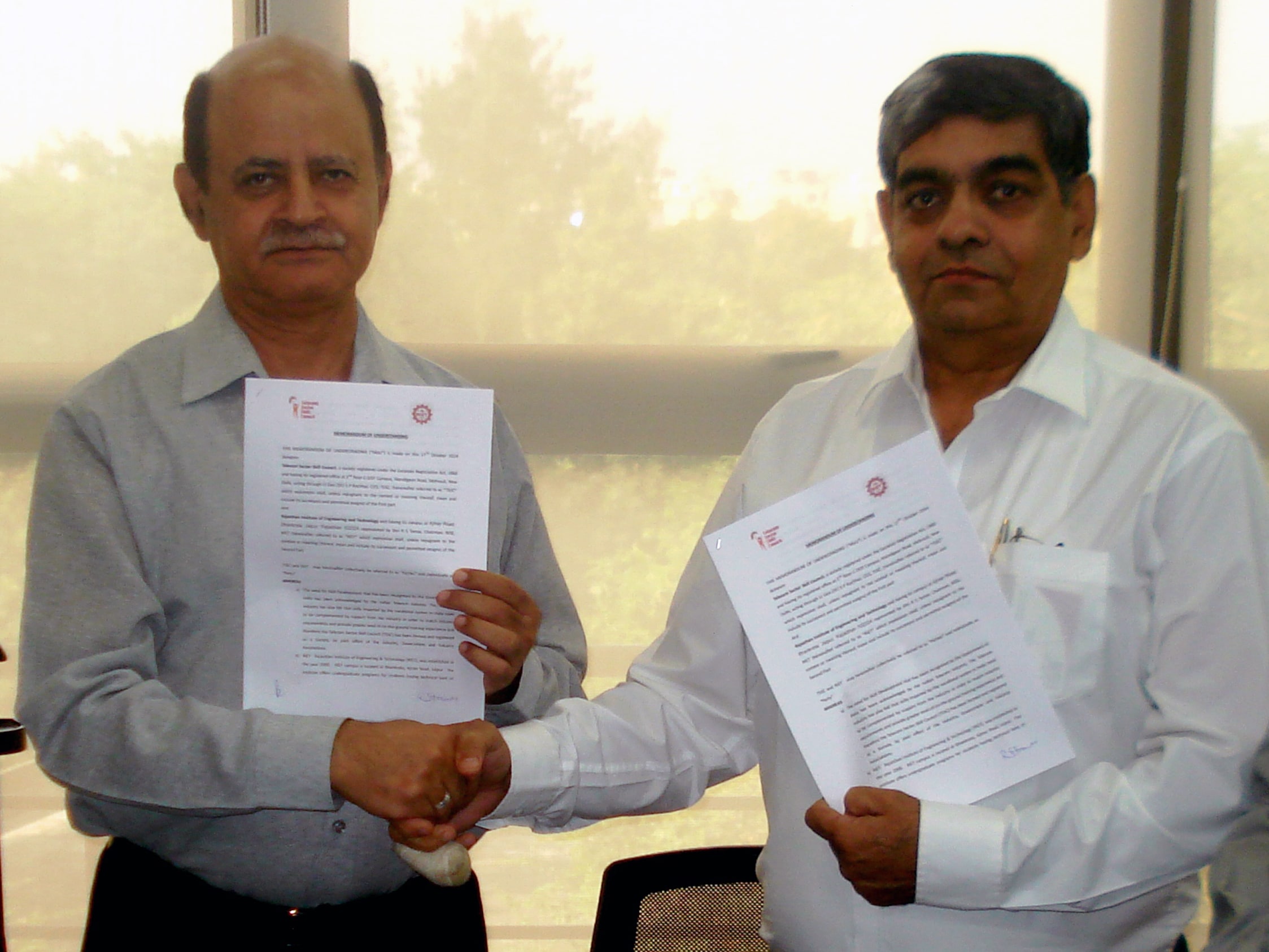 Rajasthan Institute of Engineering & Technology (RIET) Jaipur has become the first technical institute to provide soft skill training in association with Telecom Sector Skill Council (TSSC). RIET has signed an exclusive MoU with TSSC, a society registered under the Societies Registrations Act, based in New Delhi.
These technical courses will create ample job opportunities for all potential aspirants from Rajasthan and other parts of the country. The courses will provide theoretical as well as practical knowledge about every aspect of the telecom industry and make them eligible through their certification, to face all challenges in future.
Kr. Bhim Singh, Chairman, RIET, Jaipur said, "We are proud to sign this historic MoU with TSSC to provide skilled professionals in the telecom industry of the country. The Indian telecom sector is one of the fastest growing sectors in the world and is projected to become the second largest telecom market globally. With newer technologies such as 3G and WIMAX entering the market, the sector has opened up enormous opportunities to all potential candidates, who can complete a technical course and for getting a respectable employment in future. I wish everyone best of luck and congratulations for their future endeavours."
TSSC will also provide the necessary support through guest lectures and arranging mid-term and extended internship projects for the students to gain experience on real-time data, projects and research papers at TSSC.
Lt Gen (Dr) S P Kochhar, CEO, Telecom Sector Skill Council (TSSC) said, "This MoU marks an important step for RIET and the aspirants of Rajasthan as these  programmes aspire to bring together academia and industry in the larger interest of telecom and IT sectors and is also an example of private-public partnership. Though the telecom sector is on the path of exponential growth, there is an acute shortage of skilled professionals equipped with both managerial acumen and technical know-how. Further the collaboration with RIET will also provide the aspirants to access the state-of-the-art research capabilities offered by the RIET members"
 There is a huge demand for qualified and skilled professionals with knowledge and technical know-how in these fields. The telecom revolution in India has been quite exceptional, with so many new players entering the market and existent players expanding operations. While the sector has been one of the largest employers in the last decade, it would still need around 2,75,000 people by 2015. The challenge here would be to get the right talent
 TSSC has a long history of developing similar programs with universities and colleges across India to create talent in-tune with the needs of a constantly evolving market. Prime Minister Narendra Modi promises to transform India into a connected knowledge economy offering world class services at the click of a mouse. This will be implemented in the phased manner by 2019, including ongoing enabling projects run both by telecom and electronics departments. So, there will be a huge demand for the skilled professionals for jobs both RIET and TSSC will mutually find out the skills in order to match industry requirements to provide greater level of on-the ground training experience.
 Both RIET and TSSC will jointly identify the job role that is necessary for training and placement for the students. They also agreed to set up Center of Excellence in order to identify job roles, validate occupational standards, training and assessment framework and pilots conducted both by RIET and TSSC.
 RIET will also use TSSC MOOCs platform for delivery of courses offered in TSSC's LMS. On the other hand, RIET will also provide infrastructure which will be used by either TSSC trainers from the college affiliated training provider to conduct TSSC approved courses. This facility is not only open to the students of RIET but also to the neighboring residents of RIET.

br>