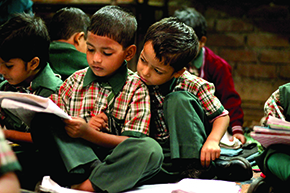 In a bid to reduce drop outs from schools, Gujarat government is emphasising on educating the economically weaker sections while announcing to allocate Rs.3000 to per child apart from already sanctioned Rs.10,000 which gets reimbursed per child annually for those studying in private schools.
This decision was taken under 25 per cent reservation clause under the RTE Act for economically weaker section disadvantage group who study at the private schools. The Gujarat government has allocate a total of 12.92 crore for academic session 2015-16 for almost 30,000 students studying in private schools. For non-tribal areas Rs.10.20 crore has been reserved by the government and remaining 1.81crore has been allocated to the students who are from various other tribal areas and from other reserved categories.

The government is also spending on providing school uniforms, shoes, books, transportation and school bags to these students. It may be mentioned here that according to Right To Education Act, the government has demanded from all the private schools to reserve 25 per cent seats for admission to economically weaker section of society and other backward classes students.
According to the Right to education act, Right of Children to Free and Compulsory Education (RTE) Act, 2009, which represents the consequential legislation envisaged under Article 21-A, means that every child has a right to full time elementary education of satisfactory and equitable quality in a formal school which satisfies certain essential norms and standards.