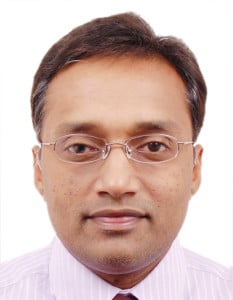 The Indian market is yet to mature in terms of adopting technology for improving peoples' lives, says Praveen Gupta, founder, bus-i.com., low cost smartphone based real-time safety and tracking solution that is a boon for helping with safety of students.
Give us the brief of the various reasons behind starting Bus-i.com?
A massive section of our school going kids are left vulnerable due to the unpredictability of our roads, rivers, and railway crossings. With incidents of natural disasters that left students marooned in their schools – like the Mumbai floods and the more recent train-school bus disaster in Medak, Telangana  –  parents are increasingly seeking more visibility about the safety of their children from the schools.
It is unfortunate that such disasters end up taking more lives because our rescue and salvage teams are unable to locate the disaster site within the crucial first 30 minutes of the disaster striking. In this age of omnipresent mobile waves and devices, it is natural to expect real-time data on students' locations, status, so that the stakeholders (school authorities, rescue teams and parents) are able to quickly locate the last location of the disaster and respond to it instead of losing valuable time trying to locate the address.
All this led us to the conceptualisation of Bus-i.com, a low cost smartphone based real-time safety and tracking solution that has no human interface whatsoever from installation to usage. The absence of human interface means that the solution is unconditionally and forever free for non-profit schools that cater to the poor and the under-privileged. This is a disruptive change in the area of GPS based tracking solutions, and will be a positive change in the way our schools view child safety and security.
What are the various difficulties and hurdles encountered in doing business on ground level?
The Indian market is yet to mature in terms of adopting technology for improving peoples' lives. Instances where existing schools workers refuse to even try a new technology are common, even if the technology is simple and layman friendly. It is a perception that technology can be difficult to manage and maintain, and it comes at a prohibitive cost. It takes time to break such perceptions.
Most large schools have procurement departments with excessive bureaucracy and stringent vendor qualification criteria, because of which they are averse to taking a cloud based solution with no face to attach to the vendor. This again is driven by our old way of working. As internet awareness grows, we expect this issue to die down.
Additionally, many businesses, including schools in India, do not wish to provide excessive transparency in their way of working, as it sometimes raises unwelcome questions from concerned parents. For example, a bus stopping genuinely for some purpose would now raise the curiosity of parents on the reason for a stoppage, as they can view the bus running status all the time. Without this technology, they probably would not care if the bus was a few minutes late.
What is the market size of the services offered by you in India at present?
The size of the student population in India is the second largest in the world, with 24.6 per cent of its population in the age group of 5 to 14 years. A vast section of the 25.3 crore children in that age group use one of these means of daily commute – buses, omni-vans, tri-wheelers and rickshaws. That makes the market size as big as the size of the student population in India.
What are the major benefit for organisations and individuals adopting your solutions?
Schools and BPO companies use this product to provide complete visibility of the commute to students' parents and employees. They create a strong premium perception by showing to the students' parents, and their employees that their time is valuable, and their safety is of paramount importance.
The vision of your company for next two years?
Bus-i.com is seeking to expand as a viral offering across most sectors where vehicle tracking is the primary requirement. As such, we have a vision to educate the market in utilising the power of smart-phones to improve their clients' safety and security.
What are the various methods you are using to increase the visibility of your organisation?
We are primarily using the power of social media to advertise our services and to create awareness about the potential that we offer to medium to large schools, and IT/BPO companies. In addition, we also have alliances with existing school software providers like Edusols to ensure the reach of our product across different states in India. We are also running internship programmes in educational institutes like GRIET to gain greater access to the education sector and community.
How you can differentiate you services from your competitors?
Self-service setup, zero upfront capital investment, and cloud based anywhere-access are the three primary reasons why we are superior to any existing student tracking and safety solutions. In addition, our revenue model is directly from parents, and we never charge the schools, thereby helping the schools make an effortless procurement decision.
Ways of engaging the customers with you. Any special case study?
Our primary mode of engagement is through pull-based social media marketing, so a client signing up online for free or reaching out to us via email is provided with a fully functional subscriber account which they can use immediately to track their vehicles. The exceptionally short time-to-market for the solution helps our clients get up and running within a day. The remote controlled setup also ensures that we are not constrained by the location of the client. For example, we have a client called Indian School, at Ibri, Oman who were setup completely through our remote management interface, without anyone from our team travelling to Oman. Such flexibility is unheard of in competing products or solutions.
What are the major stakeholders and sectors you are focussing on?
Our focus is limited to three sets of stakeholders and sectors, comprising parents and schools, employees and BPO firms and tourists and Tour Operators
What are the various initiatives taken by your organisation to emerge as a market leader?
We are presently seeking funding to move from a social media based sales and marketing to a field-force and mass media based marketing. As we grow, we are also banking on our relationships in African countries to grow the solution in emerging economies of Africa like Zimbabwe, Nigeria, Egypt etc. We are confident about gaining market share in south-east Asia and Middle-East as well, provided we have the resources and capital to take the solution to those markets.
"Exciting news! Elets Education is now on WhatsApp Channels Subscribe today by clicking the link and stay updated with the latest insights!"
Click here!