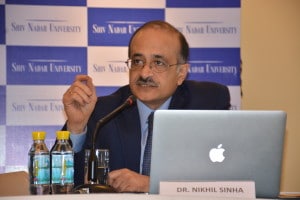 Shiv Nadar University is inviting applications for Academic Year 2015-16 for undergraduate, post graduate and doctoral programmes across the School of Engineering (Computer Science, Electrical, Electronics and Communications, Mechanical, Civil and Chemical Engineering), Humanities and Social Sciences (Economics, English, History, Sociology, Communication and Design and Performing Arts), Natural Sciences (Physics, Chemistry, Life Sciences, Mathematics and Big Data Analytics) and Management and Entrepreneurship (Business Administration).
The last date for receiving the application forms for undergraduate courses in June 2, 2015 and for post graduate doctoral programmes in May 30, 2015. Besides, the university has also launched two new post graduate programmes namely Master of Fine Arts in Film and Television Production and a PG Diploma in Theatre for Education and Social Transformation (TEST).

The university is also offering 14 undergraduate degree programmes, 12 post graduate programmes, and 13 doctoral programmes. With a vision to make the students job ready, the SNU has made an impressive start in terms of student placements. 96 per cent of the students who applied for campus placement have secured position in top companies including top ranked Indian and global names in e-commerce, engineering, construction, IT services and products and consulting.
Nikhil Sinha, Founding Vice Chancellor, Shiv Nadar University said, "Shiv Nadar University has been committed to its mission of multi-disciplinary learning, a student-centric approach and a strong focus on research. This is an exciting time for us. We are seeing the results of this unique approach with SNU students securing job offers from top organisations and admissions to some of the most respected international institutions. We will continue to look at adding innovative choices to our multidisciplinary curriculum to allow our students to take advantage of emerging opportunities."
The details of admission to various programmes are available on University website.