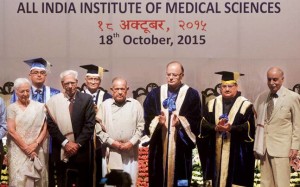 With the aim of reducing the burden of patients in AIIMS, the government is set to expand the network of medical colleges in India. While speaking at the 43rd annual convocation of AIIMS, Finance Minister Arun Jaitley said that the network of medical colleges in the country is set for expansion in a big way. He also pushed for relaxation in medical council and the municipal norms to achieve the desired goal.
He stressed on the need of more medical colleges as both public and private sector education has expanded but medical colleges are still inadequate. "A review of the policy is required as far as increasing the number of medical schools is concerned," he said.

The Finance Minister opined that over involvement in the past had led to crisis for AIIMS and asked the ministry of health to play a supportive role without getting into micro-management of the institution.
He also insisted on the fact that the medical colleges attach huge importance to the promotion of high-quality tertiary care services and expansion of medical education in the country.

"We need to expand quality institutions.  There are many restraints like unavailability of contiguous land and inability to have medical colleges next to it. All this needs a serious review. We have ready-made hospitals of excellence which have worked for decades and there is no reason why, by relaxing municipal laws and medical council regulations, we are not able to encourage the expansion of a few hundred more medical colleges in India," Jaitley said.