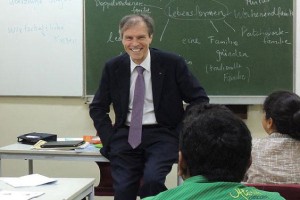 In an MoU signed between Germany and India, the Kendriya Vidyalayas will now impart German as an additional foreign language while modern Indian languages will be taught in Germany, a senior official informed.
"German will be taught as an additional foreign language," Foreign Secretary S Jaishankar has said. He added that side by side modern Indian languages will be taught in Germany.

An MoU was signed between the two countries on the occasion of German Chancellor Angela Merkel's visit and under the understanding, a pact will be signed between the KV and Max Mueller Bhavan to formalise the arrangement.
This marks an end to the controversey which had erupted about a year after KVs decided to stop teaching German as third language and replaced it with Sanskrit.
The governing board of KV had in its meeting on October 27 last year directed that teaching of German language as an option instead of Sanskrit be discontinued.
The new understanding is a sharp departure from the earlier agreement of 2011 between the two countries to offer German as a third language in the KVs.
HRD Minister Smriti Irani has been maintaining that teaching German was against the spirit of the three-language formula and violated the national education policy.
The KV's decision had triggered an uproar and had threatened to derail ties between the two countries. The government, though, had announced that German would continue to be taught as an additional or hobby subject from class VI to VIII.