The Dayananda Sagar Schools and Colleges of Science, Engineering, Health Science, Arts and Commerce are pioneering institutions founded by Late Shri Dayananda Sagar in the early 1960s. A front-runner in the field of education today, Dayananda Sagar institutions (DSI) operate under the aegis of the Mahatma Gandhi Vidya Peetha Trust, in Bengaluru. "DSI's commitment to internationalisation is demonstrated in its collaborative research and exchange programmes involving global institutions. Besides our high-calibre faculty, the students are given a challenging academic environment with well-equipped resources such as lecture theatres, laboratories, libraries and networking computers," says Dr A N N Murthy, Vice-Chancellor, Dayanand Sagar University, in an exclusive interview with Sudheer Goutham and T Radhakrishna of Elets News Network (ENN)
After five decades of active presence in education, The Management of Dayanand Sagar Institution (DSI) has established a new private university called Dayananda Sagar University (DSU) in 2015-2016 academic year. How DSU envisions its way ahead?
We wish to reach top 10 research based University rank. We are confident of achieving this goal with the collective support of highly accomplished faculty, state-of-the-art facilities and resources, including ultra modern labs, and experienced global academicians and experience in R&D.

Which are the programs that DSU offers? Share more light on the Engineering branch?
Our institutions are characterized by the quality of education across a broad range of disciplines from Pre-University Courses (PUC) to Post-Graduation and Doctoral Programs, including Engineering, Business Management, Pharmacy, Dental, and Nursing. The DSU in its academic program is offering B.Tech courses in Computer Science, Electronics & Communication and Mechanical Engineering during the academic year 2015-16.In addition, under Engineering, we have initiated M.Tech programs with specialization in Big Data, Cloud Computing, Internet of Things, Embedded Systems, and Design Engineering. Each of these M.Tech programs are driven by Industry needs with experts from Industry participating as Adjunct faculty. Automotive Electronics is one such area.
How these programs are different from others?
Our programs are unique as we bring a lot of importance to these programs and value to students pursuing these courses. Apart from academics, we facilitate regular interactions between industry professional and students. We also provide onsite training opportunities for the benefit of students. Our programs and their curriculums are upgraded periodically as per the needs of the industry. Accordingly, projects are being done in the beginning of the second semester in M. Tech. After the second semester and before the commencement of the third semester, we will have industry leaders visiting our campus to interact with students. Electives will be decided by the students and by the company. This will mainly focus on the requirement of industry, leading to employability.
We are extending this practice to undergraduates too in final year. There is an unique program at Under Graduate level B.Tech Computer Technology with emphasis on entrepreneurship helping those who want to become entrepreneur in ICT. Under the program, students will be interviewed by the panel of industry personnel to assess student interest in becoming an entrepreneur. The team will see how students want to convert their ideas into business plans. Here the focus lies on two sets – one on computer technology, another on entrepreneurship. The industry expert will mentor and help students convert their ideas into a business plan within the span of four years. By the end of the course, students have potential to become entrepreneur as well as a B. Tech graduate. In case, he is not able to start his own business, the experience that he gains through the constant interactions/exercises will help him to become a productive employee.
The DSU on Hosur Road, Bangalore has been named as Innovation Campus, which is highlighted with a tagline 'Walk in with your ideas and transform it into a product'. Give us details?
This space of DSU is a startup village in the campus for innovation and entrepreneurship. It has a unique working model on 'Make in India' by creating an ecosystem for the ICT space and other verticals, including e-commerce. This space is a ready to manufacture, start-off and go-to-market facilities. This resource is open to any individual, our students and ambitious entrepreneurs. We have set up innovation labs in collaboration with multi-national technology based industry such as AUTODESK, Bosch Rexroth, IBM, VMWare, and Bosch Etas. For example AUTODESK Center helps in Design, Analysis, Modelling. An individual can carry out his ideation through 3D model with the help of 3D-printer. Then he can demonstrate it to the owner, and display it to the company. Keeping demand for this concept in mind, we will soon open 11 labs covering different aspects of ICT.
Our programmes and their curricula are upgraded periodically as per the needs of the industry. Accordingly, projects are being done in the beginning of the second semester in M.Tech with focus on the requirements of the industry, leading to employability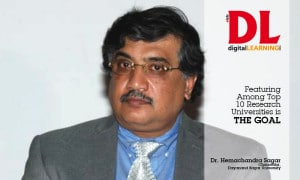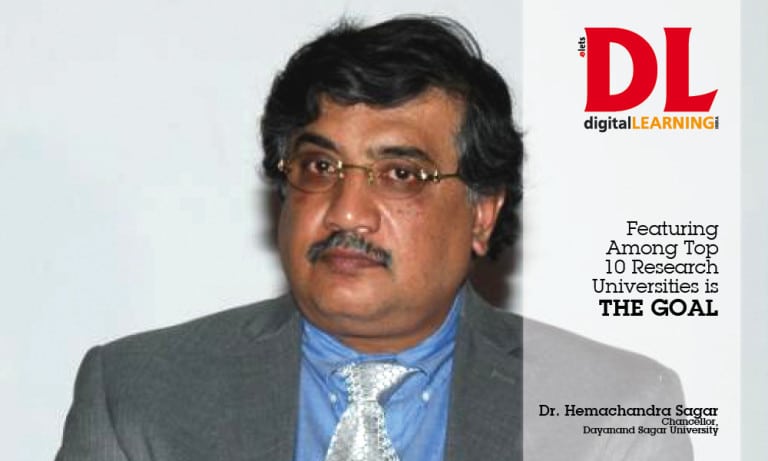 Five years from now where do you see DSU positioning itself?
Dr D Hemachandra Sagar (Chancellor) and Dr D Premchandra Sagar (Pro- Chancellor) have a big vision for Dayanand Sagar University. They wish DSU to be among Top premier Universities in the world. We will grow strength by strength to achieve the goal. As part of the expansion plan, we are setting up a new campus. In another four years, our new campus will come up on 128 acres of land on Kanakapur Road in Bengaluru. The DSU Innovation Campus will compliment the new one. I visualize that in another six years, all streams put together, the annual intake of students in DSU will be around 4000.
What were the challenges you have faced?
We have faced several challenges. Key challenge was convincing technology companies to join the academia like DSU and work with us. Earlier, many technology companies were of the view that faculty members and students were not exposed to latest technologies. Similarly, education institutions felt that technology companies were not interested in working closely with the academia. After continuous efforts for some time, we were able to bring a change in this perception. Today, some of the global companies have joined DSU's initiatives, working closely with us.
What are the challenges that you see in reaching the goal?
We know that achieving set goal as mentioned earlier is very tough. We see several challenges in the process towards our goal. The biggest challenge we see is to have qualified faculty. To deal with it, we need to evolve faculty development program regularly. The University's Board of Studies has participation from IT Industry (40 percent) and Academia and Research (60 percent). The Board will take a consensus on the syllabus. I am quite happy with the content that we have prepared. Now, the challenge is to deliver it. We are working on several models to deliver the content with the support of the industry and other premier academic & research institutions.
How do you plan dealing with faculty recruitment?
For recruitment, we prefer referrals and also direct enquiries from qualified individuals with industry experience. We are also in touch with reputed institutions such as IITs and IISc for this purpose.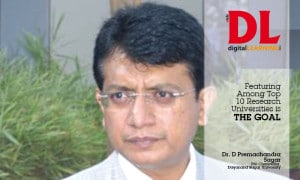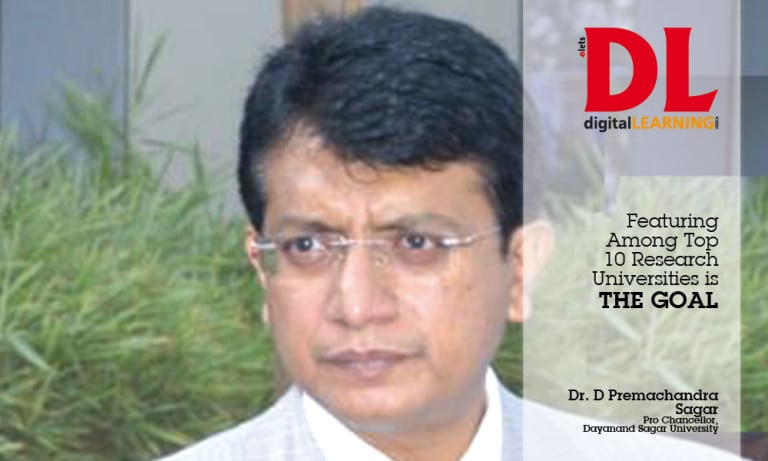 What are the memborable events in your journey as Vice Chancellor?
Dr. D Hemachandra Sagar (Chancellor) and Dr. D Premchandra Sagar (Pro- Chancellor) have faith in me and have given freedom, allowing me to think and take up initiatives. The network I have developed with IITs, IISc, National Labs, IIMs and Departments at State level as well as National level is helping us in executing development plans we have planned.
Follow and connect with us on Facebook, Twitter, LinkedIn, Elets video
>