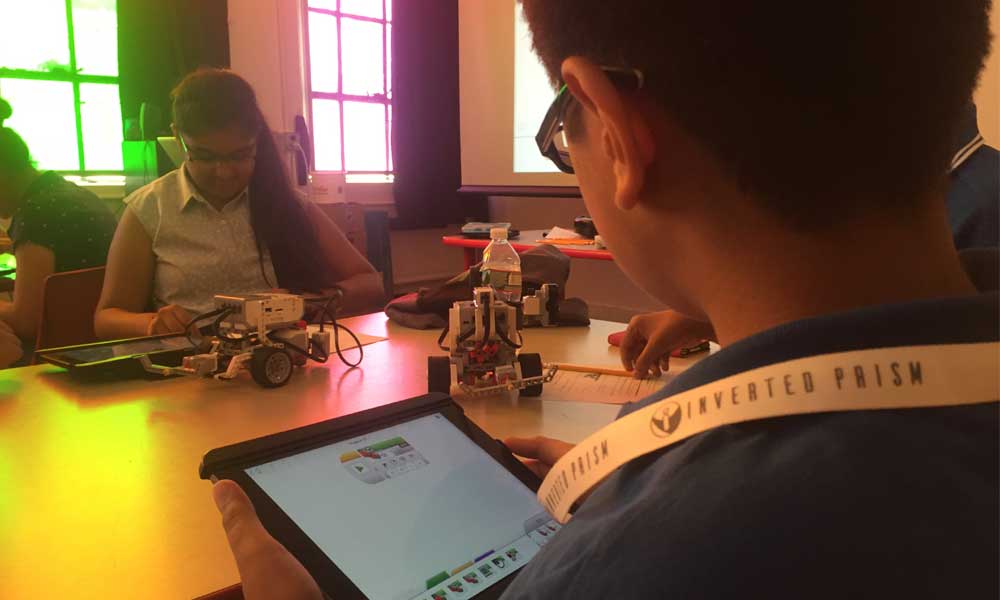 At Inverted Prism, the focus is to help schools deliver curriculum using an engaging methodology, to help students to be better placed to make career choices and to help students be equipped (skill wise) to excel in their future personal and professional lives, through activities, projects, and sessions built into our Programs, for students to develop a more intimate understanding of the same, said Nakul Jain and Sahil Sharma, Co-Founders, Inverted Prism, in conversation with Elets News Network (ENN).
What inspired you to launch such an initiative?
?Having worked in the corporate space around the world with multiple nationalities, and being involved with hiring and training young Indian graduates and post graduates, we noticed two common problems. First was employability, with which to which with the changing market scenario is becoming an even bigger concern. Our students need to be equipped with the skills to recognize, adapt and respond to the ever changing market needs, to be relevant and successful. We wanted to address this corporate / professional and institutional gap, and therefore we built a comprehensive 1-2 year program, as building these skills require constant engagement.
A bigger problem that exists among Millennials is the high rate of dissatisfaction with their jobs and careers.
We feel this is related to lack of awareness and engagement with careers beyond the conventional and popular choices of engineering and medicine that we, as a society, expect our children to take up. Keeping aside the statistics that point that there is soon going to be an oversupply of engineers in the market, leading to unemployable manpower, the fact that a huge section of the youth switches careers after their graduation and often even after post graduation, clearly points that we are not starting right with career choices.
At Inverted Prism, we have tried to move beyond the conventional career counselling methodology, and mapped a wide array of careers through activities, projects, and sessions, into our Programs for our students to have a more intimate understanding of these careers. These include the lesser known options such as Wildlife Management, Museum Curation, Heritage Management, Production Design etc. to the more popular ones like Robotics Engineering and Aerospace Engineering.
We are partnering with Schools to offer curriculum delivery Programs that employ an Engagement based Pedagogy, for multiple disciplines like Social Sciences and Science. We also try to make our programs more relevant by drawing relationships between what they study and their application, termed as an Application Based Methodology.  
Before business leaders, we are learners who paid close attention to what worked for us and our friends and what did not, whether it was curriculum delivery, career selection, or skill building. We are simply trying to address these three challenges that students and schools face these days .
What was the most challenging part of setting up your company?
To help schools with value and quality, and to deliver on the trust that is bestowed on us, a strong team is of prime importance. We have built a team of educators, young and experienced. But, in general, acquiring great talent is one of the most challenging parts of setting up a company. It cannot be compromised.
Who do you see as your target audience?
A lot of schools these days are looking for innovation in Education and Training Pedagogy, and looking for partners to help them in these endeavors, given their already strained academic schedule. Schools looking to bring in innovation in curriculum delivery, career education and skill building, will find our Programs extremely relevant.
We are reaching out to them through a variety of Marketing and Promotional tactics, as per our overall Strategy.
What are the major benefits for Institution/individuals adopting your solutions?
Schools going for our Curriculum Delivery and Learning Enhancement Programs (CDLE) will help their students be more engaged in lessons leading to better retention. This will also compliment their in-house teaching and bring variety to their overall approach towards lesson delivery.
Schools going for our Career Exploratory Programs (CE) or Subject Focused Programs (FP) will help their students to be better placed to make career choices.
Schools going for our Structured Development Program (SDP) for skill building will help their students be well skilled to face their professional and personal careers, and the uncertainties and challenges that lie ahead.
Our all program mentors are trained in CPR, AED and First Aid by the American Safety and Health Institute.
Do you have much competition? What is the biggest hurdle you have faced or are still facing?
If I am to divide our products into categories, I would do so like to as follows a) International Career Exploratory, Subject Focused and Exchange Programs b) Domestic Curriculum Delivery and Learning Enhancement Programs c) On campus Structure Development Program for skill building.
For international programs, unfortunately, there are hardly any companies that are truly adding value to schools and have programs that are objective driven. We are hoping to lead the way, and hopefully encourage other companies to be more thorough and research based while designing their programs.
For the domestic and on campus programs, there is pretty much no other company that is providing a relevant offering.  For these reasons, we have noticed excitement and a positive response from schools towards our products.
What lies ahead in next five years for your company?
We are constantly looking at new ideas in the field of education. We just want to be helping schools in the Education and Training delivery, and will continue to do it as long as we do justice to it.