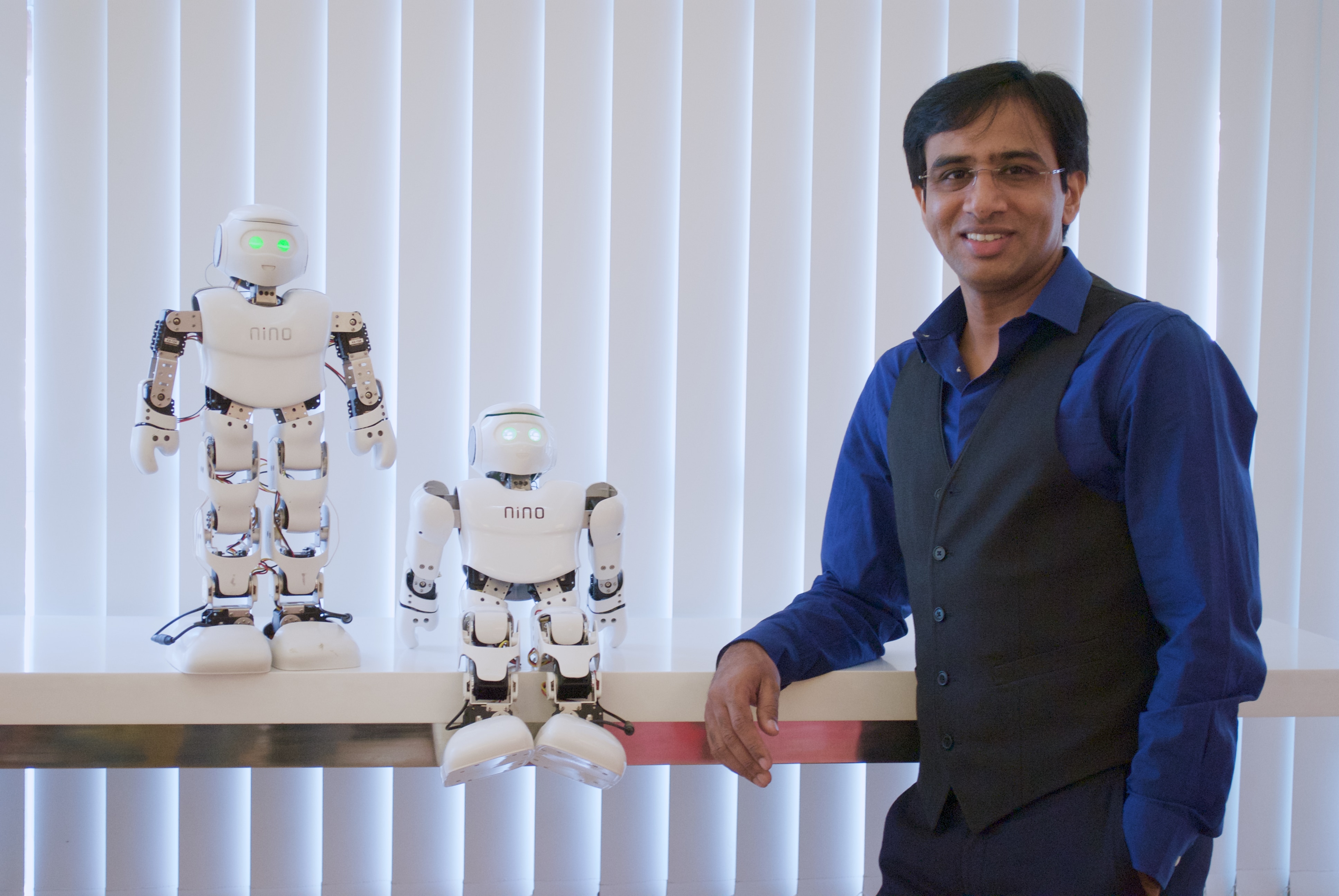 Sirena Technologies is setting new trends in education domain through its humanoid "Nino" to help teachers, says Hariharan Bojan, Founder and CEO, Sirena Technologies in an interview with Elets News Network (ENN).
What is your genesis behind establishing the organisation?
Sirena Technologies was started with a vision to impact the education system in India through technology (Robotics) and to manufacture affordable high-end products for India market like Wi-Fi speakers, Wi-Fi audio adaptors, LED lamps with speakers etc. Employees at Sirena Technologies, despite their varied backgrounds are collectively trying to develop feature rich, affordable and easy to use humanoid.
We've made excellent progress here over the last couple of years and with more opportunities our way; sky seems to be the limit.

Education and research are one of the most promising areas, how your products are fit for the aspirations of schools in these areas? What are your plans for collaboration with schools and other educational institutions?
The only way any country could progress is by imparting world class education to its children. We at Sirena truly believe that education will make an impact and with the kind of curriculum and programs we come up with is not only unique but world class.
We offer our service to schools though Sirena Knowledge & Information Programme (SKIP). SKIP enables learning through robots and learning about robotics in Preschool, Primary, Middle and High school. The programme enables students get an opportunity to learn by interacting with humanoid robots. Specially designed hands on activities facilitate students to connect their day to day learning in schools through our unique curriculum which directly maps with students syllabi.
We offer SKIP-inception program for nursery to grade-5 students and SKIP-inquiry program for grade-6 to grade-10 students to meet the needs of every school. As part of SKIP-inquiry, we set up robotics lab for schools and have students work hands-on with robots based exercises.
You have a special product — Humanoid Robot — How it can help in improving the teaching-learning process at schools?
"Nino" is our star and the heart of our SKIP program. Everything started as a medium to quench the thirst and slowly a medium to bridge the gaps and now its spread on its own.
Nino's growth:
First time in India, a humanoid robot will be assisting the teacher in the class rooms starting from preschool to higher grades. The entire content is developed to suit the need of every child whom we diligently identify as unique.
Children not only learn through our curriculum, but learn about their potentials and are groomed accordingly.
Setting up Robotics & IoT Labs for schools, which would help students have a hands on experience and real time product development scope.
In order to develop a child holistically, what imagination and technology you use in the products to improve their understanding and learning?
"Nino" is a humanoid that can talk, walk, dance, sing, play and work wonders with its inherently built intelligence. The teaching, content and curriculum are so interesting that kids would find it no choice but to be involved. Nino would start understanding kids over time and once we integrate it with Artificial Intelligence (AI), the learning would be mutual and kids can engage with Nino as if it's their "real" human friend, over time.
Nino is the only humanoid available in the market that is completely customised to meet the needs of the K-12 segment of mainstream schools and educational institutions with a strategic focus kept on price-sensitivity.
The concepts are such tapestry that it engages child in not just varied difficult concepts of classrooms but in most essential qualities of life like- Leadership- as we allow them to take initiative. Sharing – what joy is it if it can't be embraced, Passion – a deepened desire to just do, artistic touches, intrinsic ways to relate things, a keen eye and a knack for choosing the best.
How do you see the company changing in two years, and how do you see yourself creating that change?
We are engaging with around 100 schools in the coming academic year and we would engage more than 1000 schools in the following year, spreading across all the states in India. We'll be training a lot of teachers who would be "Sirena Certified", who would teach Robotics in schools across India.
We'll continue to focus on technology, which is the core to our service. We are building our next life-size Humanoid robot, which would make its entry in schools later this year and that's going to revolutionise the way students learn.

br>