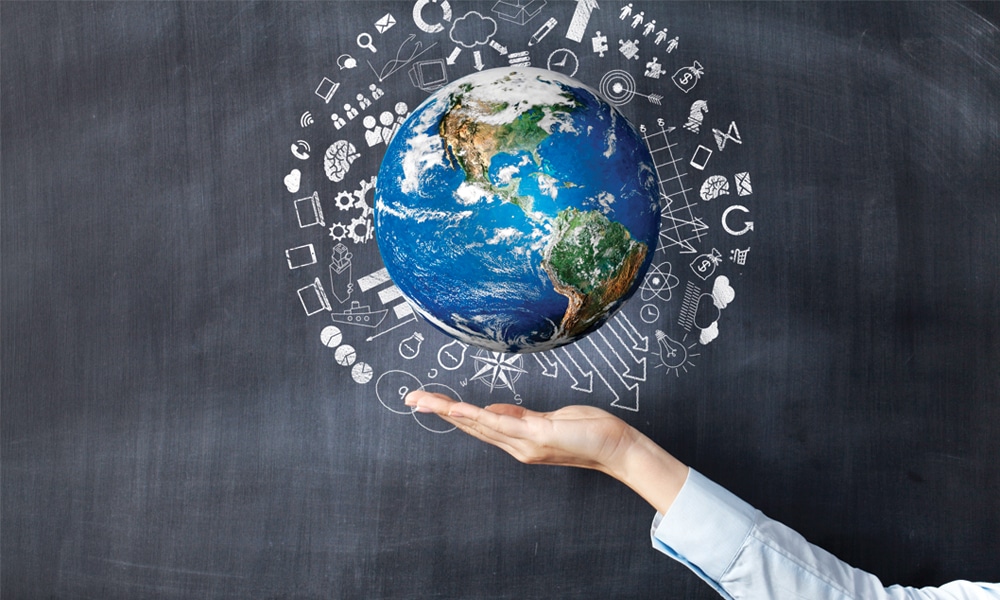 International curriculum is a popular choice among Indian learners. Broad academic opportunities as part of international curriculums equip children with not just a thorough knowledge, but also an indepth understanding of various subjects, along with highly competitive skills to meet the demands of 21st century life at university and beyond.
Cambridge International Examinations works with 400 schools in India – and over 10,000 schools in 160 countries – to provide a pioneering and coherent curriculum for students from primary to senior secondary. Cambridge is the only provider of international qualifications that is wholly-owned by a world-leading university, the University of Cambridge. Success with Cambridge has proven to opens doors to the best universities – in India and beyond – as these qualifications are trusted and valued by universities and employers worldwide.
Rooted in academic rigour and backed by the latest educational research, the Cambridge curriculum offers a wide choice of subjects – 75 subjects for Cambridge IGCSE (Class X) and 55 subjects for Cambridge International A Level (Class XII). Cambridge programmes are flexible which means that they can be taught alongside the national curriculum. This helps schools to offer their learners an international education, whilst still meeting local requirements. Schools are also free to tailor the syllabus content to suit their national context and ensure it is relevant to their learners.
Many exam boards offer qualifications which will help students get into university. However Cambridge qualifications go much further than that, as they also set students up for success in life. Cambridge learners develop higher order thinking skills – such as critical thinking, collaboration and creativity – as well as deep subject knowledge. Through active learning approach, students are encouraged to become confident, responsible, reflective, innovative and engaged. These attributes help students succeed in tomorrow's world and are valued by universities and employers across the globe.
Cambridge believes that examinations play an important role in recognising, rewarding and encouraging learning. Through the curriculum, Cambridge encourages innovation in learning, whether that's new teaching methods or the technology used in the classroom.
There are a number of innovative subjects that are offered and taught across Cambridge schools. Subjects like Cambridge Global Perspectives, Enterprise and Media Studies provide opportunities for both teachers and learners to think out of the box, practise interdisciplinary approaches and bring creativity into the classroom. These subjects are aimed at enabling learners to take a hands-on approach, such as creating their own media products or setting up and running an enterprise – and this engages them in their own learning, enabling them to communicate in new ways and produce exciting work.
Cambridge continues to become increasingly innovative in using technology in assessment. The board introduced optional on-screen tests for lower secondary learners in 2016 and will consult with schools before introducing on-screen tests for Cambridge IGCSE and Cambridge International AS & A Levels. Cambridge understands that not every school is equipped to run computer-based exams and so will continue to offer paper-based alternatives. Any technology introduced into the classroom must have a positive impact on learning.
Cambridge believes that supporting teachers in their professional development leads to improved outcomes for learners. Keeping this in mind, Cambridge offers a range of professional development opportunities for principals and teachers at Cambridge schools, including online and face-to-face training courses and professional development qualifications. Cambridge's approach to professional development supports teachers to become confident in their teaching, responsible for themselves and responsive to others, reflective in their practice, innovative and equipped to meet new challenges, and engaged intellectually and professionally. It also helps teachers meet their career development goals, schools' objectives and values, and our standards.
Cambridge has a long history of working with governments and education bodies around the world. A respected partner of ministries of education and national examination boards in over 30 countries, Cambridge is currently engaged in a variety of education reform projects around the world. Association of Indian Universities (AIU) has provided equivalence to Cambridge qualifications in India.
There has been a marked increase in entries for Cambridge examinations in India in recent years, spurred by a growth in awareness of the benefits of international education and the introduction of a March series of exams for students in India. By taking exams in March, Cambridge students in India are able to meet local college admission deadlines – a significant benefit that has been warmly welcomed by schools and students alike. Cambridge exam series also take place in June and November.
There has been a substantial increase in the popularity of Cambridge qualifications in India and around the world, with a 31 per cent increase in Cambridge IGCSE entries in India in the March 2017 exam series and a 21 per cent increase in entries for Cambridge International AS & A Level. The largest number of entries for Cambridge IGCSE subjects in India have been for: Mathematics (Without Coursework), First Language English (Oral Endorsement), Physics, Chemistry and Biology. Some of the other popular subjects are business studies, economics, Art and design and Global perspectives.
Cambridge International Examinations works closely with schools, from the moment interest is expressed. All Cambridge schools have to meet determined quality standards in five key areas, including management of the school and quality of teaching and learning. Once a school is registered, Cambridge supports them to deliver its programmes effectively and administer exams correctly.
Being part of Cambridge means being part of a worldwide education community. Through events and discussion forums, Cambridge also encourages schools to connect with each other and share expertise – in their own country and internationally. Together with schools, Cambridge works to raise standards in education and prepare school students for life.
"Exciting news! Elets Education is now on WhatsApp Channels Subscribe today by clicking the link and stay updated with the latest insights!"
Click here!