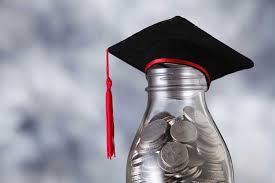 Now, students who have taken education loan from government-owned banks can submit a request to claim interest subsidy from Canara Bank.
"Government-owned banks can submit a request to claim interest subsidy for education loans from Canara Bank till 23 November 2017," said an official.
Canara Bank, the nodal bank to facilitate ease of claiming education interest subsidy,  will open a special portal for banks for this purpose.
"The Ministry of Human Resource Development has recently advised Canara Bank to open the web portal for banks to submit their claims for interest subsidy on education loans between August 23 to November 23," said  K Srinivasan, convenor of Education Loan Task Force (ELFT) and a former banker.
Students who have taken loans to pursue  professional and technical courses and whose parental income is less than Rs. 4,50,000 per annum, are eligible to apply for interest subsidy.
The Indian Banks' Association (IBA) has instructed banks to provide training to its employees handling education loan in submitting claims on time without any error, Srinivasan added. Also, the students can approach and take legal help through District Consumer Disputes Redressal Forum for deficiency of service claiming damages and compensation.
Students can also approach the Banking Ombudsman for redressal of grievances, if any bank fails to submit the claim.