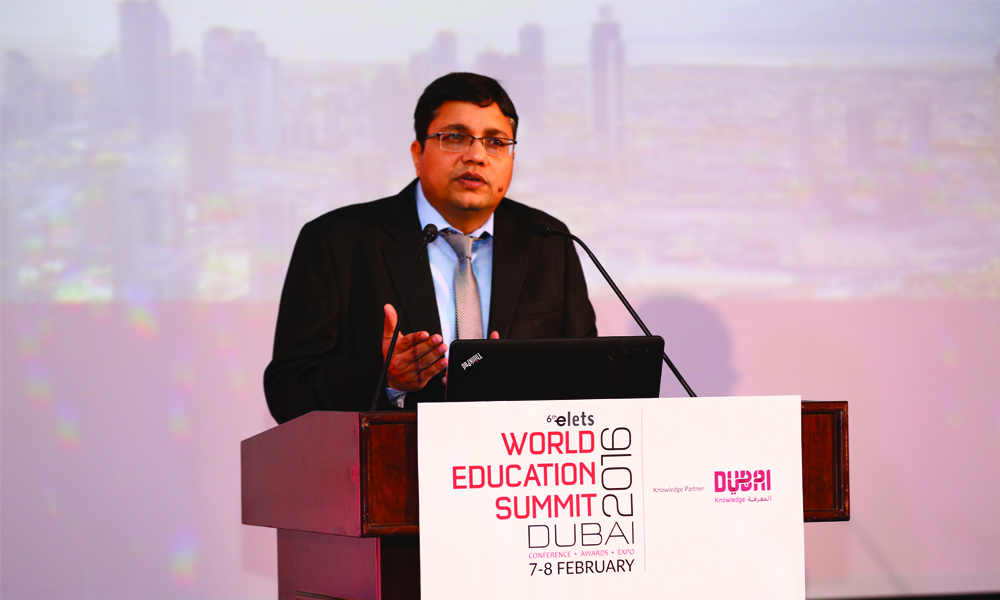 The United Arab Emirates (UAE) has embarked on a unique journey not many countries have treaded in the world. It's steadfastly acquiring a distinction of being a global education hub with a difference. The country seems aiming for the high happiness quotient to make learning process turn meaningful and futuristic.
We have endeavoured to highlight how the UAE's new policies are focused on giving back to the world by making happiness and well-being the focal point of everything they do to improve quality of the education. Our digitalLearning magazine's this special issue being launched on the occasion of 11th Elets World Education Summit, Dubai 2017 – a joint effort of Elets Technomedia and The Knowledge and Human Development Authority (KHDA) which intends to bringing together various stakeholders from global education sector under one roof – is a step in this direction. The interview of Dr Abdulla Al Karam, Chairman of the Board of Directors and Director General, KHDA, in this issue assumes high significance in this regard, offering a clear insight into how the UAE plans to add a sense of happiness to the academic experience of all.

Our cover story, "Happy Education: Dubai Inspires the World", explores the three key pillars of the UAE's 'Year of Giving' – Corporate Social Responsibility, Volunteering, and Serving the Nation – to develop a knowledge-based economy as the best in the world. It also underscores as to why it has become imperative for the city to innovate in the education space and acquire an edge over other cities to develop a world-class quality education sector.
This issue's special story "Dubai: World's Education Hub", showcases how the Government is focusing on every opportunity to be a top-draw for international students — and Dubai, known for luxury shopping, ultra-modern architecture and a lively nightlife scene, is taking the lead in this field also.
Our special story on "Nurturing Dubai's 10X Dream through Futuristic Education", brings into focus how the Government of UAE is thinking 10 years ahead of the rest to build a robust and futuristic education system and prepare for the harsh reality of the future. The 10X initiative is driven by the vision of UAE's Vice-President and Prime Minister of UAE His Highness Sheikh Mohammed bin Rashid Al Maktoum, who has called on all government entities of Dubai to embrace disruptive innovations as a fundamental mantra for their operations and seek ways to incorporate its methodologies in all aspects of their work.
We hope our latest bouquet of special stories, interviews, articles and industry outlook will enable our readers to gain clear insights into various other aspects of UAE's education sector.
Taking this initiative forward, the 11th Elets World Education Summit Dubai 2017 (WES) aims to recognise, highlight, honour and encourage leading models/projects/processes of excellence and sustainable innovations in school and higher education. The latest edition of WES, a congregation of some of the leading thinkers in the education world, will enable all to understand the challenges and solutions of the education world through a new prism. Over 300 inspirational speakers, not just from Asia znd the Middle Eastbut from different parts of the world, have been invited to participate in the summit.
Elets' conferences always create a place where the best of learning experiences occur. They also enable networking and product interactions among the educational stakeholders. Over 50 exhibitors will showcase new initiatives in edtech at this WES Dubai.
Looking forward to readers' invaluable feedback!