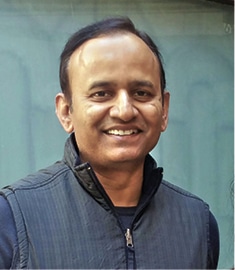 To take care of huge skill gap and fulfill the ambitious skilling targets, the Government of Jharkhand is coming up with a comprehensive 'State Skills Policy' which aims at improving outcomes, expanding skill infrastructure with scale and speed, strengthening the skill development ecosystem, improving aspiration for skill development and incubating barefoot entrepreneurs, says Ravi Ranjan, Mission Director, Jharkhand Skill Development Mission Society, in conversation with Gopi Krishna Arora of Elets News Network (ENN).
What is the motto of Jharkhand Skill Development Mission Society (JSDMS)?
The motto is to be the engine of sustainable economic growth in the state by providing highly skilled and productive manpower to the industries and sustainable livelihood and JSDMS must conform to the National Skill Qualification framework (NSQf) and Common Cost Norms. Training is conducted through Training Service Providers (TSPs), which can be private companies, NGos or government institutions Selection of TSP for executing skill development schemes does not involve any price discovery. It is an empanelment process through scheme specific RfP wherein the endeavour is to select Training Service Providers with proven track record. Target allocation to the TSP is done after proper assessment of its capacity to train.
Centre accreditation is through the SMART portal and associated processes of NSDC. Quality Assurance including centre infrastructure requirements, curriculum/ content, course duration, Train the Trainer and assessments is done through respective Sector Skill Councils (SSCs). Pay-out to TSPs is done as per payment milestones and per hour cost rates defined under Common Cost Norms.

Mobilisation of trainees is done by the TSP and selection of candidate is done after proper counselling, as per his aspiration and minimum qualification requirement of the respective trade of training. Support to the mobilisation process is also made by the state government with the help of district administration by conducting job fares.
What are the current schemes being undertaken by the mission society?
Currently, three schemes are being run by the State. first is Saksham Jharkhand kaushal Vikas Yojna (SJkVY) under which training centers are located up to block levels throughout the State so that training can be imparted at the doorsteps of the trainees. Second, Mega Skill Centers (also known as Deendayal Upadhyay kaushal kendras, DDUkk), which are aspirational centres of minimum 15,000 sq ft area setup with corporate support for knowledge transfer and placements. Third is Employability Excellence with College Education and Learning (EXCEL), under which training for soft/communication skills, and domain skills is given to college going students.
The first two programmes are both residential and non-residential, whereas EXCEL is a purely non-residential programme.
How much a trainee needs to pay towards training and boarding/ lodging expenses?
All the courses are totally free of cost with regards to training, course material and boarding/lodging. Payments are made to the TSP by JSDMS as per common cost norms.
How are the courses selected and how do you ensure that these courses meet the job market needs?
Since it is a placement linked programme, courses are conducted for trades which are market relevant, offer good salary package and match youth aspirations.
The scheme focuses on youths of the State in the age group of 18-35 years. Skill Development courses are aligned to highimpact sectors including Tourism & hospitality, Telecom, Security, Retail, Plumbing, Logistics, IT/ITES, Electronics, Domestic Worker, Construction, Capital Goods, BfSI, Beauty & Wellness, Automotive, Apparel, and Agriculture etc.
Another factor which is taken into account while selecting a trade is the placement tie-of TSPs with various employers.
What key challenges are faced by JSDMS in improving the skill ecosystem in the state?
The major challenge we are facing right now is the lack of infrastructure to take care of huge skill gap and fulfill the ambitious skilling targets. There is an urgent need of establishing a large number of quality training centres covering a wide spectrum of job roles. Though the national skill ecosystem along with NSQf and its range of Qualification Packs (QPs) provides plenty of options, development of curriculum for Job roles assessed to be in high demand in Jharkhand and not yet included under the NSQf, pertaining to traditional arts and crafts in Jharkhand and offering more broad based and relatively longer duration skill development courses through suitable merging of QPs or stacks of National occupational Standards (NoS) is an important issue.
As is the case in rest of country, people prefer conventional education to technical skill development. It has more to do with prestige than employment. The youth needs to be taught that almost all the jobs today require skills in one form or the other, which could be either technical domain skills or the soft skills. In order to make it aspirational, we need to associate a sense of pride with  skills which could be done through rewards and recognition and upgrading the skill infrastructure to international standards. It is critical that skill development has vertical and logical horizontal pathways to ensure that skill development is not terminal in nature. Adequate placement commensurate to one's abilities remains a major challenge and I believe this skill summit will go a long way in addressing the placement issues.
What are the steps being undertaken to overcome aforementioned challenges?
To address these issues the state is coming up with a comprehensive 'State Skills Policy', which will be launched in the skill summit. We aim at improving outcomes, expanding skill infrastructure with scale and speed, strengthening the skill development ecosystem, improving aspiration for skill development and incubating barefoot entrepreneurs. The state is giving incentives for capacity creation under Mega Skill Centres, embedding skills in academic education through EXCEL programme, preparing for Industry 4.0 through Centres of Excellence (CoEs) and entering into placement tie-ups with quality employers.
Tell us about the future plans, new initatives and policies of JSDMS.
We have many things lined up to make Jharkhand the 'Skill hub' of the country. Some of these are; Embedding Skills in Academic Education, Vocationalisation of Secondary and higher Secondary Education, integration of apprenticeship as part of competency based skill development courses, centres of excellence for training of trainers, opening of Migration Centres, making it mandatory to hire National Skills Qualification framework certified youth trained in Jharkhand for all relevant entry level jobs with the State Government entities and also with contractors pertaining to the workforce deployed on projects awarded by the State Government. We are also aiming at international collaboration for training and content development and placements and opening skill universities which will be developed as umbrella organisations for curriculum, content and certification in tandem with NSDC and SSCs.

br>