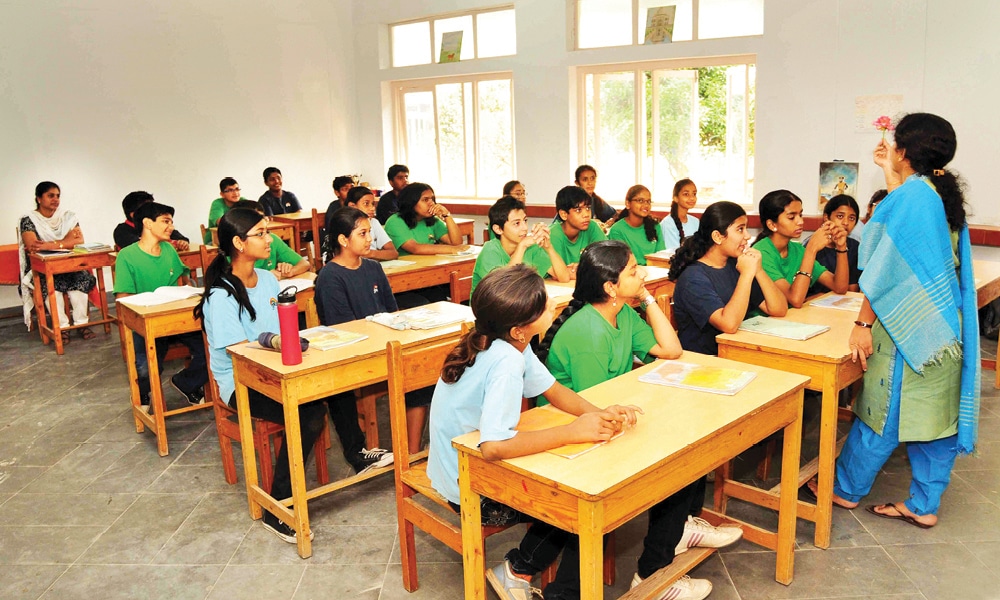 The Government and its policies play seminal role in transforming and improving the education sector of any country. In India, how the government policies are helping school education ecosystem to grow, explores Akash Tomer of Elets New Network (ENN).
In India, the schools are adopting the best global practices to nurture global citizens. From latest technology to the best teaching-learning pedagogies, the schools are adopting the methods that help students to develop holistically. Seeking the importance of education, the Central and State Governments are also embracing the best practices and modifying their policies to improve the education landscape of the country.
The Central Government and the State Governments are responsible for development of an educational ecosystem at national and state level. At the same time, the Governments work in coordination so that no State lags behind as far as the education is concerned.
Role of Central Government
The Central Government plays a lead role in the evolution and monitoring of educational policies and programmes, the most notable of which are the National Policy on Education (NPE), 1986 and the Programme of Action (POA), 1986, which was updated in 1992.
The Government is also in the process of formulating the new education policy which is supposed to incorporate the latest and best practices of education sector along with a vision for future.
The Central Government amends the existing provisions of Indian Constitution and drafts new policies to improve education sector of the country. The modified policies envisage a National System of education to bring about uniformity in education, provide universal access, retention and quality in elementary education, establishment of pace setting schools like Navodaya Vidyalayas in each district and vocationalisation of secondary education.
The Central Government performs educational functions through NCERT, UGC, Central Universities, Central Schools organisations etc. Central Government also partially finances some programmes, planned and implemented by the State Governments.
Role of State Governments
Elementary education is essentially a responsibility of the State Government. Various States to train their citizens for careers in administration, industry, commerce, medicine, engineering, agriculture etc, set up and maintain a number of high and higher secondary schools, industrial and technical institutes, polytechniques, colleges and universities.
The State opens training schools and colleges to make available trained teachers to educational institutions.
The State prescribes syllabus and course of study for various school classes and grades. The length of each course, working days, working hours and vacations are determined as per the State Government's directives.
States also appoint commissions and committees to discuss various aspects of education and educational activities in the State. These committees suggest ways and means for improvement in education sector.
As it can be observed that drafting and modifying policies is one of the major roles of Central and State Governments. There are a number of policies in the country and in States that act as guiding tools for the governments to take decisions and achieve rational outcomes. The Central Advisory Board of Education (CABE) is the highest advisory body to advise the Central and State Governments on drafting the new policies. There are a number of government initiatives that have helped the school education ecosystem to flourish.
Sarva Shiksha Abhiyan (SSA)
Sarva Shiksha Abhiyan has been operational since 2000-2001 to provide every child equal access to education, retention of students, bridging gender and social gaps in elementary education, and improve the quality. SSA interventions include opening of new schools, construction of schools and additional classrooms, toilets, drinking water, provisioning for teachers, and free textbooks & uniforms.
Mid-Day Meal Scheme (MDMS)
National Programme of Nutritional Support to Primary Education (NP-NSPE) is a Centrally sponsored scheme launched on 15th August, 1995 to improve enrolment, retention, attendance and nutritional levels among children. In 2001, MDMS became a cooked Mid-Day Meal Scheme under which every child in every Government and Government-aided primary school was to be served with cooked mid day meal with a minimum content of 300 calories of energy and 8-12 gram protein per day for a minimum of 200 days.
Mahila Samakhya programme
The Mahila Samakhya programme was launched in 1988 to pursue the objectives of the National Policy on Education, 1986. It recognised that education can be an effective tool for women's empowerment. The aim of the scheme was to build a positive image of women by recognising their contribution to the society, polity and economy.
Rashtriya Madhyamik Shiksha Abhiyan (RMSA)
The scheme was launched in March, 2009 with the objective to enhance access to secondary education and to improve its quality. Important physical facilities provided under the scheme are: additional class rooms, laboratories, libraries, art and crafts room, toilet blocks, drinking water provisions and residential hostels for teachers in remote areas.
Vocationalisation of Secondary Education
The Centrally Sponsored Scheme of Vocationalisation of Secondary Education provides for diversification of educational opportunities so as to enhance individual employability, reduce the mismatch between demand and supply of skilled manpower and provides an alternative for those pursuing higher education.
Digital Payment Campaign
In the wake of demonetisation, Union HRD Minister, Prakash Javadekar launched a cashless payment drive across the centrally aided institutions. The scheme helped parents to pay the fee in online mode rather than in cash.
No Detention Policy
The Ministry of Human Resource Development has decided to revise the old policy of promoting all the students from Class 5 and 8 to next classes. Under the new policy, it is mandatory for all students of classes 5 and 8 to clear the examination so as to get into next class. The policy was enforced to provide primary education to each and every child between the age of 6 -14.
Government schoolteachers to be trained abroad
Delhi government announced that school teachers and principals would be sent to best schools and institutions of the world to undergo training. The training will help the teachers to understand the best practices and implement the same in their teaching.
When it comes to matters of policy, education stakeholders look towards the Central and State Governments to lead the way. Though, standards and quality of education consequently vary widely from state to state and district to district. However, various schemes and initiatives by Central and State Governments are supposed to bridge the gap and improve school education ecosystem of India holistically.