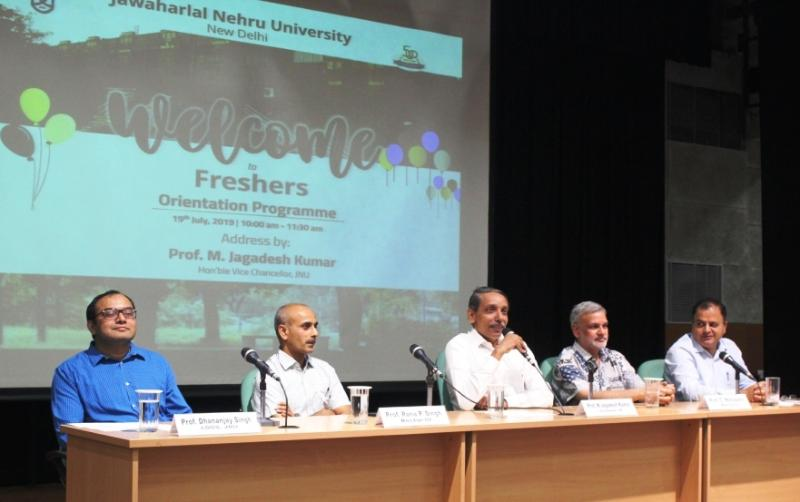 The Jawaharlal Nehru University (JNU) has kick started its academic session 2019-2020 with an orientation programme on July 19, 2019 (Friday).
JNU Vice Chancellor M Jagadesh Kumar took to twitter to share the insights of the orientation program held at the campus.
 "Today, an orientation program was conducted for JNU freshers. The program was hugely attended. Both the auditoriums were full. Had the opportunity to interact with some students and sit amongst them. Welcome freshers to JNU. Keep that smile and enthusiasm," he wrote.
Kumar, an electrical engineering professor from IIT Delhi who took over as VC of JNU in 2016, started the culture of freshers orientation program in the University, four years ago.
"With a group of faculty members and staff who have worked hard to make the orientation program for the freshers of JNU a grand success. This is the fourth successive year of conducting the freshers orientation program in JNU. Thank you freshers for your overwhelming support," he tweeted along with a few pictures from the program.
During the orientation, he talked about the challenges faced by the country.
"Although India shares with China the glory of being the two most ancient civilizations, it has contributed to the world and its cultures in various ways, but today it also faces many challenges," said Kumar.
"While the students deserve congratulation for getting into JNU, the real challenge begins now in equipping themselves, and developing skills to be able to address the modern challenges India faces today," he added.
"We should always take the challenges and problems before us as opportunities to improve and excel," he said while motivating the newly inducted students.