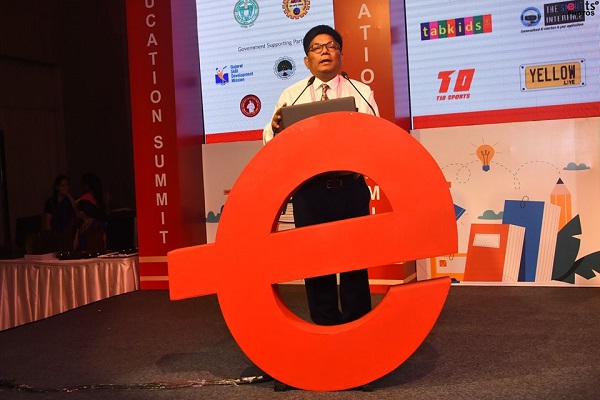 There has been a constant rise in the trend of commercialization in the school education scene of Assam. With the prevalent competition between states to excel in the education space, the state of Assam is not far behind when it comes to imparting quality education to the students. It is no brainer that today, every state is striving hard to outperform in the education sphere, thereby integrating technology in the classrooms, curriculum and innovating new educational methodologies for better outcomes.
"As far as the education system in Assam is concerned, we are improving our quality of education in terms of new methodologies wherein we have introduced the tele-education system from Guwahati to the rest of the places in Assam", said Kamal Jyoti Gogoi, Secretary of Assam Higher Secondary Education Council (AHSEC), in conversation with Elets News Network at the 14th World Education Summit 2019.
For students, learning becomes more effective and impactful when it is made interactive. "Tele-education or virtual education is the need of the hour and we accordingly are covering over 350 schools through virtual education", Gogoi said.
Moving further, the state of Assam has been facing challenges in the government schools due to the rising trend of commercialisation where the focus has shifted towards private schools with the rising enrollment numbers. To make things better, the state government is making rigorous efforts to reduce this rivalry.
When asked about the same, Gogoi said, "We are facing competition with the private sector when it comes to the education system in private and government schools. But we are dedicated towards providing quality education wherein our teachers are becoming trained now. Teachers play a key role in the education sector in providing quality education and in order to train them, we organise workshops and trainings for them to be able to communicate and teach in a better manner.
Apart from teaching, Gogoi was also of the opinion that infrastructure for that matter is equally important in providing quality education to the students.
Moving ahead, there has been a lot of initiatives taken in the state of Assam as per education is concerned. Commenting on which Gogoi said, "Presently, we have the Rashtriya Madhyamik Shiksha Abhiyan (RMSA) and Samagra Shiksha Abhiyan schemes running in our state. We have imbibed technology within our examination conducting system where, for the first time, cctv cameras are being introduced in all our examination centres. In some cases, we are also introducing digitalisation process in subjects like Mathematics."
With technology grabbing eyeballs in the education space, the state of Assam is not lagging behind. "In education, and particularly in Central Board of Secondary Education, Gogoi continued, "Technological methods are being used in the state which includes all the educational documents being digitalised and with tele-education in the picture, students can get hold of any information, guidance, sessions through online learning."
"Without educational environment, nobody will succeed. Success of any state will come from social, economic and educational environment", Gogoi further added.
When asked about his experience and takeaway from the 14th World Education Summit, 2019, Gogoi said that it is a proud moment for him to be a part of WES. "There were fruitful discussions on school education and how the quality of education should be improved and accordingly imply it in the state of Assam."