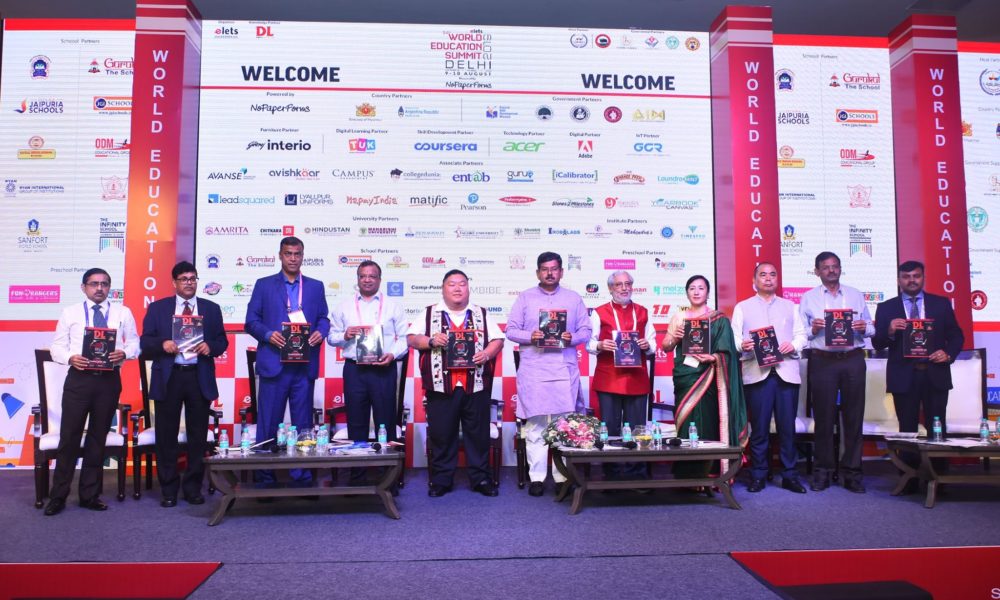 Education is the key deciding factor in the economic development of any country, especially in developing nations like India. Since the early days of independence, the Indian government has focused on improving the literacy rate in the country. Even today, the government is dedicated towards promoting primary and higher education through various initiatives.
Continuing the focus on education, the budget 2019, presented by Finance minister Nirmala Sitharaman, witnessed the allocation for school education move up by 12.8%, whereas on higher education front, the same has seen a rise of 14.3%.
Interestingly, the Indian Education system is the world's third-largest Higher Education System which comprises of more than 800 universities, 39,000 colleges and a capacity of enrolling more than 20 million students.
In order to explore various facets of the education sector in India and abroad, Elets Technomedia along with digitalLEARNING magazine is conducting the 15th edition of World Education Summit in Mumbai on November 21-22, 2019.

The objective of the Summit will be to discuss policy framework and industry overview along with a vision for the future with the key stakeholders.
Key Focus Areas
Building India an EduEconomy by 2022

Role of Technology in Educating the Present and Future Generations

Learning Transformed: Designing tomorrow's Schools, Today

India: The most attractive private education market in the world

Incorporating Blockchain Technology in Education

Collaborative Learning in Globalised Environment

Addressing the Challenges Faced by HR Managers: Present and Future Solutions
Glimpses from 14th World Education Summit 
The 14th World Education Summit, held on August 9-10, 2019 in Delhi, witnessed a mammoth gathering and panel discussions on a plethora of topics including – Draft New Education Policy, Need of Innovation to Impart Quality Education, Role of Early Childhood Educators, Scope of Automation in Enrolment, Nurturing Industry-ready Workforce, Vocational and Skill Development, Role of Teachers and Teaching Methods in Creating an Effective Pedagogical Environment, Importance of MOOCs, Distance Education, E-Learning, and Blended Learning, Global Collaborations, Creating Framework for Developing Research-ready Institution, and much more. 
Bhanwar Singh Bhati, Hon'ble Minister of Higher Education, Government of Rajasthan; Thokchom Radheshyam, Hon'ble Minister for Education Labour and Employment, Government of Manipur; and Temjen Imna Along, Hon'ble Minister of Higher & Technical Education, Government of Nagaland graced the occasion as Chief Guests.
Besides, the summit was also attended by key government dignitaries, policy makers and personalities government education bodies – Dr Subodh Agarwal, Additional Chief Secretary, Industries, Government of Rajasthan ; Anand Kishor, Chairman, Bihar State Board Education, Government of Bihar;  Dr A Ashok, Commissioner, Intermediate Education, Government of Telengana; Vaibhav Galriya, Secretary, Higher & Technical Education, Government of Rajasthan; Pradeep Kumar Borad, Commisioner, College Education & School Education, Special Secretary, Higher Education & Sanskrit Education, Government of Rajasthan; Dr Chithung Mary Thomas, Secretary, Borad of Secondary Education, Government of Manipur; Nanda Kumar Singh, Joint Secretary, Education Department, Government of Manipur; Prof Anil Sahasrabudhe, Chairman, AICTE; Prof Alok Prakash Mittal, Member Secretary, AICTE; Bishwajit Kumar Singh, Commissioner,NVS; U N Khaware, Additional Commissioner, Kendriya Vidyalaya Sangathan; Dr Biswajit Saha, Director (Vocational Education), CBSE; Major Harsh Kumar, Secretary, NCERT; Abid Hussain, Director, Directorate of Madrasah Education, Government of West Bengal.
Legacy
Since 2011, World Education Summits have witnessed the confluence of decision makers, influential experts and practitioners linked to education sector from across the world. The summit aims to explore groundbreaking innovations and encourage steps to ensure significant improvements in the global education sector.
The World Education Summit is the premier international platform dedicated to innovations and creative actions in the education sector. Here, top decision-makers share insights with on-the-ground practitioners and collaborate to rethink and find out various emerging opportunities in the education landscape at present and in future.
How to Participate in 15th World Education Summit?
Carrying forward the legacy of the last 14 editions that witnessed the congregation of top luminaries of the education ecosystem, the 15th edition of the summit is expected to provide a much greater platform for knowledge exchange and networking. To participate in 15th World Education Summit, contact the Programme Director Kumar Chandan Anand at 8860635836 or write to him at kumarchandan@elets.in. 

br>