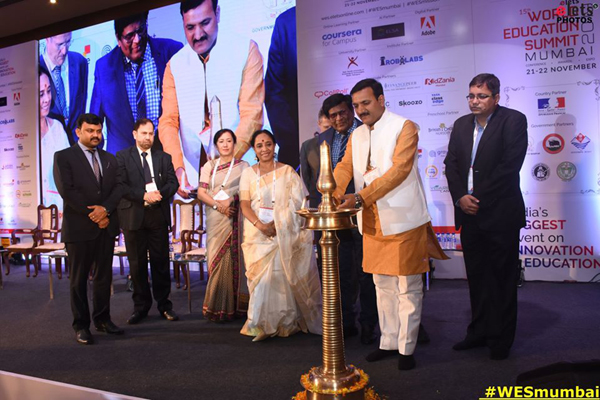 Since 2011, World Education Summits have witnessed the confluence of decision makers, influential experts and practitioners linked to education sector from across the world. The summit aims to explore groundbreaking innovations and encourage steps to ensure significant improvements in the global education sector.
In order to explore various facets of the education sector in India and abroad, Elets Technomedia along with digitalLEARNING magazine conducted the 15th edition of World Education Summit in Mumbai on November 21-22, 2019. The World Education Summit is the premier international platform dedicated to innovations and creative actions in the education sector. Here, top decision-makers share insights with on-the-ground practitioners and collaborate to rethink and find out various emerging opportunities in the education landscape at present and in future.
Held in the commercial capital of India, the 15th edition of World Education Summit was inaugurated in the presence of Dr Satish Chandra Dwivedi, Minister of State, Basic Education, Government of Uttar Pradesh; Shuchi Sharma, Secretary, Higher & Technical Education, Government of Rajasthan; Philippe Guillien, Western Zone Attaché for Cooperation, France Embassy to India; Dr A Ashok, Vice Chancellor, Rajiv Gandhi University of Knowledge Technologies, Basar, Telangana; Dr Chithung Mary Thomas, Secretary, Board of School Education, Manipur and Syed Omar Jaleel, IAS, CEO & Secretary, Telangana State Intermediate; Dr M S Shyamasundar, Advisor, NAAC; Jawahar Surisetti, Advisory to Government, Smart City Expert and Rakesh Kumar Verma, Special Secretary and Joint Executive Director Udyog Bandhu.
Famous Actor, Entrepreneur and Socialist – Vivek Anand Oberoi, also graced the occasion as the Special Guest.
15th World Education Summit, Mumbai was one of the biggest congregations of Game Changers from the education fraternity. Spread over two days, the summit witnessed the coming together of names like Kanak Gupta, Director, Seth M R Jaipuria Schools; Raghav Podar, Chairman, Podar Education; Roshan Gandhi, Director of Strategy, City; SK Rathor, MD & Chairman, Sanfort Group of Schools Montessori School; Reekrit Serai, Managing Director, Satluj Group of Schools; Pratima Sinha, CEO, DSR Educational Society, Hyderabad and many more from the School Education sector.
From the Higher Education spectrum, the summit witnessed the confluence of Pankaj Gupta, President, IIHMR, Jaipur; Kunwar Shekhar Vijendra, Chancellor, Shobhit University, Meerut; Dr Sandeep Pachpande, Chairman, ASM Group of Institutes, Pune; Sudhakar Rao, Director Branding, ICFAI Group, Hyderabad; Dr Sivaguru S Sritharan, Vice Chancellor, M S Ramaiah University of Applied Sciences, Bangalore among others.
Besides, the summit was also attended by the key government dignitaries, policy makers, government regulatory bodies and eminent edu-leaders from higher and school education sector, who leveraged the platform to analyse, understand, and share their vision and modern-day practices to bring improvement in the education landscape. The objective of the summit was to discuss policy framework and industry overview along with a vision for the future with the key stakeholders.
There were discussions and deliberations on topics ranging from: Role of Education in Building Entrepreneurial Competencies; Developing next generation of innovators and creative thinkers towards #Vision2024; Professional Development of Early Childhood Practitioners to Artificial Intelligence & Machine Learning in Indian Classrooms; School's Infrastructure: A Key Element of Students Learning Experience and others, in the school education hall.
In the Higher Education track, the panel discussions revolved around topics like: New Age Learning: Interactive, Blended & Self; International Study Destinations; Data, Artificial Intelligence and the Future of Student Enrollment; Role of Counselling in School & Higher Education; Examination Reforms in Indian education system; Flipped Learning Collaborative and Problem-based Learning among others.
15th World Education Summit was supported by Embassy of France as Country Partner. Whereas, Government of Manipur, Government of Uttarakhand, Government of Nagaland, Government of Telangana and Board of Secondary Education, Manipur participated as the government supporting partners.
Besides, the summit also had Billimoria High School, Birla Open Minds, HVB Global Academy, Seth M.R. Jaipur Schools as School partners and British Orchard Nursery as Preschool partner respectively.
The summit witnessed a number of Ed-tech corporate, schools and higher education institutes exhibiting latest technologies, innovations and best practices.
Top companies like Coursera, Elsa, Adobe, RGUKT,  iRobolabs, CollPoll, Entab, Financepeer, KidZania, Lit Skills, Matific, Skoozo, Tata ClassEdge, Adventure Education Tours (Mumbai), Butterfly Edutech, Cerebry,  CII Institute of Logistics, extraaedge, Grayquest, InCred, Leadsquared, Nexool, OpenDoor, School Handy, Purohit Academy, Sportz Village School, ViewSonic, WESA, YaruKey, YearbookCanvas, Infinity, Early Childhood Association (ECA) and Members of International Schools' Association (MISA) among many others showcased the innovative products and services which have a tremendous potential to transform the education sector.
Besides, the industry presentations during the summit highlighted the scope of technology and its effects in the education sector and also underlined the need of extensive participation of corporate for betterment of education ecosystem.
The summit also witnessed the felicitation of to edu-leaders from School and Higher Education spectrum, acknowledging their exemplary contribution in transforming the education sector for a better tomorrow. The award ceremony was graced by Vivek Anand Oberoi, Dr A Ashok, Dr Chithung Mary Thomas, Shuchi Sharma and Rakesh Kumar Verma on both the days.