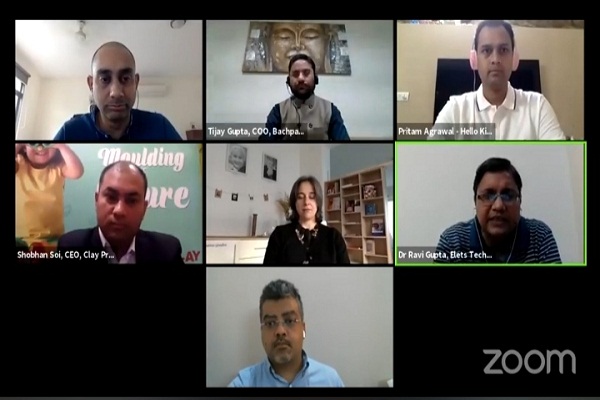 With lockdown imposed across the country to curb the outspread of COVID-19, educational institutions have shifted to online learning. Taking precaution over the issue, the govt has closed all the schools and colleges until further notice. Due to the lockdown, there is an unprecedented halt witnessed in the education sector. From pre-schools to universities, everyone has shifted their focus to e-learning. Technology can play an important role in the education sector in the coming days.
Elets Technomedia and digitalLEARNING Magazine organized a webinar on "Virtual Revolution in Early Childhood Education: Are we future ready!" with some eminent speakers from the education industry. The panelists presented their views over the dilemma witnessed in the sector especially in pre-schools.

Speaking over the issue, Purvesh Sharma, Co-Founder & COO, Footprints Childcare Private Limited, New Delhi, said "The whole eco-system is very small and adopting technology was not an issue for us. We focused on engaging sessions including storytelling and dance classes. Engaging children is a bigger challenge for teachers. There is a complete uncertainly when will be the schools will be opened."
He also said fundamental challenges will not be the same and a new world will be seen post-COVID-19.

He also urged parents and teachers to join hands to teach children and to find creative ways to engage them. He also said toddlers will find it very difficult to cope with the crisis as nowhere pre-schools teach through online. He also said virtual classes cannot replace the physical ones, especially for toddlers.
Tijay Gupta, COO, Bachpan & AHPS Schools, New Delhi, said "Corona is the biggest challenge as no parents are interested in offering online teaching to their toddlers. We are facing huge issues with non-metro cities with internet connectivity. Another huge challenge is parents don't think pre-schools are necessary for their kids."
He also said a hybrid model of teaching will be the next big thing in the education sector. Gupta also said a new type of schools will be seen after post-COVID-19 and technology can be the only option in this crisis. He also said, the school is planning to start life skill lessons on Saturday and Sunday which can boost the socio-economic responsibility of students.
Pritam Kumar Agarwal, Founder & Director, Hello Kids, Bangalore, said "Pre-schools were not ready to deal with online education, and teachers were not ready to take online classes. The situation came as a surprise to us. We must start engaging sessions rather than providing content to kids. Even, the villages are getting ready to accept online education."
He also said, "Teachers are not only facing the child but also their parents and it's difficult for them to cope with it. Teachers are trained to teach in physical classes as the virtual one will be a bit of an issue or them. "
Shobhan Soi, CEO, Clay Preschools, Ludhiana, said "Technology was not very handy with us. Our curriculum was designed for the classroom and we are not expecting parents to teach their children in homes. We need to develop structured learning ways for kids. We had to re-design our curriculum and Technology is a biggest challenge and that needs to be addressed.
She also said, "The game has completed changed and this is the new new for pre-schools and we have to start asking why pre-schools. "
She also said parents and teachers must work in partnership and re-think strategies for the better future of kids.
Marion Hopfgartner, Educationalist, International Speaker, Founder of TLI Pedagogies & Author, Vienna (Austria), said "We couldn't be prepared ourselves for such crisis. We have adopted online classes easily. Over 80 pc pre-schools are supported by govt in Europe. Some of the pre-schools are opened in Europe. We have to reinvent ourselves in this crisis. The parents' are not teachers and they need help."
She even emphasized that digitalization is dangerous for the education sector and children will never understand the digital content. She also said content teaching is not important, but life skills are for kids.
She also said children need love and nurture and everything cannot be taught through digitization.
Amol Arora, Vice- Chairman & Managing Director, Shemrock and Shemford Group of Schools, New Delhi, said "It's a very serious crisis and suddenly everything has changed. It's all experimentation happening right now. It's a very early stage for pre-schools. Children don't understand what's happening. It's a complete flux for pre-schools and we need to create a new business module."
He also said Technology has become a pacifier for parents and everything will not be the same post COVID. He also said virtual classes will not replace the physical ones as children love to be with his friends in schools.