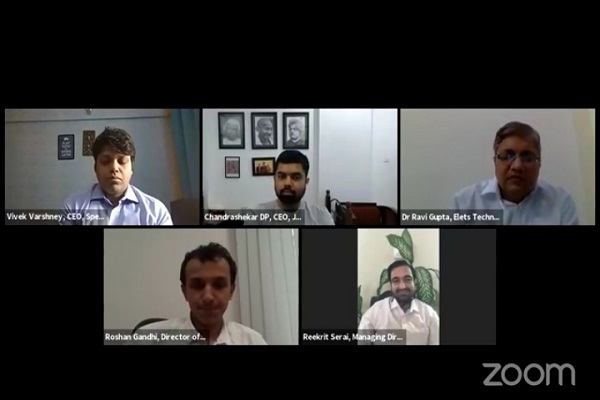 With Coronavirus taking toll on the education sector, the schools, colleges and universities are closed for indefinite period. To tackle the crisis, educational institutions have adopted online teaching. Technology has come to the rescue for education sector. But as the educationists believe that learning should not stop, hence physical education has moved to the virtual world.
Elets Technomedia in association with digitalLEARNING Magazine has organized a webinar on "Can COVID-19 situation be helpful in reshaping school education". The webinar was attended by some eminent speakers from the education industry.

Speaking over the issue, Roshan Gandhi, Director of Strategy, City Montessori School said, "Schools will be the last thing to come back to normal and must prepare for the worst situations. We have to learn a lot of from the ongoing crisis. From now, technology will be a crucial part of education sector. "
He also said, technology can be used for schools in any given situation. It is difficult to get 100 pc attendances in online classes. It's a huge question how much students have learnt during online classes.
Gandhi also said, there are huge opportunities for schools in this crisis as apart from live classes technology can be used for online assessments, feed backs and personalized learning.
Kanak Gupta, Director, Seth M. R. Jaipuria Schools said, "The pandemic has given us a change to use technology in a new way. Earlier, we have been trying to use blended learning and flip classes in schools. We need to appreciate the parent in this crisis. Everyone has started taking online learning serious."
He also said the economy is a huge challenge for all of us and need to be handled with care. He even felt the world is not going come out of this crisis very soon.
Gupta also emphasized on making new policy for education sector post COVID-19 crisis as schools need clarity.
Speaking on the issue, Chandrashekar DP, CEO, Jain Group Of Institutions said, " The challenge is changing every day. Firstly we were looking to conduct exam but now we are facing new challenges. The big question is assessment of students. We don't know where it is going and what will be impact on education. This challenge will change in coming days. This is a wake up call for schools and need to prepare for such crisis. We need new policies for education sector."
He also said there are fewer opportunities and more challenges for schools. He also hailed teachers and said now they are tech savvy and can handle any situations.
Vivek Varshney, CEO, SpeedLabs, said "The schools will face challenges after the live classes. How to take care of other things? We are entering to a new age of learning as students are getting comfortable with it. The technology will play an important role in education from now."
He also said online classes are a necessity today but it's an inferior way of teaching. We need face to face classes and online classes cannot substitute physical schools.
Vivek also said schools have to think how to use technology for teaching and readiness will be most important to tackle the crisis.
He also said it's a big opportunity for new types of teaching and learning.
Reekrit Serai, Managing Director, Satluj Group of Schools said, "It's difficult for everyone and we have to take cognizance of the situation. This is new new for us. The world has drastically changed in this crisis. Many schools have to adopt the new technology. If we want better future we have to change with the new world."
He also said, "The policy for education is different in every state as it's not centralized. We can ease off the pressure from staff and parents. We have assured all the parents that the syllabus will be revised after the school opens."
He also said schools must prepare for the worst and should emphasis on what to learn not how to learn for students.