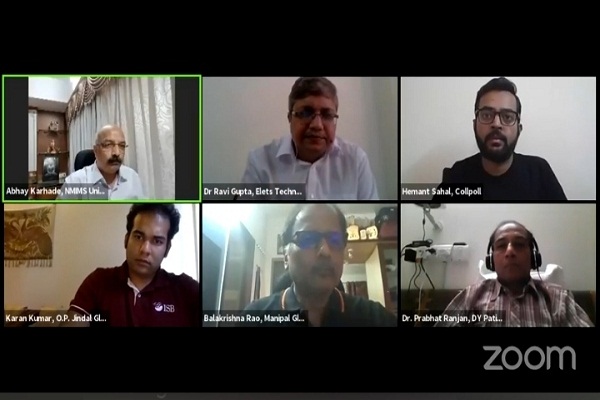 In the view of COVID-19 spread across the country, all the educational institutions including schools and colleges are closed. With the closure of physical schools, ed-tech firms are providing much-needed support to the education sector. The ed-tech firms are making their mark in the sector. The use of technology has surged in the last few weeks due to the lockdown.
Elets Technomedia in association with digitalLEARNING organized a webinar on "From "Jugaad" to "Systematic Adoption" of Technology "Be better prepared for the future", in which eminent speakers from the industry presented their views over the adoption of technology in education.

Speaking over the issue, Abhay Karhade, advisor to President SVKM, Chancellor NMIMS University for IT Services said, "The COVID-19 has created huge challenges for the sector. But, it has helped us to switch on our reset button and everyone is looking at how to do things differently. If we bring changes it will help us in the future also. "

He also said, "We have used the technology in a better way as it's a new normal for everybody. It will be a boost to the education sector".
Karhade also said, "The utilization of technology will surge in education. The important things will be assessments, admissions, and placements. The new normal will be different and new tools will be used for a long time. "
He also emphasized on the need of IT plan in the sector which will ultimately benefit students in the long run.
Balakrishna Rao, Vice President & Chief Information Officer, Manipal Global Education Services said, "This pandemic is global and everyone is trying to build a business continuity plan. All the plans for disaster recovery are ruined. We need to respond to the crisis positively. The physical classes have transformed into virtual ones seamlessly. "
He also emphasized on social distancing and said they are trying to find out the solutions for conducting exams through online.
He also said each and every school must have digital strategy and add new things for students.
He also asked to bridge the digital literacy gaps between the schools which can add more value to the sector.
Karan Kumar, Head – Information Technology, O.P. Jindal Global University said, "Students are finding it easier to communicate during virtual classes. The crisis has forced many people to come to adopt digital ways. We need to develop infrastructure which can help our organization vertically. We need a single platform to collaborate all the data. It's very important to compile data in one place."
He also said small platforms can be formed to solve real-time problems. He also said it's a good time to experiments and physical schools will not be the same post-COVID-19 crisis.
Speaking over the issue Dr Prabhat Ranjan, Vice Chancellor, Dy Patil International University said, "The situation has caught us in surprise and teachers were not ready for such a crisis. Now we are trying to find out what can be done and what can't. The overall efficiency of teachers has plunged. The crisis has forced us to use technology in a better way."
He is asked institutions to invest in digital infrastructure which can help them in such a crisis.
He also said teachers need training to adopt new technology which can be used in education.
According to Dr Prabhat, the bigger challenge is conducting exams for students that need to be addressed.
Hemant Sahal, Founder & CEO, CollPoll said, "The behavioral inertia has changed a lot. The education sector was not prepared for such a huge crisis. People have scaled up the use of technology. Education stakeholders and ed-tech firms have come together to tackle the crisis. The prospects are becoming better for education."
He also said, "Institutions must realize technology decisions must be taken for long-terms. Mobility and data security must be taken care of. Institutions must be capable to integrate new technologies."
He also said, technology team makes the difference more than the product and understanding the tech is much important.
He also urged education institutions to adopt technology for long terms.
CollPoll is a web-based campus management, engagement & analytic platform to resolve the digital compliance. It is one of the leading ed-tech firms in the country.