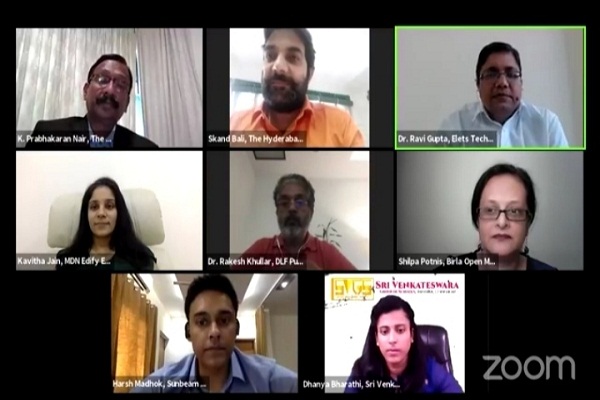 With COVID-19 rising in India, the Government of India has called for the second lockdown till May 3, 2020. All the educational institutions are closed from mid-March until further notice. The closure can be seen as a huge blow to the education sector. The sector is reeling under huge crisis as there is no uncertainty over the re-opening of educational institutions.
If the educational institutes are further closed down, then it will have a direct impact on the remaining board exams of different states including Tamil Nadu, Andhra Pradesh, Assam, Maharashtra, Rajasthan, and CBSE and ICSE. They will be further delayed, which will again impact the ongoing academic session.

Elets Technomedia in association with digitalLEARNING Magazine organized a webinar on "Future of Education- Roadmap & Implementation" with esteemed speakers from the sector. The speakers presented their views over the effects of the Coronavirus epidemic.

Speaking over the issue Skand Bali, Principal, The Hyderabad Public School, said, "One of the biggest challenges is to provide online education in rural India. There will be apprehensions in the mind of parents over safety when the schools are e re-opened. We are facing a financial crisis as these are challenging times for all of us. Schools in the USA and Canada are getting closed. Even, Canada is looking for alternative ways of teaching."
He also said the govt needs to enhance the connectivity so that students from every corner can get benefits from e-learning. He also said the COVID-19 has provided an opportunity to bring creativity into the education system.
Over e-learning he said online teaching cannot continue for a longer time as physical education is more important.
Lastly, he said everyone has to come together to tackle the crisis and find a potential solution.
Another speaker Kavitha Jain, CEO, MDN Edify Education said "Are we analyzing the outcomes of content that is provided to students. We are waiting for new norms from govt in the education sector to revive. Our focus must be on how can we engage the children and teach meaningful stuff. We need to provide application learning to kids."
She also said responding to questions of students and parents will be important for educational institutions.
"All schools must be prepared for online teaching in taking parents into confidence. The challenge is how to implicit online learning in our schools and must prepare our children for future", she added.
Dhanya Bharathi, CEO & Creative Director, Sri Venkateswara Group of Schools said "We have to embrace technology as it is the only option in this crisis. The present scenario is the future of the sector. The first challenge was how to make children learn new things. We have adopted plans to nurture socio-emotional habit with children."
She also said "Every school has its own way of teaching from urban to rural areas. Education is a part of living and must think about re-designing the school curriculum. We need to change the mindsets of children over online education. "
She also urged schools to adopt a hybrid model and life skills in the coming days.
"We have connected with TV channels and audio lessons are also provided for children. We started giving video lessons and students became mentors for teachers in understanding the new technology" she added.
K Prabhakaran Nair, Headmaster, The Lawrence School, Lovedale, Ooty said "This was an unexpected situation. The physiological drift is a major challenge within the children and parents. Technology will bring new dimensions to the education sector. The biggest challenge is when it's going to end as it's very unpredictable. The post-COVID world will be different for all the children and teachers."
He also said, "We need to provide emotional support to children as it's very important in this pandemic. We must take responsibility of children as they are most affected in the lockdown. The children are missing co-curricular activities."
She also emphasized that online education is not the only solution, and need to find creative ways to continue teaching.
She also raised concerns over the situation of teachers in the crisis.
Harsh Madhok, Director, Sunbeam Group of Institutions, Varanasi said "In this hour, we must focus on quality education and keep children engaged. The syllabus completion is another issue and we cannot dilute anything. The scenario is different in India regarding gadgets. We need to revive the confidence of parents after lockdown."
He also said "We are lucky enough that our sector is successfully running as most of the other sectors are shutting down. Physiological effects can be seen within children and need to address the issues post COVID-19. We need new platforms for children."
Over e-learning teachings, it's time for teachers to adopt new technology and need to make teachers comfortable with technology, he added.
Dr. Rakesh Khullar, Chairman, DLF Public School, Ghaziabad said "In my views, it is not the right time to start online education. We don't have the proper infrastructure for online education in our schools. Our teachers are not trained to provide online teaching and now we have to change the entire curriculum. Financial implications will be the biggest challenge for schools."
He urged the schools to prioritize the expenses as uncertainty prevails in the education sector.
He also said the govt must step in to help the sector to revive from the financial crisis.
Shilpa Potnis, President, Birla Open Minds Group of Schools, Mumbai, said "There are two major challenges firstly, how to keep the students occupied and secondly, how to keep our teachers keep motivated in this crisis. We don't know when the crisis will end in India."
She also said "It will be a huge challenge for new schools to sustain the crisis. For the existing schools providing salaries and maintaining other essentials."
"We must reduce screen time and focus on worksheets. Not only for students, but teachers can also be called to schools on a rota basis. We must accept the combination of e-learning and physical classroom teaching. The schools must follow one desk, one-child policy, and have staggered break times. Parents are very important as they have to provide proper infra for students to take online classes" she added.
Sandeep Goenka, Founder Trustee, C P Goenka & Swami Vivekananda Group of Schools, Mumbai said "The crisis is here to stay as there is no vaccine for the virus. Lockdown will be the new normal for students. We should cut down on academics and try to develop life skills within a child. We must invest in the non-academic syllabus for students. Students must ready to cope with the new world post-COVID."
He also said "It's not possible to complete the entire syllabus online. We have to go for balance teaching and online learning is not the solution. We need to take care of co-curriculum activities. We need to work out on our teaching ways."
He also said schools can opt one day online and one day offline classes when schools re-open.
While concluding, he said we need to provide proper training to teachers as the situation was unprecedented and no one was prepared for such crisis.