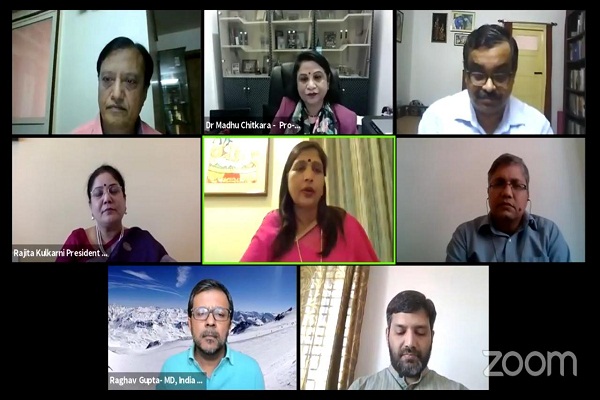 Education industry has taken a hit in the current global scenario. But the sector has bounced back, thanks to the digital era. The current situation has led to the closing down of schools, universities, institutions following the spread of the Covid-19. This has further affected the students and aspirants preparing for their future. But as the educationists' believe that learning should not stop, hence physical education has moved to the virtual world. While most of the schools and universities across India and globe are offering online classes, on the other hand there are ed-tech platforms are offering online education.
A webinar was organized by Elets Technomedia in association with digitalLearning Magazine on "Intervention of technology in higher education amid the Corona crisis- Are we future ready". The panel discussed over the issue extensively. The webinar was supported by Association of Indian Universities, Adobe being its digital partner and Coursera was its online learning partner.
Speaking over the issue, Dr SS Mantha, former Chairman AICTE and currently KL University Chancellor said "Covid-19 has interrupted the academics and we are heading toward an uncertain future. It will have an impact on placements also. The students exchange program will be badly affected. We need to find solutions for 35 million students."
He also said "it's very necessary to collaborate with online educators for future. The end semester exam must be cancelled for this year. Everyone can use online content for their curriculum. We need to find out long-term solution to tackle the Covid-10 effect."
Another panelist, Dr (Mrs) Pankaj Mittal, Secretary General, Association Of Indian Universities, said "Teachers and students are not prepared for such a situation. We know our teachers are not prepared for online teaching. Firstly, we have started proving training to our teachers, secondly we have tied up with National Digital Library for any resources. We held a meeting with placement officers over the cancellation of job offers. The admission will get hugely impacted, and we have asked universities to register and provide the details on our portal."
She even went on to say they are trying help students, teachers and universities during the pandemic and not only students but teachers have adopted online teaching.
Dr Madhu Chitkara, Pro-Chancellor, Chitkara University said "Five years back we tried to bring in online courses in our university. We have started online assessment, teaching to develop new things within our faculty members and students. All the students are using e-learning platforms during this crisis. The attendance has seen huge surge during these e-classes."
Dr Chitkara also said "everything cannot be done online but we are trying to provide every possible help for our students. With all the e-learning classes we are trying to make our students comfortable."
Supreeth Nagaraju, Head – Education, Digital Media Adobe India & South Asia asked all Universities to build business continuity plan. He also said "We can empower the educationists during this hour and we need to bring social angle in our studies. We need to encourage students to showcase their talents. There is a new class room mode which can be delivered to millions of students. We need to find out what's working and what's not with the students during virtual classes."
Prof Partha P Chakrabarti, Former Director, IIT Kharagpur said "Our education culture is in disarray due to COVID-19. Conducting online exams is our bigger challenge in this hour. We are now evolving immediately to tackle this crisis. We have started multiple layer methodology for our students. We are trying to collaborate with intuitions as they are adopting e-learning. We have asked them to contribute to National Digital Library so that everyone will be benefited. We are building online platforms, so that students from across the globe will get help in this pandemic."
Another panelist, Rajita Kulkarni, President, Sri Sri University said, "It gave us good amount of time to prepare for the lockdown. Now we have become 100 percent virtual and conducted some exams online. We are also helping other institutions in Odisha. Nobody knows what will be the future post this pandemic. Not only teaching, but we are also doing concerts, life skill activities and many things for students. We are reaching out to parents also as they are worried about the future of their children. We are trying to prepare ourselves for any financial problems post-Covid-19 crisis.
Raghav Gupta, MD, India & Apac, Coursera, said "The focus must be to transform education online. We need major four things in this crisis, firstly, real-time communication, secondly, some kind of e- platform, thirdly learning management system and fourthly online assessment system. Universities must start a blended learning system. We must be ready for both physical and virtual classes for universities post Covid-19.
He also said "Online content creating is important in this hour. Institutions must have digital officers so that they can bring all things under one roof which will be helpful for students.
Over 45 million students are getting benefits from Coursera as it is one of the largest online teaching platforms in the globe.