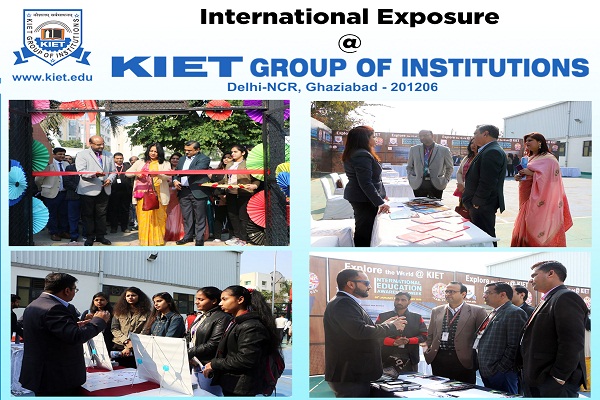 "4 July to 18 August 2019 in German University, Cairo, Egypt, has been a lifetime achievement for me. I belong to a small town and going to foreign lands would have been just a dream for me until I attended the International Education Awareness Week that was organized at my institute in January 2019", remarks Ashish Mishra, the 3rd year student of the department of Information Technology at KIET Group of Institutions.
Education is at the precursor of international development and globalization has made it easier than ever for students to explore the world abroad for work and study opportunities, thereby the appeal of pursuing international education or taking international exposure has taken good momentum among the youth of India these days.
International experience engulfs the set of cognitive, effective and behavioral skills that are developed through appropriate interaction with global citizens. The development of all these skills happens when an individual goes through an international perspective engaging in new languages, meeting people of other cultures or nationalities, learning new habits and customs along with knowledge exchange, thus he gets prepared to face global challenges.
Advantages of International experience:
Recent research backs up what is generally understood to be the advantages of international exposure: it increases employability by developing transferable skills. Such experiences offer the potential to develop-
· Communication Skills
· Interpersonal skills
· Cultural awareness
· Cultural sensitivity
· Behavioral flexibility
· Foreign Language acquisition
· Self-directed learning
· Community building
· Contributing to social cohesion and many others.
Moreover these attributes add immensely to the personalities of the students, as for national as well as international employers, they offer a more rounded set of abilities & demonstrate deeper experience. Foreign language skills are increasingly treasured amongst international companies, as are communication & interpersonal skills.
However, a report from the MAUNIMO Project also points out, while making the case of mobility in terms of employability:
"The values, skills & international perspectives that mobility generates for institutions, individuals, societies, and business must be well evidenced, and underpin the reasons for investment in mobility."(Colucci, Davies, Korhonen & Gaebel, 2012, p.57)
Thereby keeping in mind that travel abroad for the purpose of the study is the only element in the internationalization of higher education as it involves various activities aimed at improving the efficiency and competitiveness of higher education institutes, various institutes, and universities in India too endeavor to provide such exposure to its students.
Many top-notch private institutes & universities create an ambience wherein the Indian students experience overall international exposure by means of having international students in their class, meeting & listening to experts from abroad, participating in international events, seminars & conferences and getting a chance to visit foreign universities & industries during their course of study for short term programs. These experiences certainly broaden the mindsets of the students and they become more eager to exploit international opportunities for their masters or doctorate programs.
KIET Group of Institutions, the best Engineering, Pharmacy& Management institute in Delhi-NCR, Ghaziabad (www.kiet.edu ) even believes in preparing global citizens and honing their students with strengths that can equip the students, like Ashish and others, to fight challenges in the world abroad. It has taken a few initiatives to provide exposure to its students of all courses and streams through its International Relations Office.
International Relations Office (IRO):
IRO at KIET harbors all their global relations, collaborations, activities, and internships. There are multiple opportunities that they provide through life experiences and personal connections, complementing and accelerating fluency in speaking, reading, and writing foreign languages. The opportunities include:
INTERNATIONAL COLLABORATIONS: Collaborations are a great way to work with other institutions to understand and facilitate learning experiences for students and faculty of a college and its collaborative partner. KIET has aligned with various Universities and organizations as SWOSU, USA, Network N+I, University of Uzbekistan and others for research, publication, conferences & others.
INTERNATIONAL ACTIVITIES & EVENTS: Attending distinguished lecture series, Seminars & Conferences within a global community alongside the opportunity for networking with like-minded people from various cultures provide immense opportunities to build an international career after university. The institute regularly organizes these activities which aim at widening the horizons for students, looking for opportunities of pursuing higher education, internships, and careers abroad.
INTERNATIONAL INTERNSHIPS/ SUMMER SCHOOLS: International internship programs or Summer Schools provide the student with an opportunity to visit a University or industry or start-up in a foreign country for a period of 6-8 weeks. The student witnesses either some research work or gains hands-on experience with the Startup in that country spends time with fellow students from different countries and gets involved in the real-time projects offered by them for internship/ summer school. During their stay in foreign lands, the students visit industries, business centers, research centers and participate in discussions & interactive sessions among students, scholars, and faculty to explore knowledge.
Internships are a great way for the students to experience and see how ideas work in real life. Taking it one step further, this program to provide international internships to students of KIET ensures global education and personality development. It provides the students a chance to spread their wings beyond the national boundaries.
Moreover, the students opting for international internships can claim scholarships for the internship that they get selected for. This is to ensure equal opportunity to every student regardless of his/her economic condition. The scholarship is granted on the basis of merit, attendance, discipline, and other criteria.
The institute, in association with AIESEC, IAESTE, and other associations, endeavors to provide genuine and quality internships to students. More than 12 students have been to countries like Egypt, Malaysia, Germany, Indonesia, and Kenya. Their testimonials can be read at https://www.kiet.edu/international-relations-testimonials
INTERNATIONAL EDUCATION AWARENESS WEEK: An International Education Awareness Week followed by the International Education Fair is conducted at KIET every year. IEAW provides a platform to its students where they can interact with the national and international speakers and get accustomed to all the information regarding education abroad, internships and global career opportunities.
FOREIGN LANGUAGE CLASSES: KIET students have got the privilege of learning the German and Japanese languages on the campus itself and prepare themselves to become globally acceptable.
To gather, these initiatives of institutes like KIET are encouragingly exceptional as their International Relations Office provides a pool of opportunities & resources to the students, by bringing together students, teachers & academicians from around the world for rich & diverse exchange of knowledge & culture and preparing them for global challenges. More information about international experience at KIET Group of Institutions can be fetched through the link: https://www.kiet.edu/Global-Exposure
Reference: Colucci, E., Davies, H. Korhonen, J. & Gaebel, M. (2012). Mobility: Closing the gap between policy and practice. Brussels: European University Association. http://www.maunimo.be/images/Oslo/eua%20maunimo_web.pdf
"Exciting news! Elets Education is now on WhatsApp Channels Subscribe today by clicking the link and stay updated with the latest insights!"
Click here!