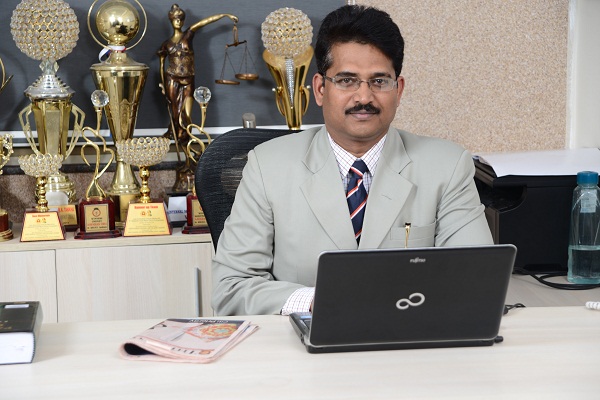 COVID -19 Pandemic has not only made us all face toughest time in the history of the last 100 years but also to the Governments affecting almost all other spheres of life. It has been our testing times in last 21 days during the lockdown-1 (25 March to 14 April) India and will continue to do so for a few more months ahead until the entire virus is eradicated or until we find a medicine for it. During these difficult times, we have multiple challenges of life, liberty, business, trade, commerce, food, education, and it is very natural to fall into mood swings, depressions, anxiety, fear and in some cases even suicidal tendencies.
Education is the most hit sector because of the COVID-19 pandemic that has seriously affected the life and the teaching, learning process of several million students and faculty globally. Because on March 11, 2020, the World Health Organization (WHO)Citing concerns due to the alarming levels of the spread of COVID-19 and its severity, asked the Governments to take urgent and aggressive measures to stop the spread of the Coronavirus. Educational institutions were first to shut down. Because, WHO declared that the outbreak of the viral disease COVID-19 first identified in December 2019 in Wuhan, China – had reached the level of a global pandemic.
The scale and severity of the COVID-19 pandemic clearly grows to the level of a public health emergency that could justify restrictions on certain rights, such as those that result from the imposition of quarantine or isolation limiting freedom of movement. At the same time, careful attention to human rights like non-discrimination and human rights principles such as transparency and respect for human dignity can foster an effective response amidst the un-stability and disruption that inevitably results in times of crisis and limit the damage that can emerge from the imposition of overly broad measures that do not meet the said criteria.Human rights law recognizes that in the context of serious public health threats and public emergencies threatening the life of the nation, curtailment on some rights can be justified when they have a legal basis, are strictly needed, based on scientific evidence and neither arbitrary nor discriminatory in application, of limited duration, respectful of human dignity, subject to review, and proportionate to achieve the objective. As the International human rights law guarantees everyone the right to the highest attainable standard of health and obligates governments to take steps to prevent threats to public health and to provide medical care to those who need it.
The Prime Minister of India Mr. Narendra Modi keeping in mind the expected threats of COVID-19 timely imposed 21 days lockdown in the country from 25th March to 14th April, 2020. As the lockdown is the most effective way to break the chain of the Coronavirus spread. But the lock-down period thrown serious challenges and affected multiple sectors including education not only India but also in almost all the affected 200 countries in the world. Many countries have closed schools since the COVID-19 outbreak, disrupting the learning and education of hundreds of millions of students. In times of crisis, schools provide children with a sense of stability and normalcy and ensure children have a routine and are emotionally supported to cope with a transforming situation. Schools also provide important aspects for children and their families to know about hygiene, proper handwashing techniques, and adjusting with situations that will break routines. Without access to schools, this prime responsibility falls on parents, guardians, and caregivers. When schools are closed, government agencies should step in to provide clear and accurate public health information through appropriate media.
To ensure education systems sustain properly, UNESCO has recommended that affected countries to adopt a variety of technology lead online solutions to assure the continuity of learning. In many countries, teachers already use digital and online learning platforms to complement normal contact hours in classrooms for homework, classroom exercises, and research, and many students have access to digital equipment at home. However, not all countries, communities, families, or social groups have sufficient internet access, and a lot of children live in locations with frequent government-led internet shutdowns and in rural areas where there is either poor network or there no network at all.
Therefore, UNESCO has recommended that online learning should be used to mitigate the immediate impact of lost normal school time. Schools educational technology for online learning should ensure the tools to protect child rights and privacy.
Governments should adopt specific measures to support the marginalised and disadvantaged children– including girls, those with disabilities, those affected by their location, their family situation, and other inequalities. Governments should focus on adopting strategies that support all students through closures – for example, monitoring students most at risk and ensuring students receive printed or online materials on time.
Governments should adopt mitigation strategies, for example by working with teachers, school officials, and teachers' unions and associations to factor in plans to recover teaching or contact hours lost, adjusting school calendars and exam schedules, and ensuring fair compensation for teachers and school personnel who are working additional hours.
Countries with high out of the school children will have additional accountability to review compliance with mandatory education and monitor school returns of the refugee children once schools re-starts[1].
Sudden school shutting down may also leave low-income families fighting to make ends meet and provide necessities. Governments should ensure continued meal provision during school closures for children in low-income families who will miss subsidized meals.
As the outbreak of COVID-19 still growing fast in the different parts of the world with around 170,436 deaths globally, USA is the most affected country with 42514 and, Italy 24114, Spain 20852, France 20265, UK 16509, Belgium 5828, Iran 5209, and China 4632 deaths the country where the initial outbreak occurred. The United States has also seen the highest number of infections crossing 8 Lakhs which has a serious pressure on the health care system[2].
However, India has less number of cases comparing to other foreign countries (18539 infections and 593 deaths) but leaning from the nature of the pandemic from the other countries our Prime Minister Mr. Narendra Modi extended the lockdown from 15th to 3rd May, 2020 ( Lockdown-2) for the next 19 more days. This is a welcome step and well-thought decision of Mr. Narendra Modi but will further challenge the protection of Human Rights and put extra pressure on individuals and society. Our Prime Minister rightly suggested the 7 points as follows to be taken care by us in line with our individual, social and moral responsibility and ensuring the protection of Human Rights of the suffering people as an urgent need of the hour[3].
1. Take care of the elderly- The Prime Minister advised to take special care of the elderly especially those with pre-existing illnesses.
2. Follow Social distancing- He also said to strictly adhere to social distancing norms that have been so far effective in combating coronavirus. He also advised using face masks and covers. Home-made face masks can also be used.
3. Follow AYUSH Ministry guidelines on improving immunity- It is important to build our immunity to fight the coronavirus and the Prime Minister has asked to follow the guidelines given by the Ayush Department. The department has suggested ayurvedic remedies to increase immunity.
4. Download AarogyaSetu app- To help with the combat of the virus, the prime minister has asked every citizen to download and use the ArogyaSetu App. This app has been developed especially to track coronavirus cases.
5. Help the poor- He has also appealed to people to help the poor and needy especially by providing food and protective gear such as facemasks.
6. Compassion for employees- The prime Minister asked employers to have compassion at such a challenging time and to not fire anyone.
7. Respect Frontline workers- The true warriors of the pandemic are the health care and sanitary workers and the police who are risking their lives to protect everyone. It is important to show respect to them.
There are people who are lucky to have work and working from home by utilising the digital technology and positively contributing towards professional and academic activities and getting self-satisfaction but there may be people around you who may not have such an opportunity. There may be people in your own families and society who may be having fear, mood swings, non- participation, Insomnia, loss of appetite, loss of interest and ultimately affecting their mental health. Therefore, please do not ignore any symptoms like this if you see any of this in any member of your family and society, please come forward and show, courage, care, compassion, and most importantly precautions. Only you can get your family out of fear by ensuring good health for self and loved ones as your top priority. It is important to save yourself from virus but it is even more important to save everyone from mental ill-health, hunger and support in the protection of basic human rights. Therefore, you should always take care of yourself and be available to your family and the society.
There will be a growing challenge for theGovernments in lockdown-2 to fight this global pandemic without the continuous support of the people at large. We must appreciate the efforts put by various NGOs, Corporate sectors, social groups, individuals who are seriously working to fight with the Coronavirus Pandemic COVID-19 but we all should collaborate with the Govt. in a better way in the lockdown-2 and provide full support considering it as our moral and social responsibility in whatever manner we can do to get success against the most difficult times of the last century for the benefit of all of us and the entire humanity.
[1]https://www.hrw.org/news/2020/03/19/human-rights-dimensions-covid-19-response#_Toc35446578 Visited on 14th April, 2020.
[2]https://www.worldometers.info/coronavirus/ Visited on April 21, 2020
[3]https://news.abplive.com/news/india/pm-modi-speech-on-coronavirus-7-highlights-aarogya-setu-mobile-app-immunity-help-poors-thanks-to-corona-warriors-and-more-1197158 Visited on 14th April, 2020.
"Exciting news! Elets Education is now on WhatsApp Channels Subscribe today by clicking the link and stay updated with the latest insights!"
Click here!