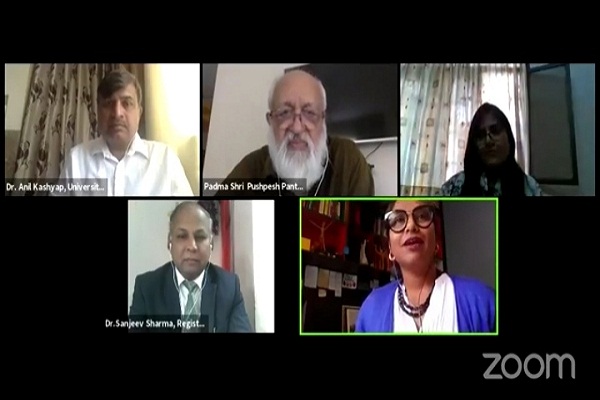 Across the world, the Coronavirus has sparked uncertainties of an unparalleled magnitude. Leaving hundreds of thousands dead in its wake, the virus has ignited global health anxiety. Not only health but there is also economic worries. Several million have already lost jobs, and the world economy is predicted to suffer from a major recession which could be magnitudes greater than the great depression. In India, the lockdown is in its fourth phase, with the economy almost completely opened up and railway services are already underway. Domestic passenger flights services commenced from after a gap of two months amid confusion over what quarantine rules may apply to the travelers, but some states will see limited operations and the resumption delayed by up to three days. People are more worried about the economic crisis than health issues emanating from COVID-19 pandemic.
Elets Technomedia and digitalLEARNING Magazine organized a webinar on "Socio-Economic, Health and Environmental Impacts of COVID 19" with eminent speakers from various sectors.

Padma Shri Pushpesh Pant, Retd. Professor, JNU said "The Covid has affected to every section of society in different ways. Nobody has prepared us for such a pandemic. Covid has large impacts not only on India but globally also. We are living through very unreal times. There is a crisis witnessed in various sectors including hotels and tourism. No one knows what will happen to hotels in the coming days and how will they operate. Will people be ready to go back to offices after working from home for so many days? There are many unanswered questions before the people."

He also said the short term effect of Covid will be there for at least three years.
He also said people should ask questions to the government over their future as millions of job losses are looming. COVID will create unrest in society. The package declared by the government is not sufficient. Both the Centre and state govts must join hands to tackle the pandemic.
When asked over the education sector, he said is India ready to accept the new kind of education system. We must all change our mindset over the new education system in the country. We need to worry about pedagogy, textbook, and teachers in the crisis.
Over Artificial Intelligence, he said the machine can be a substitute not a replacement. Everything cannot be decided by the machine.
Dr. Anil Kashyap, University of West of England, Bristol said "The COVID crisis is a blessing in disguise. There is an environmental impact of COVID and nobody in the world was prepared to deal with this unprecedented crisis. With lockdown imposed, the air and water pollution have plunged. The supply chain got affected due to the pandemic. These environmental impacts came in the cost of economic activities. This is a blessing in disguise for the environment."
He also said the policymakers across the globe need to understand the way the environment is changing and need to take significant steps for it.
There are significant changes noticed in the world. It's a great opportunity for all of us. We need to prepare our society to live with Corona. Social distancing can be the new norm and policymakers must plan according to it. There is a new debate that arises, online vs face to face in many sectors.
There are huge opportunities for digitalization in every sector. We need to calibrate our resources to the best of their usages. Technology can play a major part in our lifestyle, he added.
Over the education sector, he said educational institutions must adopt blended learning. The traditional way of teaching will get hampered. Safety can a huge concern for parents before sending their wards to campuses.
Dr. Kavita, Faculty, School of Business & Management, CHRIST (Deemed to be University) said "The GDP is going down for western countries drastically. The lockdown not only flattened the COVID patients but GDP of many countries also. The digital platforms are growing in this crisis. Remote learning has been a new thing in the education sector. There are consumer sectors are suffering a lot. Over 63 million jobs lost in Covid."
She also said the crisis can be witnessed in every sector including travel, real estate, hotel and many others. The students will be affected badly due to the crisis.
She hailed the Central government's move to provide a financial package to the various sectors. The crisis calls for a remedy plan at the macro and micro levels. The govt is trying to handhold the MSMSe with an influx of revival packages. The Centre has provided relief packages to every sector in this pandemic, she added.
Business leaders must focus on the decline in the purchase and most of them might go online. The govt and business leaders must adopt online in this crisis as technology can play an important role, she added.
The govt must focus on availability for rural and affordability and availability for urban and rural areas, she added.
Dr. Sanjeev Sharma, Registrar, Ansal University said "It unprecedented times for the health sector. The new Coronavirus not only damages lungs but medulla oblongata also. There is no medicine for the new pandemic. With lockdown imposed in India on time, it curbed the transmission of the virus. India has taken preventive measures as soon as Covid hits India. The western countries are way more affected than India."
He said only 30 pc countries have the digital infrastructure for students. Most of the affected countries rely on the traditional method of teaching for their students. Online education is available to very few. We cannot remove the chalk learning as online learning will not provide peer to peer learning. We must adopt blended learning as it is the necessity, he added.
He also lauded the Central govt over the preventive measures, it took to curb the spread of virus in the country.
He also said it's high time to develop our health infrastructure in both rural and urban areas. We need to develop indigenous resources.
We have faced pandemic earlier also. Life is not going to stop as every problem has a solution.
Over machine learning, he said Artificial Intelligence can be a tool not a solution.