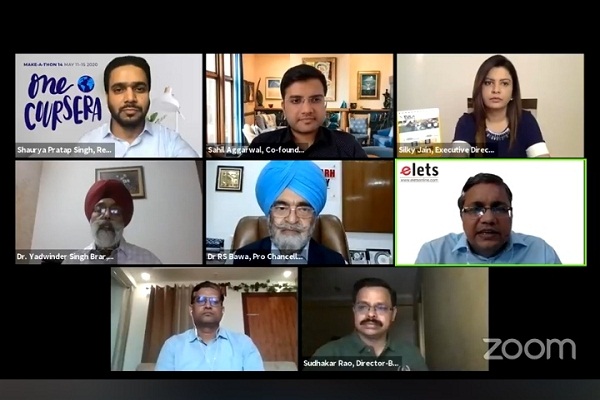 The Coronavirus pandemic has significantly disrupted the higher education sector, which is a critical determinant of a country's economic future. A large number of Indian students—second only to China—enroll in universities abroad, especially in countries worst affected by the pandemic, the US, UK, Australia and China. Many such students have now been barred from leaving these countries. If the situation persists, in the long run, a decline in the demand for international higher education is expected. Needless to say, the pandemic has transformed the centuries-old, chalk–talk teaching model to one driven by technology. This disruption in the delivery of education is pushing policymakers to figure out how to drive engagement at scale while ensuring inclusive e-learning solutions and tackling the digital divide. A multi-pronged strategy is necessary to manage the crisis and build a resilient Indian education system in the long term. One, immediate measures are essential to ensure continuity of learning in government schools and universities. Open-source digital learning solutions and Learning Management Software should be adopted so teachers can conduct teaching online.
Elets Technomedia and digitalLEARNING Magazine organized a webinar over "Role of tech and blended learning" – Way forward: approaching next academic session and delivering student's learning" with eminent speakers from the Higher Education sector.
Silky Jain, Executive Director, Tula's Institute, Dehradun said "Most universities were not prepared for Coronavirus crisis. Now, online courses are become the most important thing for universities. Higher education is going through a drastic change. We are facing an issue with internet speed as most of the students are from tier II and III cities. With the new app, we addressed the digital infrastructure; students can learn anytime and will provide micro-learning for students. "
She also said Tula's Institute has developed a Learning Management System to tap the students' progress. In coming days, the app will be revamped to provide better services to students.
We are revolving around three things, capacity, willingness and interest. It's high time to develop the interest of students. The new normal will be beautiful after the lockdown, she added.
Over faculties, she said there must be training sessions and need to develop the online teaching training classes regularly.
She also emphasized to address the psychology of students in this crisis.
Shaurya Pratap Singh, Regional Sales Director, India, Coursera said "There are four things educational institutions need, firstly, real-time communication system, secondly, the classes were flipped from offline to online as universities were not prepared to provide digital classes, thirdly, Learning Management System for students and lastly, assessment tools.
Coursera has over 55 million users registered globally, including 6 million in India. Over the past few months, Coursera has seen a 6-fold increase enrollment on its platform. A lot has changed in the Higher Education sector, but there's a long way to go for education to evolve in the country, he added.
By 2030, the online gross enrollment will rise to 50 pc. There will be limitations in classrooms and mobility will be reduced and campus may have to open and close post-Covid, he added.
Coursera is providing degrees through online in many sectors. Coursera has received over 75,000 requests from colleges and universities in India and 1,696 programmes across many universities are active on the platform.
Sahil Aggarwal, Co-founder & CEO, Rishihood University, Sonipat said "The concept of blended learning was there in the sector in different ways. We must adopt flexible learning. With flexible learning, universities have to make many changes in their curriculum. With technology, teachers can reach to any part of the world. Learning will be integrated in the coming days."
He also said the education has changed a lot in the last few months. Things are very uncertain, how the campus will open and what will be the guidelines to operate, he added.
Over teachers, he said adopting technology is compulsion for them. Faculties must focus on developing good content and act as facilitators, he said,
Dr. Yadwinder Singh Brar, Professor & Director Incharge (Main Campus), Electrical Engineering I.K. Gujral Punjab Technical University, Jalandhar said "Everything was uncertain after the lockdown was announced. Firstly, we need to develop the skillsets for using the technology in education. We have to make students learn to use the technology also. We have recorded lectures and sent it to students. With COVID we are developing new skills to tackle such crisis."
Technology will play an important role in the education sector in coming days. Not only students but faculties must learn to use technology in education. There will be a surge in online courses in the coming days, he added.
Dr RS Bawa, Pro-Chancellor, Chandigarh University, Chandigarh said "The crisis is a new thing for every universities. We had developed our own LMS and over the years the university has turned paperless one. Technology is required for new age universities. The new situation will have three pillars- technology, innovation, and flexibility. We need to upgrade our technology also."
The exams will have to take a back seat but ed-tech platforms will be crucial in the coming days. The role of technology to engage students is very important, he added.
He also said the challenge will be to make teachers empowered to use technology and secondly to keep students engage in virtual classes.
We are working on a lot of flexibility post COVID. We need to make students believe this crisis will not affecting their careers. The normal will be different normal post COVID, he added.
Over future plans, he said adapting new technology, self-analysis, and change in curriculum will be on the cards of the varsities.
He also emphasized transform and translate content which can reach every student in this pandemic.
Prof. (Dr.) Tabrez Ahmad, Pro Vice-Chancellor & Dean, School of Law, GD Goenka University, Gurugram said "Quality of content is the main issue for universities. The quality of content is the main difference and we need to focus on it. Technology can provide maximum learning in the classroom. Technology can help to engage students in the classroom. "
Firstly, we need to train our faculties and students to use technology. Secondly, we have to integrate skill orientated learning. However, in online education, peer learning will be hampered. Nothing can match the peer learning in campus, he added.
The Artificial Intelligence will be helping the students and teachers in relevant teaching. The AI will filter the content for teachers. Now teachers can focus on many other things. Faculties now will focus on research; a good researcher can be a good teacher, he added.
With new technology parents can check their wards progress and attendance, he said.
Over exams, he said they have used objective types to conduct exams and things were done in two hours. There is a great shift in attitude, he added.
Sudhakar Rao, Director-Branding, ICFAI Group said "We developed a Learning Management System in 2012, named it Quicforce. It's a moodle based Learning Management System. Through the LMS we have conducted class participation, quizzes and many more. We are running the case studies with the help of animations and reduced them to 4-5 pages. We will be using the Quicforce to start our academic year. We are readily deployed to initiate the classes online."
He also said "Variety of schools have finished their curriculum. Most of the universities have completed their exams. We are eagerly waiting for the next academic year. The colleges' might open around September. The students have to be engaged until then. The other countries have adopted many preventive measures before opening the campuses. The parents are worried about the safety of students. The mobility will be hampered in the country. There will be a phase where institutions will settle down and there will be a phase where universities will adopt the digital campus."
The role of teachers has changed completely and now they will act as facilitators. Big tech giants are going to make an alliance with educational institutions and offer programmes for the future.