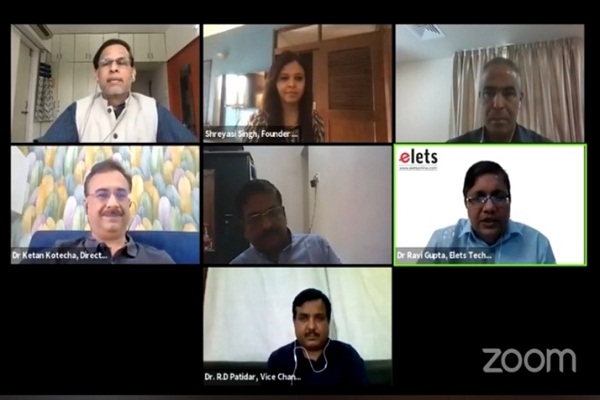 The Coronavirus epidemic has affected over 91 percent of the world's student population in the last few months. To curb the spread of COVID-19 infection, schools and higher educational institutions have been shut down in several countries. The virus has impacted more than 157 crore students across 191 countries.
In India, over 32 crore students have been affected by the various restrictions and the nationwide lockdown, which was imposed by Prime Minister Narendra Modi on 25 March. The report notes that students from classes 9 to 12 were most severely impacted by this lockdown. More than 13 crore children fall in this bracket in India, which is also the level at which students write the board exams. Higher education was also badly affected as all the educational institutions have closed their and had to shift their education online.
A webinar was organized by Elets Technomedia and digitalLEARNING Magazine over 'Can COVID-19 Spur Education 4.0!'with eminent speakers from the industry.
Dr Anand R Bhalerao, Principal, Bhartiyavidyapeeth College of Engineering, Pune said "If our economy stables well then we can cover up the crisis. The importance of face to face education has reduced in the crisis. Institutes were not prepared for such pandemic and now they have to build digital infra for students. We have to accept the concept of study anytime and anywhere."
Over online teaching, he also said institutes need to train faculties for such a crisis in the future. We are not equipped to deal with the situation as it was very abnormal; now the institutes understand they need to develop their infra for such a crisis. We must need Robust infra and opt for online teaching. The institutes have to create content but delivering them the biggest issue.
Over placement, he said the season is technically over and it's only honoring the offers. The firms may also change their offers given to students. Institutes have to create in house internship opportunities for students.
Assessment is still a big challenge for the institutes, he added.
Lastly, he said Change is the only constant things and the education sector needs to evolve with time.
Shreyasi Singh, Founder & CEO, Harappa Education, New Delhi, said "We need to work on the proper infrastructure for digital education. The format is very new for the sector. There will be flux and anxiety in the next three coming months among the students and parents. We need to create more entry and exit points in the sector. "
She emphasized on online learning and said the variety and reach of content will increase with the induction of technology in education. There will be more acceptability and choice in online education.
Over placements, she said it will be difficult for institutes to provide jobs for students. We are at the stage of black and white of online education as it has just started in India.
Dr. Yousef Al Assaf, President, Rochester Institute of Technology- Dubai said "The COVID-19 has hugely impacted the Higher Education in the last few days. Our students are not ready for new types of jobs. The COVID has accelerated things, but we know about exams, core programs, and public access. Corona will change the dimensions of the education."
He said the institutes must focus on access and impact of online learning in the education sector.
Blended learning will be adopted by institutes in coming days, he added.
Over placements, he said we are facing a crisis, as parents and students are worried about placements. Things are very unprecedented and hoped things will be back to track very soon.
Dr Ketan Kotecha, Director, Symbiosis Institute of Technology, Pune said "The Coronavirus has reshaped the higher education. There are lots of positivity in online teaching, however, e-learning will never replace physical teaching. Blended learning will provide better solution after post COVID. More things will come up in the coming days."
He also said technology cannot replace teachers but teachers can use technology for the betterment of the sector.
He hailed the new education policy and said it will provide more entry and exit points for students.
Over internships he said there will be more opportunities coming. There will be a shift in jobs buts they will not go away. The industries will require a new type of skills in students, he added.
Dr K P Isaac, Vice-Chancellor, Hindustan Institute of Technology & Science, Chennai said "We have to create a policy to fight against Corona. Our focus must be to minimize mortality and recover from the economic slowdown. We don't know when we are going to start our universities as things are very uncertain."
Over online learning he said online education can be substitute for university in this crisis. The peer to peer interaction needs to given importance as everything cannot be taught online. Industry engagement is also not happening due to the lockdown, he added.
He also said in coming days a huge surge will be seen in health sector.
He said assessment is a big challenge for universities, which needs to be taken care of.
He said connectivity is a huge issue and internet bandwidth is not good in all parts of the country.
Dr RD Patidar, Vice Chancellor, OP Jindal University, Raigarh, said "The biggest challenge for colleges is assessment and taking online exams. The theoretical classes can be conducted online but what about practical classes. Admissions will be a hugely affected due to the epidemic. The institutions in bigger cities will suffer the most."
He said online teaching can be a supplement but cannot be a replacement for teachers in the classrooms. The effectiveness of the virtual classroom is not so good as it's not interactive. The blended mode of teaching has to be followed by colleges. Now, role of faculties will change to facilitators.
Over seven lakh students every year were going outside the country to study but now they will study in India as mobility will be affected, he added.
He also said good placements depend on good internships. He even said colleges must focus on innovate skills and problem-solving abilities and must revise the curriculum.