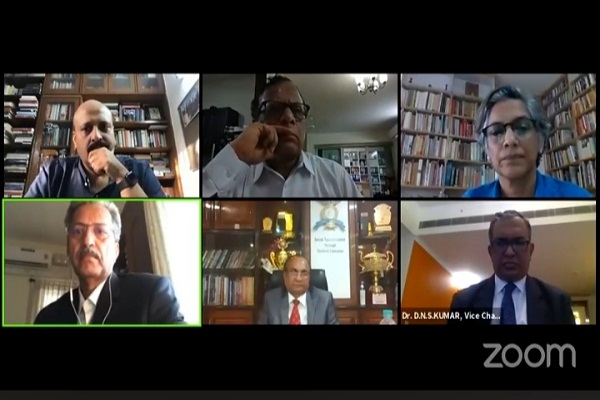 The whole world, including India, is passing through unprecedented times due to the outbreak of Covid-19 pandemic. As all universities, colleges and schools are closed due to national lockdown, the teaching-learning processes have been badly disrupted. The University Grants Commission (UGC) and other apex education bodies issued Covid-19 specific guidelines for Indian Higher Education Institutions resulting in about 1,000 universities and about 40,000 colleges temporarily closing, students being asked to go home and efforts being undertaken to online teaching. These measures have varying degrees of impact on over 3.75 crore students and 14 lakh faculty members.
Remote learning, distance learning, home learning, online learning, e-learning and webinar are the buzzwords of the day. Teachers working in elite schools in cities and big towns may proudly state that they conduct classes online. The educational institutions have adopted e-learning platforms to deliver study materials to students.

A webinar was organized by Elets Technomedia and digitalLEARNING Magazine on "Disruptive University" in the times of Corona times. The webinar has esteemed speakers from the Higher Education, who presented their views over the issue.

Dr. Amit Kappor, Chairman, The Institute of Competitiveness, New Delhi said "Disruption is not technology. We need to change the mid-set of faculties. Now, faculties have to change their role and act as an idea generator. There will be huge shift in education sector. Universities have to provide personalized learning and modular teaching. There will be challenges for students, as things are changing drastically."
He also raised concern over the plunge of general IQ knowledge level within the students.
He said now educators have to create entrepreneurs. Universities have to create entrepreneurial faculty. We have to create a new fundamental mid-set as universities are places for learning not employment. There is a technology gap within the students and we have to take it to last mile, he added.
Over exams he said, the role of regulator has to change and need to create new processes to evaluate. We need to understand the skill set of students, which they need for future prospective. The world has changed a lot in last few weeks and need to create academic experience for students, he said.
He also said the productivity of teachers has increased a lot and universities must provide time to faculties to upgrade themselves.
Dr. Anant Rao, Professor Emeritus and Former Vice-Chancellor, Dubai University, Dubai said "We have adopted online education for the last 15 years. Last month, the entire syllabus was put on online mode. The focus is on modular content. We have adopted modular outcomes. The learning outcomes will be mastered within three-four weeks. Students will take their own time to finish the modular courses."
He also hailed the new education policy in India and said it is outcome and employment-based. The syllabus will be reduced to 30-40 pc, when the institutes will be reopened.
With new things are coming up for students and they will not feel they have lost time. We need flexibility in education sector. We have to accept the reality and change in the education sector, he added.
He also said the transition has to take place in the education sector for the betterment of students.
Indian student have highest ability and capturing the ability of students is important for universities. Curriculum assessment has to be done by universities post COVID crisis.
Dr. M S Moodithaya, Pro Vice-Chancellor Nitte University, Mangalore said "Higher education stakeholders need to think different to rise from the unprecedented crisis. Disruptive University is one which makes changes regularly. In the post-COVID era, all the universities have to adopt new cost control ways to manage the financial issues. "
He also said new online education and tools are main challenges for universities. We have taken the challenge positively and adopted the technology. The remote teaching cannot replace the face to face teaching. Many universities don't have resources to provide digital infra for students, he added.
The online education must be adopted by universities for temporary basis as peer to peer learning is essential in campus. The universities must adopt blended teaching, when it reopens, he added.
Over placements, he said there will be an issue and we need to change the curriculum. We need to focus more skill sets rather than only academics, he said.
Dr. M. M. Salunkhe, President, Association of Indian Universities and Vice Chancellor, Bharati Vidyapeeth Deemed University, Pune said "The role of teachers will change, the mode of assessment will change and technology will play an important role. The traditional programmes of Universities will be challenged. Students will prefer smaller duration programmes which can help them in employability. Universities have to make their own technological platforms for providing education to students."
He further said universities must focus on quality education. Education institutes should be more vigilant over use of technology. The entry and exit points in education must be flexible. We need to bridge the digital divide within students, he added.
The universities must adopt blended mode of teaching and online education will be strategic priorities in coming days. Conducting exam will be the main challenge as all the exams cannot be done through virtually. Universities have to focus on content creation, he said.
He also said the pandemic has affected the universities as most of them have adopted online learning but things might change when campus opens.
Dr. D.N.S.KUMAR, Vice-Chancellor, Ansal University, Gurugram said "Currently, employability skills of students are less than 25 pc. We need to understand by the employability is so less. Three things are very important quality, relevant and personalised learning and certificate oriented education. What can we do is more important that what we are doing now. We must adopt entrepreneurial model for students. We need to focus on research on holistic perspective."
He also said universities must customize the education for students as industry will recognize the competency not certificates in coming days.
He said parents complemented steps taken by Ansal University's steps to engage students in this pandemic. The university had sensed the crisis and started training for online classes from the month of February.
Over teachers, he said the universities must bring teacher-led education and allow them to grow. The institutions must allow the younger faculties to enlarge their horizon as the social value is plunging.