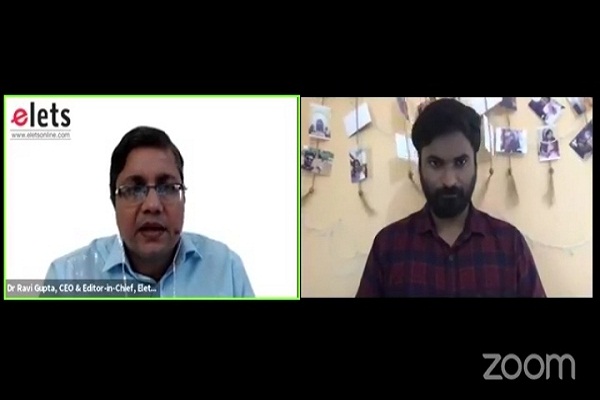 The Coronavirus epidemic has created an unprecedented halt in the education sector. With the closure of educational institutions, the uses of digital learning platforms have surged. Digital learning in India is going to be the key face of future education.  It is surprising to see how smart technologies are changing the overall educational framework in the country. The penetration of digital education into the rural market is evolving fast. Affordable high-speed internet and direct-to-device technologies are empowering rural students to study courses online and improve their skills and knowledge. The state of education in India is dismal, especially in rural areas. The sector is currently battling with grave challenges such as outdated teaching methods, shortage of teachers, inadequate student-teacher ratio, and insufficient teaching resources. Addressing the topic of "Future of Digital Education in Post COVID Era" Naveen Chandra, Asst. Collector & Asst. Magistrate, Malda, West Bengal presented his views in a webinar organised by Elets Technomedia and hosted by Dr Ravi Gupta, Founder and CEO, Elets Technomedia.
Speaking during the webinar, Naveen Chandra said "In Malda, child marriage is a major issue. We have started a project named "MaGiC- Malda Girls go Coding". The bigger challenge was from society, we had to convince the girls and parents for the coding classes. This project is running in every government school. The project will provide livelihood opportunities, skill development and empowerment to girls."
He also said a group of 30 girls consists of 8th and 12th standard, having zero experience of coding embarked on the exciting journey to learn the basics of computer programming.
He also said "Google will provide training to 42 computer teachers and will certify them. They would teach students of classes 4th to 8th, all of whom would also be certified. Most of the govt schools in West Bengal have computer teacher and labs for students and I had to only provide an internet connection to schools."
There is a huge digitalization in rural areas with the emergence of ed-tech platforms and the usage of smartphones. The computer classes are planned during break times so that students don't have to stay back after school hours. As there are many self-help women groups in the district, we have to create small self-help groups for coding and apps. Most of the govt schools in West Bengal have computer teachers and labs for students. The administration had to only provide an internet connection to schools, with a minimal expenditure of Rs 1500 for the project, he added.
He also said the govt schools have all the facilities for students and the project will change the image of govt schools across the country. He hailed the teachers and said they played an important role in this project. The facilities in govt schools are growing rapidly and with these trajectories, things will do well for students.
Naveen hailed many corporate houses for proving computers and projectors in schools to develop digitization in rural areas.
Over other implementations, he said there is a model to provide drinking water to every household, ensure education, solar lights and provide every possible govt support to the people. All the development carried in the district is done under the existing schemes.
He also said there are lots of aspirants for govt jobs but without any resources nearby they have to depend on bigger cities. To provide proper education, we have started a coaching center in the district and nearby students. The UPSC cleared officers will teach which can be helpful for aspirants.
He busted the myth over bureaucratic fraternity being pressurized by politicians.  He said politicians always want new ideas so that development can be done in their constitution. There is no political pressure on IAS officers. The political fraternity always helps us and very supportive.
He also lamented the way govt officials images are drawn with the general public. He said every govt official always tries to help the public. In the future, people will get their certificates at the doorstep. The govt will be at your doorstep as it is not feasible to address thousands of people.
Lastly, he said plan for the best but ready for the worst in life.