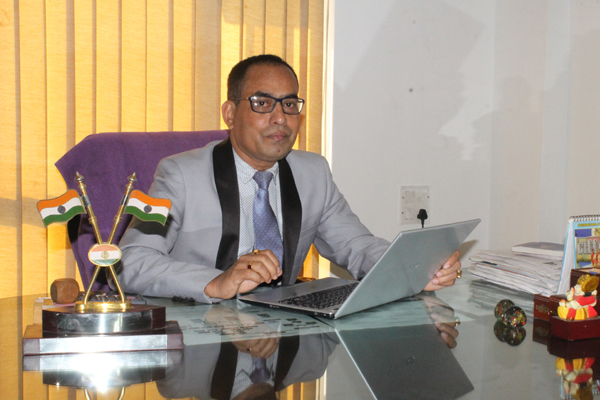 NPS International School has always believed that we can make the optimum use of the technology available to give the best available effective education to the students says Jitendra Nath Das, Founder & Chairman, NPS International School, Guwahati in a conversation with Elets News Network (ENN).
With the onset of the pandemic crisis and the lockdown the situation, the whole world is going through a major economic crisis and NPS International School stepped into the scene with a sustainable 'Forward-Looking ' vision and harnessed and utilized the suite of available technological tools to replicate regular classes and provide continuous effective learning for all our students. Turning a crisis into opportunity is the need of the hour and NPS International School has always believed that we can make the optimum use of the technology available to give the best available effective education to the students.
We started effective learning classes from KG to Class XII and moved a step forward and conducted interactive Virtual PTMs to get feedback and suggestions from parents. And now we are have started to evaluate our students through Online Weekly Tests.
We have to understand that to ensure that a child gives full concentration in online classes, he/she has to be a happy child. To make a child happy, co-curricular activities is a must and this is what NPS International School is focusing on.
Also read: How we can Teach our Children During the Times of COVID-19
Some of the extracurricular activities we are doing online for the students include: Yoga, Aerobics, Zumba, Music and Dance, Physical Training, Quiz Competitions. We are involving parents also to participate in dance competitions with their wards and thus ensuring that there is always a fun element in the learning process. Parents' feedback that we have received for our endevour has been excellent and this motivates us to do even better. Parents should be equally involved with the child now in an effective online learning process. A strong bonding will develop because of this crisis.
Teachers are playing a very important role during this pandemic. If Doctors and Nurses are healing the world, Teachers are shaping the world.
How we achieved what we did?
Finding effective, sustainable, quality, flexible learning options help schools during such challenging conditions. Our school identified three phases to counter this crisis and this is the way we moved forward:
• Immediate response or Relief Phase: Continuity of learning and teaching
• Interim Capacity Building or Recovery Phase: Moving to effective learning and homeschooling
• Sustainable or Integrated Approach Phase: Flexible effective learning and teaching options.
In phase one, schools audit available resources then make a plan for the next steps. Strategies like creating a timetable that combines asynchronous activities with practical activities like board games and many such games played with siblings and caregivers, and physical activity, and building in one-on-one catch-ups with students will help take the pressure off.
In phase two, schools put in place the structures and resources necessary to transition from face-to-face to online delivery, such as implementing a Learning Management System and training staff in online teaching. In phase three, schools have the organisational structures and teacher capacity to offer online, blended or face-to face learning with ease, making them resilient in the face of future interruptions to the school schedule.
NPS International School is the only school in the North East to introduce an online teaching platform from LKG to Class XII. Educators are encouraging homeschooling which is going to be the future of education in the coming years.
"Exciting news! Elets Education is now on WhatsApp Channels Subscribe today by clicking the link and stay updated with the latest insights!"
Click here!