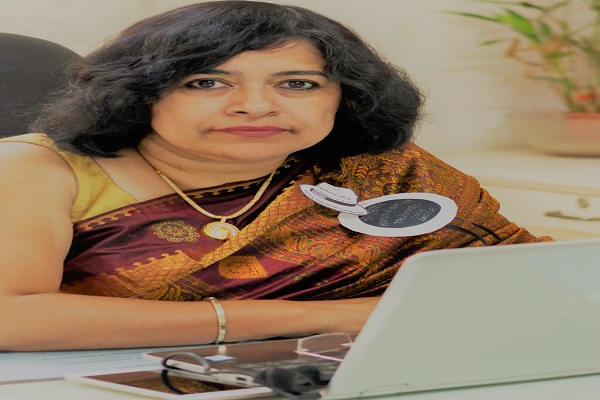 The Deliverables and Value-adds
STES' Sinhgad Institute of Management, the dream academic destination of many and founded by Hon'ble President Prof. M.N. Navale an education baron of this era, had organized a 3-day International Webinar on Transforming Education Through Global Collaboration: The Roadmap in Association with Savitribai Phule Pune University (SPPU), Faculty of Commerce and Management, Pune, Xavier Institute of Social Service, Ranchi, Corporate Gurukul Singapore, Happy Marketer Singapore, BPB Publications, Pune Business School (PBS) and Association of Indian Management Schools. There were 1000+ attendees (participants) including scientists, management gurus, with VC's of foreign universities, research scholars, industry professionals and aspiring students from across the globe. Dr Nitin Karmalkar Vice Chancellor of Savitribai Phule, Pune University had stressed on the incessant need for blended modes of teaching and learning with due focus to internationalization of education and adoption of curriculum 4.0, a strategy that is primarily sustainable and futuristic in form while I, Rev. Fr. (Dr.) Joseph Marianus Kujur, SJ, Director, Xavier Institute of Social Service (XISS), Ranchi had presented my perspectives on significance of Jesuit Education for uplifting the youth and the marginalized. Further the role of XISS in shaping young minds with conscience, compassion, competence, commitment and character has been very significant in previous and current times and would continue to be so in future. Dr.Parag Kalkar Dean Faculty of Commerce and Management, SPPU while expressing concerns due to onslaught of pandemic also shed light on the opportunities coming our way and how collaboration across the globe would actually bring in the transformation to make the prime stakeholders of academia global citizenship. Taking this initiative ahead I, Dr. Chandrani Singh Post-Doctoral Researcher in IT from Lincoln University Malaysia and Director – MCA)Sinhgad Institute of Management Pune along with staunch support of esteemed speakers and collaborators aspire that this transformation would soon get realized and cater to the needs of diverse groups and would advocate the principle of inclusion in real sense. The transformation in education as proposed and conceptualized by the global education torch bearers were diverse across the following dimensions. To adapt and adopt the new normal at this juncture special emphasis was laid down on the following that can be considered as takeaways for the global audience.
1. Learning Theories and The Importance of Collaboration- Change as is envisaged is a continuous process and this can be brought in, if collaboration of countries, societies and culture happen i.e. if there exists synergy between multiple forces working towards to bring in that said transformation/change. Here transformation can be initiated across the TLSRI (Teaching, Learning, Skilling, Research and Innovation) in alignment to Education 4.0 for the primary, secondary and tertiary education segments. Theories of behaviorism, cognitivist, connectivism, and constructivism all should work in unison to improvise on the mindfulness during learning. The said perspective in bringing about the transformation was presented by the Heads of Sinhgad Institute of Management, namely Dr. Daniel Penkar and I, Dr. Chandrani Singh, the key stakeholders of this event.
2. Transformation in Education – New Road Ahead (Post Covid Opportunities and Challenges)
Higher education is at crossroads and the world is facing a cataclysmic change because of the pandemic, triggered by a virus named as CORONA. On one end technology has been a game changer in facilitating teaching learning activities but on the other hand many of the HEI's are facing a serious threat owing to poor digital infrastructure, absence of techno-savvy trainers or mentors and learning facilitations or strategies which can improvise on student's engagements. A concern for the assessment and evaluation strategies was also raised and the approach of "safety net policy" especially for the final year students was, which ensure getting a score greater than or equal to the previous score received, subject to the condition the mentees pass the online assessments. Skilling a resource virtually, it's extensions and limitations were also discussed by the proponent of education transformation i.e. by Dr. Parag Kalkar Dean, Faculty of Commerce and Management, Savitribai Phule Pune University (SPPU), Pune.
3. Transformation in Education through Augmented Reality
Experiential learning using augmented reality, showcasing journey to mars in a stationed virtual bus is what learning segment will envisage a few years down the line and AR can be a powerful learning tool and can be the set of emerging pedagogies based on collaboration, interaction, creativity and innovation. Immersive learning and experiencing can increase student engagement and improvise on learner's productivity since Gen Z are most attracted to high end technology visuals that are interactive and creative. Information acquisition, processing and application of the knowledge works better for the Gen Z when learning experiences are augmented by real time scenarios in a virtual environment. Bringing in transformation, through augmented reality can be a possibility, was proposed by Dr. Amol Goje Chairman, Board of Studies, in Computer Management, Savitribai Phule Pune University (SPPU), Pune.
Also read: Sinhgad Institutes connect with their students online to counter the coronavirus 'shutdown' mode
4. Adoption of the blended mode ,e-content creation, syllabus partitioning and internationalization of education: Proposed by Dr. Nitin Karmalkar Vice Chancellor, Savitribai Phule Pune University (SPPU), who was optimistic about rural India's internet infrastructure getting a major boost in the near future for improvised interaction between the students and teachers. Internationalisation of Education is the need of the hour and that can happen if universities go online thus aligning to UNESCO's SDG 4.0 to expand accessibility and affordability. Technology-centered teaching learning, with helplines for counseling and syllabus compartmentalization comprising of self-study, group study and self-paced learning components should be the new modes of imparting education. E learning shall be emphasized, e content created to make educational units self-centered.
5. Understanding the challenges emanating from the present crisis, and our roadmap to counter : I, Fr. (Dr.) Joseph Marianus Kujur S.J., Director, Xavier Institute of Social Service (XISS), Ranchi would now elaborate on my thoughts by instilling in audience ,the prominent presence of Xavier Institute of Social Service, Ranchi as a centre of learning, critical thinking and excellence. In the purview of the global crisis due to pandemic, XISS is striving to impart value-based education and has always believed in innovation and continuous learning with digitization, thus, leading the path during this trying times of COVID-19 pandemic. The international webinar has proven to be the right opportunity for creating a roadmap for change.
6. Education transformation through advancements in science -The Blue Sky Research
The emphasis on learning science, of the phenomenal advancements and major breakthroughs, through incisive and complex researches needed strong foundations in the STEM vertical. The session was delivered by Dr. Archana Sharma Principal Scientist at the CERN Laboratory in Geneva, Switzerland working on Higgs Boson and large Hadron Collider. The session on existence of matter versus antimatter, the Maxwell's Equations – The electromagnetic nature of light, Bose Einstein statistics, Quantum Mechanics, Fermions and Bosons, the fundamental forces of nature, The Big Bang Theory, The structure of Matter, The Higgs Boson's theory and the brief on Large Hadron collider ( LHC ) was an eye opener for many expanding their horizons of knowledge extending to the ideation of teaching science and technology using the E2 formula(Experiment and Experience).
7. COVID-19 Pandemic: Impact and Strategies for Education Sector: A statistical analysis
The need to have robust research centers in Universities and Institutes to propel students more towards investigative or experimental learning is a step towards bringing innovation in a more pronounced format in the education segment. A staunch proponent of Data Science involving Big Data and Deep Learning, Dr. Amlan Chakrabarti Prof. and Director, A.K. Choudhury School of IT, University of Calcutta, Distinguished Speaker at IEEE and ACM stressed on the need of the Education segment taking up the onus of investing resources (capital and physical) in the domain of healthcare research in alignment to the sustainable development goal.
8. Education 4.0 and the Paradigm Shift (Technology leads Education)
Transformation in Education is crucial as Education 4.0 is instilling a paradigm shift from being supply led to being demand driven and competency based, instilling the lifelong learning syndrome with a focus on skill building on disruptive technologies and relying on candidate's IQ and EQ both for improvised productivity. Prof. N K Goyal Chairman E TEMA & President CMAI and Dr. C.N. Narayana, Director Pune Business School while speaking on the paradigm shift also stressed on the need for consumer centric educational strategy with a focus on new jargons as AI, Block Chain, Big Data, 5G, 6G and so on.
9. Pedagogical Innovations through Technology Enablement and Internet Infrastructure
Usage of several learning tools and platforms to drive student engagement and India as a nation with its competency and competitiveness can mold the educational and technology infrastructure (Connect India scheme, Digital India scheme of Govt. of India) to promote internationalization and thus ensure global citizenship which can be the key to ensure accessibility and inclusiveness. These and below changes were foreseen by Dr. Bhimaraya Metri, Director Indian Institute of Management, Tiruchirappalli and Dr C.N. Narayana Pune Business School.
10. Emphasis on perpetual learning – Skilling, re-skilling and up-skilling
Skilling, re-skilling and up-skilling should be continuous and consistent and there should be "sense making skills" that is today one has to think about what is going to come tomorrow.
11. Blended Learning and Collaborative Administration
Augmented Reality, Virtual Reality, Machine Learning as well as the robust digital infrastructure are enriching online and blended modes and the teacher has to change from a teacher to an advisor. Now the leader has to listen to all best practices and give full empowerment and collaborative leadership should prevail for assured outcomes.
12. Sustainable Development, 4th Industrial Revolution and the holistic approach
Inclusivity, Innovation, Integrity, Infrastructure where curriculum is a part of pedagogy, followed by assessment and accreditation and last but not the least research. Lessons should be designed using the six tenets. New learning is dependent on knowledge, learners have already acquired. Learning is dependent on attention and cognitive engagement. Emotion and cognition are intertwined. These were the perspectives put forth by Prof. Suarabh Sinha Deputy Vice Chancellor, Research and Internationalization, University of Johannesburg, South Africa.
13. Higher Education and the need for democratization
As nations transitioned from the agricultural to the industrial age in the last century, literacy became a necessity. High school was the terminal education for the masses. Even today, we celebrate high school graduation as if it is a terminal degree. Unfortunately, today high school education commands only minimum wages ($15 per hour) and it is not enough to economically survive in large metro cities. As society transitions from the industrial to the knowledge age, the wages (income) disparity is likely to grow even farther. The Gini coefficient for income inequality is rising exponentially and so is the case with wealth disparity. History has demonstrated that such income and wealth disparity leads to demonstrations, protests, and eventually revolutions. Consequently, democratization of higher education is in the self-interest of society to prevent social, economic, and political unrest. Digital technology has become a great enabler of democratizing higher education through the three A's of democratization: -Accessible, Affordable, Aspiration. He concluded Pandemics change the world. Pandemics' by default are negative there is an opportunity to re define how and what we can do to think. Post Covid-19 new competitive and collaborative landscape will emerge. The above perspectives were presented by Hon'ble Dr.Jagdish Sheth, Charles.H. Kellstadt Professor of Business at Emory University and recipient of award –Padmabhushan 2020.
14. Active learning strategies in virtual environment
Multiple modes of delivery like conducting video lectures, online chat, document etc. suffixed by maintenance of student's interaction and proper planning of the courses with the distribution across offline and online mode, initiating rounds of discussions and deliberations among the peer for improvised learning outcomes were the perceptions presented by Dr. Shreajad Jimmy Gandhi, Associate Dean at Tseng College, Northridge, California State University.
15. Education 4.0 – Unlearning to self-learning and self-paced learning
The seamless integration of smart technology like AI, Robotics, Machine learning, IoT etc. has changed the regular lifestyle of education providers and seekers. The emergence of SWAYAM – the online educational portal and "SWAYAM PRABHA" by Government of India has made accessibility of education possible for the remote villages and lifelong learning is now the new normal in the era of Education 4.0 with old age person and busy professionals who are willing to study but are hesitant to sit in classroom or study through conventional methods. The usage of very powerful teaching learning infrastructure as in Google Classroom was practically demonstrated by me Prof. (Dr.) Rik Das, Assistant Professor, XISS, Ranchi and ACM Distinguished Speaker.
16. Edtech Organization's contribution to transformation in Education
Education has moved from a public funded domain to privately funded initiative and has envisaged a transition from being scarce to abundant because the information is available at the fingertips of each and every individual. The progression of EdTech companies to bring in the change can happen only through connecting – advancing – experiencing – discovering – creating and managing, were the thoughts and ideas put forth by Mr. Prantik Mazumdar, Managing Partner, Happy Marketer, and Regular Columnist in Economic Times & Business Times.
17. Application of Experiential Learning Model
Imbibe critical thinking and research skills (Head), understand yourself and your passion, area of interest and create relationships (Heart), learn by doing, attempting and failing (Hand) and use CG (Corporate Gurukul) learning model which constitutes of Know, Practice, Perform and Reflect approach. Rajesh Panda, Founder of Corporate Gurukul, Singapore stressed on the applied experiential learning model constituting of Immersions, Apprenticeship, Internships and Hands on Project Work. He also proponed the design of individual-focused learning framework by leveraging AI to identify
– Individual Passion/ Interest
– Individual Learning Data
– Creating New Learning Algorithms
– Individual Assessment Feedback
– Gamification of Learning Online
– Blended Approach
– AR/ VR in Learning
– Experiential VIRTUAL Learning
– Personalised Recommendation based on Learning Habits/ Styles and to how to scale personalized learning online.
18. Collaborative Education and Digital Learning
Gautam Chattopadhyay Senior Scientist at NASA's Jet Propulsion Laboratory, California Institute of Technology, a Visiting Associate at the Division of Physics, Mathematics, and Astronomy at the California Institute of Technology, Pasadena, USA, BEL Distinguished Chair Professor at the Indian Institute of Science, Bangalore, India ideated on "collaborating locally and thinking globally" in which he expressed his desire to see innovation hubs across the HEI's to solve the global problems in the specialized domain of healthcare, environment and the generic domain of science, technology, engineering and management.
19. Need for standardization and ranking of technical institutes
Dr Sanjay Basu, Former MD Sandvik, Former Director, IIT Kharagpur, emphasized on the necessity of standardization and ranking of technical institutes that will help both the students and employers and also laid down the request to the HEI segment to follow dual "sandwich " programme of apprenticeship, the key facilitator in skill building. He also cited the challenges and the gigantic effort required to skill resources from the massive, impoverished, largely neglected hinterland of India.
20. Paradigm shift in syllabus restructuring
Ms Shilpi Talukdar: AVP Bacleys, NYC. Mentor Stevens Institute of Technology, US stated that The banking sector is one of the areas to get affected in this pandemic and to recover from this the banking sector has to restructure the entire scenario and their stakeholders may get highly impacted in due course of time. She also emphasized on driving innovation through the partnership of academia and industry and intervention of industries in restructuring of the syllabus and specialized training programs might help in making stakeholders skilled and competitive.
21. Ensuring a seamless supply chain from education service consumers to industry as consumers
Mr. G K Pillai, Director and Advisor, Walchandnagar Industries Ltd. Pune intertwined, inextricably, the output of the educational institution must be the input of Industry and a disparity between them could result into a struggling economy.
He also said the educational institution should focus more on practical knowledge and nuances and learning is a process that cannot be solved through online merely.
22. Digital publishing and literacy skills
Dr. Noella Edelmann a senior researcher at the Department for Governance and Administration at the Danube University Krems, presented her views on open access publication strategies "us and them" and explained the impacts of open access, institutional context/support and official policies, the societal factors as in knowledge sharing, co-creation; the role of indexes and visibility; the impact of the digitalisation on scholarly communication and personal strategies: stereotypes and misunderstanding of the OA phenomenon.
23. Education 4.0 and dynamics of IIOT
Mr. Atul Jawale of R&D unit of Siemens Industry Software India Private Limited introduced the seven principles of IIOT such as Perpetual Connectivity, IoT data, Time-to-Insight vs Depth-of-Insight etc and stressed on what transformations, IIOT can bring in to revolutionize education in the era of Education 4.0
24. Liberating Higher Education
Jayant Shah Executive Director at Academy of Indian Marketing, shared his views on evolution and the liberation of formal education by focusing on the parameters such as time, technology, innovation, policies, new knowledge and stakeholders.
25. Inquiry and Empathy- A student centered learning approach
Dr. (Prof) Madhumi Mitra is a Professor of Biological & Environmental Science at University of Maryland Eastern Shore, Baltimore, US shared her approach of student centered inquiry learning and explained her program of 2-tiered self-reflection and propositioned the transition from content-centered to learning-centered. She also talked about the ecological ethics and environmental justice that should incorporated in the global syllabi of the HEI's to restore and sustain the environmental harmony.
Authors
Fr. (Dr.) Joseph Marianus Kujur S.J., Director, Xavier Institute of Social Service (XISS), Ranchi
Dr. Chandrani Singh Post-Doctoral Researcher in IT from Lincoln University Malaysia, Director – MCA and Sinhgad Institute of Management,Vadgaon
Rik Das, Ph.D. (Tech.), Assistant Professor, Program of Information Technology, Xavier Institute of Social Service, Ranchi and ACM Distinguished Speaker