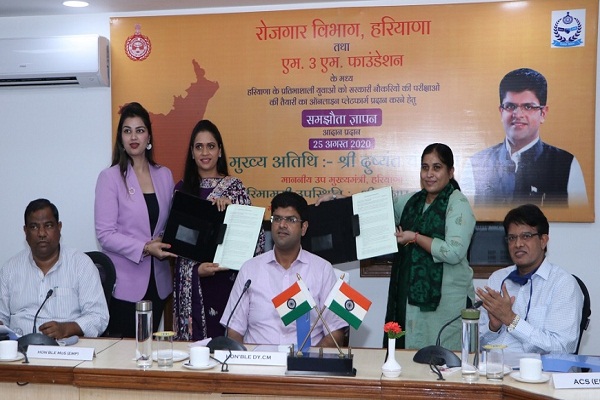 A Memorandum of Understanding (MoU) has been signed between the Department of Employment, Haryana and the M3M Foundation in order to facilitate the online preparation, training and mentoring for the government jobs for the students. The MoU was signed between Director Department of Employment Haryana – Seema Kaushik and Trustee, M3M Foundation at Haryana Niwas in Chandigarh – Dr Payal Kanodia.
The MoU has been signed between the two in order to build and strengthen the partnership between both the institutions in order to enable the students to access quality preparations for the entrance examinations for Government jobs. The MoU has been signed with an aim for the Haryana state government to link one approximately 1 lakh candidates to government jobs within and outside the state in the next two years.

Also read: IIT Kanpur signs MoU with Alliance Francaise to teach French to students
Other dignitaries present at the occasion included Haryana Deputy Chief Minister Dushyant Chautala along with the Minister of State for Employment – Anoop Dhanak, Rakesh Gupta – Department of Employment, Haryana, Additional Secretary to Department of Employment – Shri T. C. Gupta, Haryana, and Aishwarya Bansal, Trustee, M3M Foundation.
With the help of the MoU a programme will be conducted to select 50,000 candidates for the online training based on the performance of the candidates previously in the government examinations in the state.