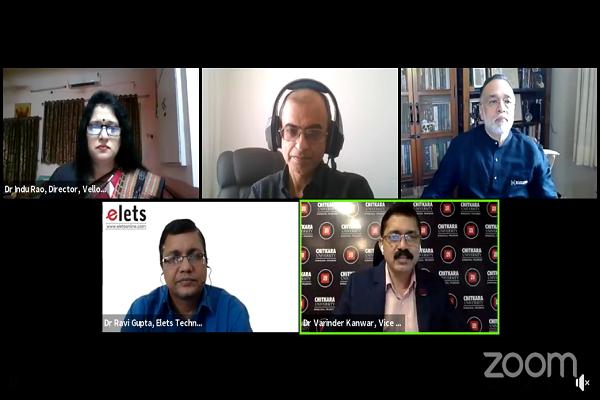 Higher education has never mattered so much and to so many as a means of social mobility, an engine of economic growth, and a defender of democracy. In order for higher education to fulfill its promise as a great equalizer, we need continued innovation that can move us toward increased access, affordability and equity. This innovation will develop an ecosystem that will include a range of opportunities for a variety of high-quality educational experiences and credentials with marketplace value suited for the differing needs of students.
In an effort to meet the needs of these types of learners, new programs and providers of education have begun to emerge within and in partnership with institutions, offering new models of learning opportunities such as industry aligned, job-based training programs; online learning; short-term boot camps; and competency-based education.
Elets DigitalLearning Magazine in association with Harappa Education organized an exclusive webinar on "Building A Cadre of Online-first Faculty". Dr Ravi Gupta, CEO & Editor-in-Chief, Elets Technomedia welcomed the eminent speakers.
Dr Varinder Kanwar, Vice Chancellor, Chitkara University, said "Online classroom cannot replace the traditional ones. The pandemic has taught us to think out of the box and bring more innovations to classroom. We have to adopt blended learning in coming days. It's an opportunity for all of us to introspect our education system. We need think how to compete with the Western world. We need to change ourselves as this is the need of the hour."

Also read: Educators: NEP will be a great leveler, implementation will be challenge
He also said "With online classes, teachers have to prepare more. Teachers' training is very important in these times. It's very important to create a balance for teachers and students."
Technology will play an important part in education in coming days, however, with time we will be forgetting the situation in coming days, he added.
Charanpreet singh, Co-Founder and Director, Praxis Business School, said "Teaching has become more innovate in this pandemic. In higher education, "brick and mortar" way is here to stay. The HEI will address the needs of students in coming days. The digital divide will surge if pandemic continues. "
He also said "Online is here to stay and it will help to improve the quality of education in coming days. For many students campus is a better place to study. We need to bring technology to students. Online education will act as supplement the higher education. Off campuses education will grow in HEI in coming days."
Dr Indu Rao, Professor and Director, VIT, Vellore, said "The quality of education will not suffer in online learning. There are no distractions during the online classes. With digital drive a lot of energy and time is saved and our students have adapted the online education. The online education is here to stay for a longer period."
"The skills are very important and universities are looking to inculcate skills and values within the students and teachers. We need to create a culture of values within our universities", she added.
We need to inculcate skills within the students and faculty members and train them to use properly, she added. She also said, the end goal is very important.
Dr Pramath Raj Sinha, Founder & Chairman, Harappa education, said "The students are getting disrupted badly in these testing times. The video is putting a lot of load on students. We all must spare a through for students in these times. Online learning is here to stay and it will bridge the gap and improve the quality of education."
"In our country, people are not getting good education. An online teaching break constrains of classroom and more students can be reached. Future looks very exciting for students, he added.
"Our aim is to provide high quality of education for all. True innovation in education will come out of India. We have different type of challenges in India and need to address it. We are aiming for online first for students'," he added.

br>