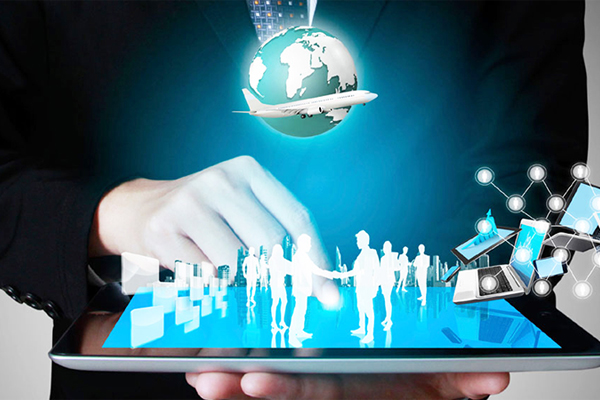 In order to compete in a global competitive environment, a highly skilled and educated workforce with aptitude and skill sets in application of ICT is inevitable for every nation. A detailed analysis by, Pankaj of Elets News Network (ENN).
In the age of innovation and productivity, most Nations are focusing on ways to improve knowledge generation and sharing; and creation and flow of new technologies. In this scenario, it has been duly recognized that implementation and adoption of ICT in a nation at all levels, would certainly contribute and enhance its productivity, efficiency and growth. ICT is inevitable for all sectors and all segments across regions. The COVID crisis has accelerated the usage of technology in education.

ICTs offer the potential to share information across traditional barriers, to give a voice to traditionally unheard peoples, to provide valuable information that enhances economic, health and educational activities. The role of ICT cannot be undermined keeping in view its pertinent uses. ICT is useful in education; for digital literacy and developing all kinds of resources; in infrastructure development; in logistics management; in healthcare; for livelihood generation and empowerment of masses; for e-governance; in administration and finance; specialized business and industrial uses; agricultural uses; in research and development and for economic growth and poverty alleviation. ICT has a direct role to play in the education sector. It can bring many benefits to schools, educational institutions as well as to the community.
Also read: Prometheus school aims to create lifelong learners

ICT is the convergence of computer, communication and content technologies. It has attracted the attention of academia, business, government and communities to use it for innovative profitable propositions. In order to compete in a global competitive environment, a highly skilled and educated workforce with aptitude and skill sets in application of ICT is inevitable for every nation. ICTs are a potentially powerful tool for extending educational opportunities, both formal and non formal, to previously underserved scattered and rural populations, groups traditionally excluded from education due to cultural or social reasons such as ethnic minorities, girls and women, persons with disabilities, children with special needs and the elderly, as well as all others who for reasons of cost or because of time constraints are unable to enroll on campus. Use of ICT will catalyse the cause and achieve the goals of inclusive education in schools. There is no conclusive research to prove that student achievement is superior when using ICTs in the education space, either in the developed or in developing countries. However, there is a general consensus among practitioners and academicians that integration of ICTs in education has an overall positive impact on the learning environment.
ICT is important in schools and educational institutions as it assists in carrying out their activities and functions such as record keeping, research work, instructional uses, presentations, financial analysis, examination results management, communication, supervision, MIS, teaching learning activities, and general school management functions.
ICT benefits schools in several ways: (i) enhancing learning in classroom; (ii) improving school management and related tasks; (iii) improving accountability, efficiency and effectiveness in school activities; (iv) introducing usage of Power Point presentations and internet.
Literature reveals that when well-utilized, ICT in schools has the potential to improve the teaching learning process in many ways. ICT is learner centric and hence brings about active involvement of students in the learning process. Students get motivated when learning activities are challenging, authentic, multi-sensorial and multi-disciplinary. Schools tend to witness a higher attendance, motivation levels, academic accomplishments and effective communication as an outcome of ICT programs and projects. Teachers too gain as a result of ICT initiatives. They find ICT to be useful for teaching as well as for personal and professional work. Application of ICT in teaching makes teaching more innovative, interesting, interactive, easy and effective. It complements the traditional teaching learning process.
While imparting knowledge with the aid of ICT, educators find that students are more receptive and responsive. Also, ICT can help to impart more information and knowledge to students in a shorter time, enabling maximum utilization of resources and time.
Although ICT has the potential to improve education system of a country to a great extent, yet it is not the case in the developing countries. There are multiple issues and challenges confronting the implementation of ICT education in schools and educational institutions in these countries and the problems are much more magnified in case of schools located in remote villages and rural areas. For rural schools in specific, the introduction of ICT faces hindrances in the form of internal and external barriers.
Internal barriers to ICT implementation in schools in rural locations include:
Lack of trained teachers- A major obstacle in the use of ICT in rural education is the lack of knowledge and skills. There is dearth of dynamic teachers formally trained in ICT. Moreover, there is hardly any quality training imparted on a regular basis to teachers involved in ICT education.
Unfavourable organizational culture and poor attitude and beliefs-Often in developing nations, the educational organizations and school management fail to perceive the importance and seriousness of the role of ICT in education enhancement. Also, the teachers attitudes and beliefs are outdated and orthodox. They are unaware and rigid and not willing to adapt to the change. They harbor false beliefs that ICT is meant primarily for the youngsters and are skeptical about the effectiveness and utility of ICTs in school education.
Shortage of time-In schools, teachers are usually burdened with multiple tasks other than teaching. Moreover, they have to teach all types of subjects along with ICT. They do not have time to design, develop and incorporate technology into teaching and learning.
The teacher needs time to collaborate with other teachers as well as learn how to use hardware and software and at the same time keep oneself updated with the latest technology.
Insufficient funds- Appropriate and latest hardware and software facility availability determines the effective and efficient usage of technology. In developing countries, technology implementation into education systems is a difficult task as it requires a magnum of funds, infrastructure and support facilities.
Challenge of language and content- A large proportion of the educational software produced in the world market is in English. Majority of online content is available in English. In developing countries, English language proficiency is not high, especially outside the urban areas which becomes a serious barrier to maximizing the educational benefits of ICT.
Crucial external barriers in the implementation of ICT in rural schools are:
Shortage of equipments- There is lack of computers and computer-related resources such as printers, projectors, scanners, etc. in government schools in rural areas. The ratio of computer per student is insufficient. The option of private schools is very few or missing in these regions. There is a mismatch between the complementing resources and inappropriate combination of ICT resources result into reduced diffusion of technology as well as poor ICT understanding in these educational institutions. Unreliability of equipment- Even the basic ICT equipments and computers possessed by rural schools are unreliable and undependable. The schools lack up-to-date hardware and software availability. Old and obsolete equipments are major hindrances to ICT adoption and application.
Lack of technical support- Rural schools face issues related to technical know-how, absence of ICT service centers, shortage of trained technical personnel. Whether provided by in-school staff or external service providers, or both, technical support specialists are essential to the continued viability of ICT use in a given school. Without on-site technical support, much time and money may be lost due to technical breakdowns. One of the major obstacle to optimizing computer use in schools has been the lack of timely technical support.
Resource related issues and internet- Rural schools usually face trouble with respect to the availability of ICT related resources such as supporting infrastructure, uninterrupted electricity, supplementary resources like multimedia, projectors, scanners, smart boards, and so on. Despite being an integral component of the ICT, internet is lacking in most rural schools. Most schools cannot afford the high fees charged by internet providers and even where there is internet, slow or erratic connectivity destroys the very essence and impact of ICT.
Other external factors inhibiting the usage of ICT in rural schools are social and cultural factors inherent to these regions, lack of initiative by community leaders, corruption and burglary.
Revolution in information and communication technologies has reduced national boundaries to meaningless lines drawn on maps. In this scenario, education has been identified as one of the services which need to be opened up for free flow of trade between countries. India is developing as a knowledge economy and it cannot function without the support of ICT. The gap between demand and supply of education has necessitated the government and institutions to formulate policies for more beneficial use of ICT.