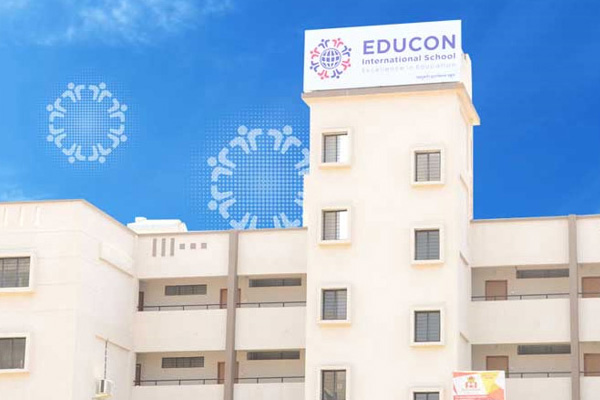 Introduction
Ranked amongst TOP 5 innovative teaching schools in India and ranked no. 1 in Maharashtra under the ICSE Parameter wise for 'Co-Curricular Education.' Educon International School, Baner is successfully implementing the concept of "Living School" by imparting its curriculum for excellence following Holistic well being pedagogy and education for global citizenship. Holistic Well being approach is practiced by leaving behind the hypertrophy of mind and harmoniously develop all dimensions of students like Emotional, Physical, Intellectual and Creative.
Campus Facilities
To complement innovation in Academics EIS provides state of the art campus and infrastructure. Campus is made very safe and secure with the help of multiple CCTV's covering all the school areas and classrooms. Access control doors restricts the unauthorized access of any individual within school premises. Students learn in temperature controlled classrooms with innovative learning equipment like personalized tablets and Digital content. Excellent library, STEM Lab (a true blend of science, technology, engineering & math), Computer Lab, Music/ Dance/Art room, Enrichment Zones (Indoor Sports room, Activity Room, Soft Gym) , A huge Sports Ground leave no stone unturned in providing the best to all students. A canteen offering delicious, hygienic and nutritious food gives plethora of options in diet.
Online Education Will Be a Strategic Priority at Every Institution
Technology Integration has long been a key area of concern in education. New and Emerging Technologies are provoking a reconceptualization of T/L processes while serving as a catylst for Transformation and Innovation.
Technology is also instrumental in redefining the role of an educator from "sage on stage to guide by the side ". The online education framework provides a platform for teachers to facilitate learning by creating Innovative Learning Environments.
Engagement and motivation in learning , Specific and Alternate Learning Experiences , Student driven learning , Interactive and Collaborative Learning ,Flexibility and personalization in learning are the benefits a learner derives from these Innovative Learning Environments created by technological integration into the curriculum . Post Covid Online education and blended learning will be an integral part of the curriculum design framework.
Also read: EIS aims to achieve holistic well being of learners
Mission
Purpose of education imparted at EIS is to enable each student to be a successful learner, a confident individual, a responsible citizen and an effective contributor. Our Qualified, creative, competent staff, comprehensive curriculum for excellence and student centric safe learning environment shall develop in students the zest to be lifelong learners.
Vision
EIS seeks to prepare students for life and active participation in a global multicultural society by developing in them knowledge and understanding of the world while retaining the traditional Indian Values.
• E – Excellence in all Aspects of School
• D – Dedication in Imparting Quality Education
• U – Unique Innovative Concepts of Teaching Pedagogies
• C – Commitment towards Building a Nation
• O – Optimistic Approach towards Learners
• N – Nurturing Young Minds with Care and Affection
Innovation
Pedagogical Model of "Flipped Classroom" enables students to take up the video lessons of the study topics at their own pace as revision in comfort of their home and to a suitable depth of understanding. The use of "3D Learning" in the classroom offers enormous potential as a tool in teaching and learning. While the TED-Ed Clubs in school presents its students the hands-on opportunity to enhance their presentation and public speaking skills that will be vital, a School Radio Station run by the students and for the students helps to express their views and build their confidence whether it is discussing important issues or sharing ideas.
Recognition
Educon International School is recognized by International Associations and received many awards and accolades in the category of Best School in Pune West, Hygiene and cleanliness, Innovative Teaching, Pedagogical Innovation, TOP 100 schools in India, Excellence in advanced Skill development program and Global school champion. EIS is also a Microsoft School since 2017.
Response to Covid-19 Pandemic
The Covid 19 impact on our schools and community is rapidly changing by the minute. Therefore our action plans and responses must evolve accordingly. As our country continues its preparation and efforts to flatten the pandemic curve, we as educators should deploy alternate learning methods to ensure the learning curve of all our students continues to move upwards. At Educon International School (EIS) our Virtual Learning Framework (VLF) has been successfully leveraging technology to engage, motivate and actively involve students in their own learning.
Latest Advancement – EIS Virtual Learning Framework (VLF)
EIS Virtual Learning Framework is a curriculum design environment to achieve specified learning objectives by deploying technological tools to deliver the curriculum content and keeping learner engaged by real time communication and collaboration. VLF gives flexibility to the educator as well as the learner to choose a technological tool to disseminate learning across all learners making the entire process student centric. VLF consists of Content Design, Curriculum Mapping & Planning, Learner Engagement, Communication and Collaboration and Real Time Communication (RTC).
EIS VLF is supported by the Skype / Zoom and MS Teams Video conferencing sessions, Flipped classroom, School E-diary platform, Short whatsapp videos, Facebook live, E-Diary online activities of expressive arts and specially designed educational tools like Kahoot, bricmath, Coderz, Flipgrid and many more.
The Analysis of Online readiness survey conducted by the school guided us to deploy the appropriate tech tool to ensure that it reaches all our students , eliminates the digital divide and enabled to meet the specified learning outcomes.
Our school's pedagogical model of Flipped classroom enabled teachers to demonstrate resilience as a skill and ensured that learning never stops at EIS by making a seamless transition from traditional learning to online. With the help of Facebook Live facility a first ever Online Summer camp was organised where plethora of activities like art and craft DIY, Music, Dance, cooking, coding, science experiments, Academics with fun, and many more were taken up to stay connected with all our students. They are now posting articles, poems, activity videos and beautiful paintings more than ever!
Amid all this, teachers also continued with their CPD by taking courses online to keep them abreast of the latest teaching/ learning pedagogies by international facilitators. Staff members also donated their one day's salary to the CM relief fund to help the Government in fighting the battle against Covid19 and demonstrated the attributes of an Effective Contributor and a Responsible Citizen.
With all this and more, EIS is all set to change the way Education is imparted.