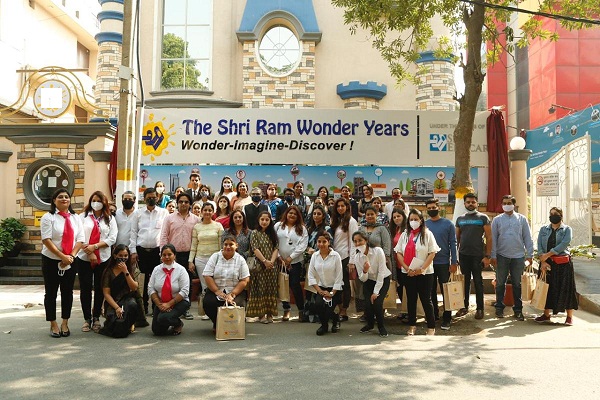 The Shri Ram School, one of the premium schools in the country, has opened its 1st Pre-school in Delhi building named The Shri Ram Wonder Years (TSWY). It is opened in academic collaboration with Shri Educare Limited. TSWY is known for value-based education and teaching methodology with a child centric approach to teaching and learning.
The decision to open TSWY at Rohini was based on the rising aspirations of the parent community of Rohini, Pitampura, Paschim Vihar, Shalimar Bagh and Punjabi Bagh to get access to top quality preschool and school education for their children.

TSWY ensures a safe, warm, happy and ever evolving environment for learners. With this underlying mission, the preschool facilitates an ongoing process of growth in a safe, supportive and nurturing environment, where each child is valued for his or her individuality and uniqueness. TSWY believes in a strong partnership between the parent, child and the school.
Also read: Sainik Schools to bring in OBC reservations in admissions
Sumedha Goel, Director, TSWY Rohini, said, "We are committed to bring the top-quality teaching and learning environment at Rohini. We are determined to take forward the legacy of love and trust that the Shri Ram Early years schools are built upon".
The Shri Ram Schools follow the principle of its founder of promoting individuality through value-based education. The schools promote a global outlook and yet retain Indian cultural traditions. "I am happy to see the vision of Manju Bharat Ram, the founder of The Shri Ram Schools, being carried forward by The Shri Ram Wonder Years at Rohini.
Talking about setting-up The Shri Ram Wonder Years campus in Delhi, Mr Himanshu Jain, CEO, ShriEducare Ltd, said,"It gives me immense satisfaction to see the children of West Delhi being given the opportunity to learn and grow at The Shri Ram Wonder Years, a preschool known for our strong values and firm belief in providing children with the best possible education in a safe and secure learning environment.