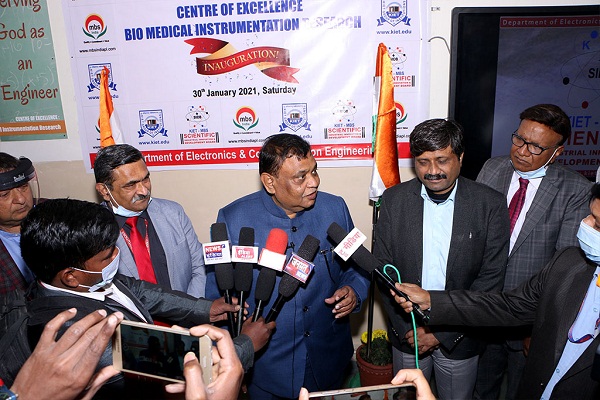 KIET Group of Institutions, takes one more step towards accomplishing the vision of National Education Policy (NEP 2020) and establishes another unique Centre of excellence for "Bio Medical Instrumentation Research" on 30th January 2021 to prepare doctors of equipment. The was inaugurated by Atul Garg, Minister of State Ministry of Health and Family Welfare, Govt. of UP and Dr. Manju Shiwach, Gynecologist and MLA Modinagar, Ghaziabad graced the ceremony as the guest of honor.
National Education Policy 2020 envisions an India-centric education system that contributes directly to transforming our nation sustainably into an equitable and vibrant knowledge society by providing high-quality education to all and KIET Group of Institutions endeavours to incorporate the same by setting up this Centre of Excellence. This Centre of Excellence will be dedicated to providing the Research and Development platform in the Institute with an objective of producing end products, research papers, and patents. It will aim to prepare the industry ready workforce through practical & hands on learning by employing Reverse Engineering thus contributing to the mission of Make in India by producing commercialized products within the country thus reducing imports of medical equipments. It will even help in the development of in-house entrepreneurs.

Director-KIET Group of Institutions, Dr. A Garg enlightened the audience with the need for collaboration between Electronics and Bio Medical engineering as the future medical industry. He said "The institute has been proving its mettle in every phase with excellence since long and we feel extremely proud when we take any new step towards realizing the aims of new policies. Several unique Centers of Excellence are already running in the various departments of the institution and today we are going to add on to the list by inaugurating an innovative and ingenious center for "Bio Medical Instrumentation Research " which is going to be a pearl in the series. Herein I take this opportunity to thank and appreciate MBS India who has reflected a tremendous trust in the capability of academic institutions and tied up with us for such an incredible task. This would undoubtedly give a giant leap to the thought process of industry leads and we expect more and more industrialists to come forward with such initiatives. "
Also read: KIET spreads awareness regarding COVID 19 Vaccination during Republic Day

Atul Garg said, "This collaboration of KIET institution with MBS India is a significant step towards change, change in the learning of students, change in the thought process of industrialist, change in the vision of medical entrepreneurship and let us aim to contribute our bit in developing the equipments and making India self sufficient."
Dr. Manju Shiwach congratulated, appreciated and thanked KIET family for this innovative venture by saying that as we are aware that we have been technically advanced since ancient times, this centre of excellence is going to contribute immensely in the techno medical fields and the institute should take this forward in the field of advanced medical equipments in future."
Dr Sundeep Rohila, CEO-MBS, India briefed about the Vision and Mission of Centre of Excellence named Bio Medical Instrumentation Research and shared that he chose KIET over highly renowned institutes and universities just because he saw that passionate fire in the hearts of KIET students.
The event was blessed with the august presence of the Chairman of KIET, Shri Sarish Agarwal; the General Secretary Shri Sunil P Gupta and the Joint Director Dr Manoj Goel. The event was headed by Dr. Sanjay Kumar Sharma, Dean (Research & Development) and HoD (Electronics and Communications Engineering). The Deans, Associate Dean (R&D) and Additional HoD (ECE) Dr. Vibhav Sachan, Dr Ruchita Gautam and ECE Faculty Members participated actively in the accomplishment of the program.
This Centre is the result of the collaboration between MBS India and the Department of Electronics and Communication Engineering, KIET Group of Institutions, Delhi-NCR, Ghaziabad and the professors Mr. Shubham Shukla, Mr. Sachin Tyagi and Dr Parvin Kumar kaushik along with the students have been designated with the responsibility of looking after this esteemed Centre of Excellence.
KIET Group of Institutions is one of the premier destinations for young minds, offering courses in Engineering, Management and Pharmacy. It continuously strives for the welfare of its students providing them with best opportunities both on the national and international platforms.