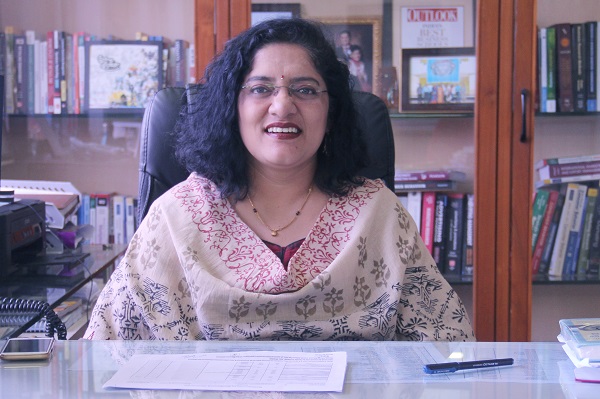 Owing to such a change, "modern organisations'' have become synonymous to "technology-driven organisations." This is what is called Industry 4.0, says Dr. Pratima Sheorey, Director – Symbiosis Centre for Management and Human Resource Development (SCMHRD) in a conversation with Elets News Network (ENN).
In the past two to three decades, technology has been changing at an ever-increasing pace. Digital transformation permeates all fields of life and work. Technology and digitisation are necessities rather than a luxury and have therefore become all pervasive. This applies to the field of business and management too. With time, technological changes have caused a marked change in the employment and occupational pattern. Owing to such a change, "modern organisations'' have become synonymous to "technology-driven organisations." This is what is called Industry 4.0.
As technology continues to transform business functions and related fields, there also arises a corresponding need for the business schools and management institutes to prepare their students for these changes and equip them with the skill sets to cope with the ongoing changes. Since these institutes play a key role in determining the future workforce, they also play a crucial role in having it adapt to changes faster and even leverage them. Alongside bearing the onus of a changing workforce, the schools need to embrace technology to not just stay competitive but also to churn out a technologically agile work force. The institutes, therefore, need to look beyond their traditional knowledge and incorporate new skills into their systems for the following reasons.
Also read: How Indian Institutes are Empowering Education by Collaborating with Foreign Universities?
Change in Work Structure
The earliest example of technology impacting business has been manufacturing technology. It has led to automation and robotisation. Such manufacturing advances have eliminated several blue-collar jobs and have replaced them with fewer but more highly skilled jobs and will continue to do so in the future. A similar pattern is observed in office automation, wherein computers and management information system (MIS) are altering the nature of office work. This changing work structure often remains unaccounted for or is not considered in-depth when discussed or taught in the classrooms of B-schools.
Virtual Organisations
As mentioned earlier, technology has changed the nature of work. The extent of this is seen in virtual organisations where employees do not need to be present at the same location to work in collaboration. These have become a separate kind of organisation by itself and have been gaining prominence in the past decade, and off late have received a thumbs up during the pandemic.
The workflow and structure of these is again very different from conventional organisations which the new workforce must be accustomed to.
Facilitating Workflow
Technology in the first place, was introduced to organisations to make work faster, more efficient and easier. The purpose remains the same till date. Technology must be developed to bring traditional functional knowledge within the business and create programs that the employers and employees will want. While technology is developed by computer scientists, it is the employees and the managers that have to outline its functions and working. This again necessitates that the people in managerial roles understand technology, it's scope and possibilities.
MOOCs
From the point of view of the business school itself, technological knowledge helps it to expand its reach. This happens in the form of MOOCs which have been garnering interest since the end of the last decade. Reputed universities and business schools from across the globe are utilising these as a tool to provide a glimpse of their education to learners from all over the world and from different backgrounds. Some have also started giving online degrees based on the completed MOOCs. To be able to utilise the courses and deploy them in the best possible manner, institutes need knowledge of the digital realm.
Changing employment norms by way of gig employment
Since on demand service, behavioral targetting and customisation became popular – the same concept has entered the engagement with the workforce. It is important to understand that gig employment aided by the gig economy is gaining a hold and is likely to impact the employment modes. Companies would of course prefer on contract specialist or even generalists to optimise resources and costs and yet get a quicker turnaround of tasks. Ability to understand the changing nature of work is the need of the hour and therefore schools need to sensitise the students regarding the same such that they are better prepared for all eventualities.
Education
Lastly, something that has been talked about quite frequently of late, is technology in day-to-day education of the students. The pandemic has emphasised the utility of technology in not only aiding distance learning but also in holding the students' attention and helping them grasp concepts better. Only the institutes that have been able to efficiently cope with the shift to the digitisation of learning and will continue to prosper in the future.
Digital transformation has taken several forms today including Virtual Reality, Augmented Reality, Blockchain and so on. It has also become so deeply rooted in the way business is carried out to an extent where it is being used to automate contracts. In such a scenario, it becomes vital that business schools put sufficient focus on digitisation of business for the benefit of the workforce as a whole and for their own future. The key to keeping up with technological changes will be finding ways to marry the various forms of technology to suit the needs of the organisation – be it an educational institute or a corporate unit.