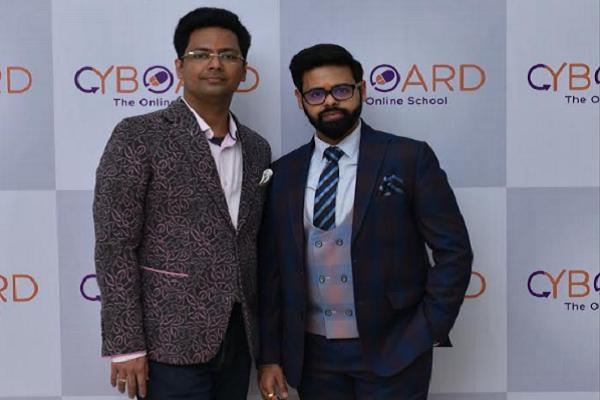 Cyboard is a 100% online school accredited by the International Accreditation Organisation (IAO). The school was founded by our co-founders Mr. Rajat Singhal & Mr. Kunal Singhal. Cyboard has changed the way we look at education. A different and unique approach to teach and make your kids grow in the right direction. We have taken that extra step ahead.
We are delighted to announce that Cyboard School has been declared as the ''Winner of 19th World Education Awards 2021'' under the category ''Leading School in Online Teaching Practice'' at the World Education Summit 2021.
This pandemic has changed the way education and knowledge was imparted to the children. In this tough time where schools and classes are closed for over a year, Cyboard School has revolutionized the educational system in India by bringing India's best online school at the comfort of your homes. Currently we are offering classes for grades 1 to 5, following a CBSE pattern.
Also read: Unique online school "Cyboard School" launches in India
E-learning is the new normal. We at Cyboard have a lot to offer our students. With the adoption of technologies, our live online classes are powered by Artificial Intelligence (AI), the AI tools help track students' facial and emotional attention in live classes. This further helps in generating student assessment reports. AI tools have made learning very simple; it has done away with parent-teacher meetings. Now parents can directly login from the parent login section and get access to wholesome student assessment reports and so forth.
We are India's best online school for a reason. We have India's best teachers on board; our experts have cherry picked the best teachers from across the country. Cyboard teachers are our backbone and represent the Academic Team. Our curriculum is reimagined to fit the needs of the current situation and demand. Virtual learning is safe and the best option at the moment for all the kids.
Apart from our core study books like Science, Computer, Maths, English, Hindi etc, our online classes also focus on short quizzes, interactive & playful learning, Co-curricular activities like yoga, theatre, arts, crafts, drawing, singing, event celebration, student online camps and much more. It's a holistic approach that is followed here.
A lot of effort is put by the Cyboard team to provide a quality and effective online schooling experience to the students. The best part of Cyboard is its affordable and pocket friendly fees. We've kept our fees below what is offered by other schools. We understand the financial hardship the parents have gone through in this pandemic.
Cyboard students' learning portal known as Learning Management Systems (LMS) is technologically very advanced. Live classes, study material, quizzes, online test, class schedule, student report card, holiday list, school announcements, teacher login, parent login section everything is found at our LMS. Our AI tools are working round the clock to make everything smooth and a cake walk.
Being India's best online school, we do have a systematic and thoughtful management physically present to deal with all our children and parents' queries. We are physically present and our corporate office is located in Gurgaon, Haryana. A space for our Co-founders and dedicated departments like Academic team, Finance department, Sales & marketing department are located here.
To sum up, we all can now say that Cyboard is?
100% online school
AI powered learning and student tracking
Accredited by IAO
India's best experienced and certified academic team
Reimagined & progressive curriculum
Advance LMS for smooth classes and activities
Friendly & affordable fees
Just need a smartphone/tablet/laptop to start learning and growing from the comfort of your homes.
As said in the beginning, Cyboard is India's best online school, it firmly stands with the notion. We always believe in quality and excellence; all efforts are put in and made sure that no stone is unturned when it comes to overall learning and development of each child.