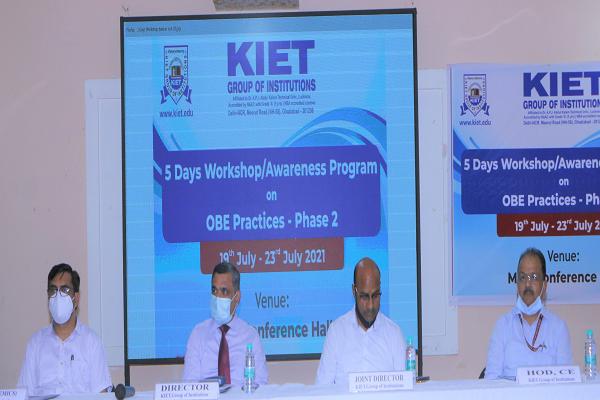 KIET Group of Institutions, Delhi-NCR, Ghaziabad organized a 5-Day Workshop on Outcome Based Education (OBE) Practices (Phase – 2) from 19 July – 23 July 2021 for its faculty members. In continuation to this, on 24th July 21, an esteemed external expert Prof. N. J. Rao, Ex-Chairman of Centre for Electronics Design & Technology (CEDT), IISc Bangalore, delivered an online lecture on Outcome Based Education.
The workshop covered all the major aspects of Outcome-Based Education. On the first day, the concept of Outcome-Based Education and three domains of learning (Cognitive, Affective and Psychomotor) were discussed with the faculty members. On the second day, the importance of the Taxonomy Table, Structure of Course Outcomes, and Program Specific Outcomes were discussed. Hands-on exercise on the alignment of Course Outcomes, Instructional Activities and Assessment Items was done on the third day followed by an exercise on Course Outcomes Mapping with Program Outcomes and Program Specific Outcomes on the fourth day.

The workshop concluded on the fifth day (24th July 2021) with an exercise on assessment of Course Outcomes, Program Outcomes, and interaction of participants with the Director, Joint Director, and Dean, Academics of the Institute. Prof. N. J. Rao addressed all the faculty members and explained the importance of Outcome-Based Education. He delivered a lecture specially focused on the Alignment of Elements of a Course.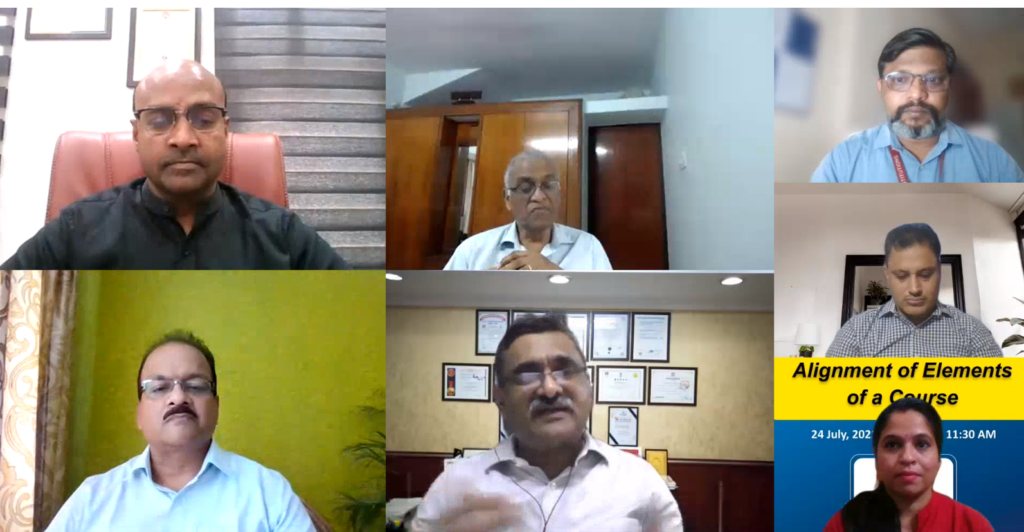 Dr. A. Garg, Director, KIET Group of Institutions emphasized on imbibing the correct Outcome Based Education practices in academic activities of the Institution. Prof. Dr. S.K. Tiwary (HOD-CE) stated the significance of the workshop and made the participants aware of the need for alignment of Course Outcomes, Instructional Activities, and Assessment Items.
The internal resource persons for the workshop/ awareness program were Dr. Shailendra Kumar Tiwary (Professor & HOD –CE), Dr. Atul Kant Piyoosh (Professor – CE & Associate Dean –OBE), Prof. Yaduvir Singh (Assoc. Prof. – EN & Assistant Dean –OBE). The workshop was organized and coordinated by Dr. Prateek Gupta (Assoc. Prof. –MBA), Dr. Pravesh Singh (Professor –ECE), Dr. Neelam Rawat (Professor –MCA), Honorary Captain K. P. Singh (Admin Officer), Prof. Siddharth Jain (Assistant Prof. –CE), Mr. Vinay Ahlawat (Head –ITSS) and Dr. Sonia Verma (Assistant Prof. – HSS). A total of 65 faculty members participated in the workshop.
The workshop turned out to be a great learning and insightful experience for all faculty members in the domain of Outcome-Based Education.
KIET Group of Institutions is one of the premier destinations for young minds, offering courses in Engineering, Management and Pharmacy. It continuously strives for the welfare of its students providing them with best opportunities both on the national and international platforms.