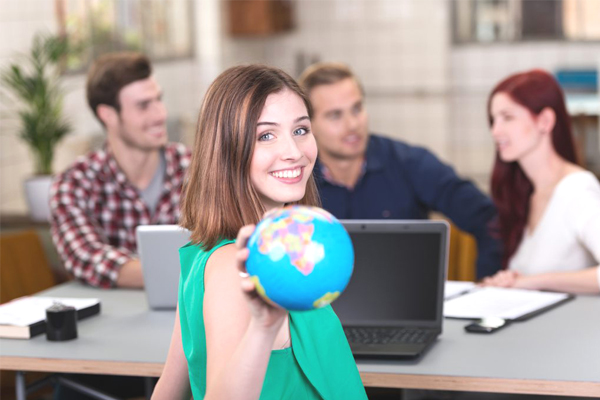 Due to Covid 19 pandemic, the students were showing less interest in studying abroad in 2020. Currently, the trend is changing due to the relaxed norms in many countries, Namrata Hazarika from Elets News Network writes about the future of studying abroad.
Every year, lakhs of students move from India to pursue higher education. Due to the Covid 19 pandemic spreading across the globe, Indian students became cautious in going overseas because of strict rules and regulations. Things are easing up in 2021 as an increasing number of candidates are going abroad for studying.
The experts believe that the best countries for higher education currently are the United Kingdom (UK), Canada, the US and Ireland. Since last year, the COVID 19 has created a catastrophic situation, which has shown an impact in the overall statistics on the number of students going abroad for studying. According to data from the Ministry of External Affairs (MEA), it is observed that there has been a significant drop in the number of students going to study overseas. Around 2.6 lakh students went abroad in 2020 as compared to 5.9 lakh students in 2019.
Opportunities for studying abroad
In the first two months of 2021, nearly 72,000 Indians went abroad to study. This number may see a spike shortly as visa appointments are opening up for the admission of students in countries of interest. Piyush Kumar, Regional Director (South Asia), IDP Education, said: "Indian students have shown more inclination towards pursuing higher studies in the UK, US, Canada, and Ireland due to revised admission regulations, flexible vaccination policies and attractive visa rules, keeping in mind the convenience of the aspirants."
Also read: Education Abroad: Budget Destinations on the block
"Recently, the UK has become one of the most favourite destinations for Indian students because of the attractive Post Study Work (PSW) Visa and the extended deadline for entry to the new PSW visa. Furthermore, students beginning their course this autumn or early next year will need to be in the UK by 6 April 2022. The authorities in the UK have also proposed a plan to vaccinate Indian students arriving in the UK by consulting a local doctor," he added.
"Furthermore, many UK degrees, especially at the undergraduate level, include the chance to take on an internship so Indian students can get valuable work experience during their studies," said Emma Payne, International Recruitment Manager, Global Engagement, University of Hull.
She said that international students can work up to 20 hours per week during term time, which provides great opportunities. "Learning in the UK education system increases critical thinking abilities, which are highly sought-after skills in the modern workplace," she added.
For affordable living, Canada is a popular destination for foreign students. There are also work visa opportunities, and quality education extended by high-ranked universities. "Besides, Canada is gradually lifting the travel restrictions for fully vaccinated international students," Kumar added.
However, the US is also not staying behind in attracting students from other countries. The simplified admission processes and waiving of tests like GRE and GMAT for Indian students have provided an advantage.
"Ireland is becoming a top choice for Indian students as Irish universities provide immense opportunities to international students. Hence, the number of Indian students has been increasing in Ireland for the last 30 years. Ireland is home to advanced higher education in sectors like ICT, life sciences, and pharma, which gives it an edge over other countries," he added.
In addition, relaxing admission deadlines and suspending submitting standardized test scores have made studying abroad easy and applicant-friendly.
Manish Shah, Managing Director, Kanan International, also said, "Indian students studying abroad also have the wonderful opportunity of working part time during their studies and also working full time during their post graduate work permit or optional practical training and gain valuable professional experience. In some countries, the students even have the option of applying for Permanent Residence in the long run."
Trending subject in future
The pandemic has changed the way people think. The global educational trend has transformed with the introduction of online learning platforms.
Students are now focusing on subjects like artificial intelligence, machine learning, data analytics, coding, process automation, biomedical science, nursing, medicine, cybersecurity, genetics, virology, epidemiology, digital marketing, business insights and analytics. There are immense job opportunities in the future in these areas of learning that the students can pursue. 
As we all are aware, the health system is currently witnessing a crisis due to the COVID 19 pandemic, students are focusing on the future to remain competitive and accommodate themselves with the market trends. Kumar said, "The Indian students can look forward to blended learning with online and offline classes and post-work visa permits. Also, to sustain a competitive job market and accelerate robust digitalisation amidst the pandemic, it's right for students to explore skilled-based courses."
"Considering the burden on health infrastructure, the jobs in sectors like Biotechnology, Health Informatics, Pharmacy, Equipment, Manufacturing, and Health Care Infrastructure will also rise, which will lead to great interest in foreign education in those streams," he added.
Factors to consider before flying overseas
Moreover, the students consider some prominent factors before choosing the countries for higher education. With the introduction of online learning, Kumar said, "The ongoing global pandemic has put whole education to remote learning, online admission, and assessment with a safe learning environment. So, one of the key factors students should consider before choosing an institution is the mode of education. Students should see colleges offering hybrid learning. The students can even compare the tuition fee, financial aids, and flexible admission regulations offered by different countries."
"Some of the prominent factors are the college and university ranking, the credibility of the institution, eligibility criteria for admissions and visa, demographics of the intended country of studies, financing and scholarship options, options of resettlement, career opportunities, the socio-cultural and socio-economic fabric of the planned country of studies," said Shah.
He added that Kanan International has indigenously developed an online learning platform "KananPREP" that has assisted more than 25,000 students across the country during the period of the pandemic."
"Apart from this, we have dedicated E-Counselling slots, virtual education fairs via "K-Events" to ensure the students and parents are not deprived of key information during such challenging times," Shah added.
The students should focus on choosing the best universities and colleges that will help them in the long run and reap great benefits in bagging jobs.
Vaccination stress among students
Students are taking stress to get vaccinated before attending classes in overseas destinations. Shah added,  "Indian students have been travelling abroad for their higher studies for almost a year now as not all the study abroad destinations had placed stringent restrictions on the travel of the students. A lot of students are now getting their jabs and becoming eligible to travel abroad. We recommend that students opt for the vaccines Covishield and Pfizer as these vaccines carry global acceptance. In the days to come, as the infection wanes off, more and more Indian students will now be able to travel abroad to pursue their study abroad aspirations. 
In this context, Kumar added, "We are optimistic about future possibilities for international students. Several countries such as the UK, the US, and Canada are changing their rules and regulations and providing better access to early vaccinations, healthcare infrastructure, and apt financial support to students. Few of them also vaccinate international students in their universities after completing the quarantine process in a government-designated hotel." 
"Indian Government has students who are pursuing or have to start their intake or planning on studying abroad on the priority list. Besides, to save up their time, the Government has also reduced the gap between the two doses of WHO-recognised Oxford-AstraZeneca Covishield from 3 months to 28 days in specific cases," he added further. 
"Many have already taken Covaxin, and the authorities are working on getting their issue resolved soon. The possibilities are higher that soon it would be on the approved list of vaccinations," Kumar added further.
Few countries like Canada and Australia exempt fully vaccinated students from mandatory hotel quarantine or shortening the quarantine period. Moreover, it is the best time for students to go abroad due to the accessibility and flexibility provided by international colleges and universities.