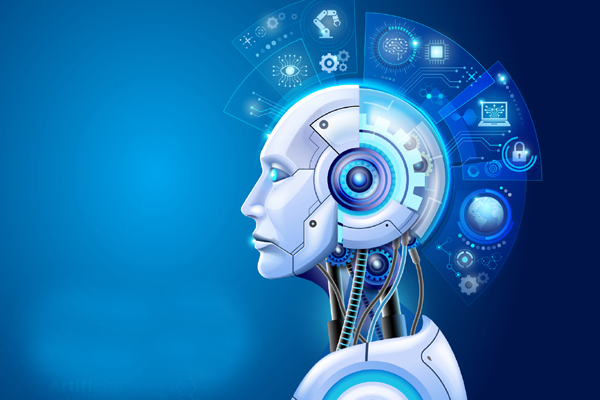 As Artificial Intelligence (AI) influences all the sectors, India's higher education is no different. AI-based technologies are becoming popular among higher education for improving the quality of learning. Namrata Hazarika from Elets News Network (ENN) writes on the influence of Artificial Intelligence in higher education and explains why technology is critical.
Since the pandemic started in 2020, higher education is witnessing an increased need for implementing the latest technologies to provide online education. AI has the potential to automate and democratize personalized adaptive learning for students. It will help to mitigate the learning gaps and generate learning interests among students, increase learning ability, language affinity and improve learning pace.
Why is Technology critical in Higher Education?
Vaibhav Gupta, Alliances & Marketing Head, iSchoolConnect said, "With technologies like chatbots, adaptive learning platforms, virtual teaching assistants, and immersive classrooms emerging, several universities and colleges are collaborating with organizations that can help them use AI for their benefit."
"Tools like chat bots and smart text messaging allow colleges to answer students' queries at lightning-fast speed, keeping prospective students interested and engaged. Universities can also analyze the data of their applicants to figure out which applicants are serious about applying, how many of them deserve financial aid, and when a student may or may not submit their application," he added.
Mentioning about platforms like 'Knewton', Gupta said that it uses AI to understand a student's proficiency level, identify the gaps in their knowledge, and provide them with the relevant course material for staying on track. Meanwhile, immersive classrooms and virtual teaching assistants, like Jill at Georgia Tech, are helping students learn in a more memorable way while also saving the staff's time and costs.
The experts believe that this kind of education platform needs to be implemented by Indian universities and colleges that focus on AI tools to assist students and faculty members. Due to the pandemic, higher education has to shift quickly to AI-based technologies but the adoption of AI in higher education is slowest in India. The universities and colleges in the higher education space need to collaborate with technology companies to empower online learning.
"AI will not only help higher education to transform student experiences, but also free up the university staff to work on and solve more demanding problems. It is essential to remember that the best results will come when we combine the strengths of AI with human ability," Gupta added.
Shashank Shwet, Founder and CEO, ImaginXP, said, "Artificial Intelligence has acted as the main driver of emerging technologies like Big Data, Robotics, Robotic Process Automation (RPA), Machine Learning (ML) and Internet of Things (IoT). It will continue to act as a technological innovator for the foreseeable future. AI has brought upon the big change in learning by effectively implementing social emotional learning frameworks."
The impact of AI has changed the learning landscape recently. With the help of smart content, students can create their own lessons and do self earning. "AI is simplifying the teaching methodology through automated class management systems, analysing students' interest in class through facial recognition. Automated grading systems will increase the objectivity of learning and can judge the performance of students. AI helps in curating personalised learning dashboards, based on current knowledge level and provides recommendations," Shwet added.
In a similar line, Dr. Sanjay Govind Patil, Associate Dean and Director – RICS SBE Mumbai, said, "We all have observed that during Covid 19 pandemic students are able to attend classes from remote areas with the help of technology. However, most of the tools used to deliver classes in online mode are through presentations or live lectures. This immense technological transformation has served the purpose to engage students and complete the task during this trying time."
Challenges: Adoption of AI in Universities
Are higher education able to adapt to the changing scenario and new-age learning methods? Implementation of AI in higher education comes with its own challenges. The major challenge is lack of access to upgraded technology and its implementation is a time-taking process. It's also interesting to note that many educators have come up with creative solutions to practice interactive learning and help their students take full advantage of learning from home. AI uses a lot of high-end tools, which affects slowdown in operations. There is less alignment between technology, curriculum and instruction from educators. It requires potential planning, design-thinking and training among educators.
Dr S.S. Mantha, Chancellor, K L Deemed University, said, "Many universities and colleges have entered the digital space by using learning management systems (LMS) for content sharing, assessments, assignments, etc. Bringing AI into current LMS systems can help universities and colleges to increase the student participation through active learning methods and also create a personalized learning experience. However, the technology is in its nascent stage and is evolving continuously. Well established universities are experimenting with AI technologies and paving the way for others."
He added, "Although democratization of AI is ongoing, one of the challenges we encounter in adoption of readymade AI technology as it needs high investment and therefore, the usage of AI has not reached all tiers of institutions."
Kavita Khanna, Head of Department Computer Science & Engineering, School of Engineering, The NorthCap University added that AI-based deep learning techniques require a large number of processing resources to complete the tasks. "And it's always been found that there is insufficient computing capacity to implement these AI techniques. The second issue comes from the internet connectivity at home and campuses. Feeding large amounts of data to AI algorithms would need the personal data of students and faculty which can create privacy and security issues. There is and will always be a strong need for emotional intelligence which AI, at least in the current scenario, lacks. However, it has a long way to go before it can fully meet its potential," she added.
Industry stalwarts believe AI involves processing a huge amount of data, which can hamper security. Currently, the protection of personal information of students, teachers and parents is a challenge. Cyber-attack is a major issue in online learning and restricts implementation of AI freely.
Dr. Sujata Shahi, Vice Chancellor, IILM University, Gurugram, added, "As covid pandemic stuck, Indian universities used the best practices and modified the learning method to suit the requirements of Indian students. Higher education segment has to enrol industry experts in AI to create new, modify existing or curate novel curricula in the field of AI, both from the management and from technical perspective."
It is clear that implementation of AI in India's higher education will take some time to fully incorporate it in the education system. The sector can boom only if the higher educational institutes deal with the potential challenges and show confidence in using technology in imparting learning and teaching.