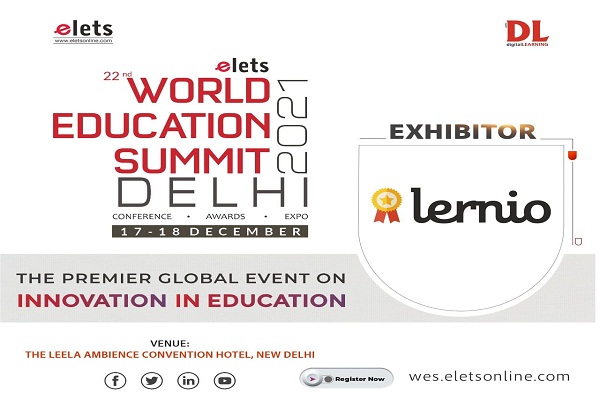 Lernio is an interactive mobile-based app, which is a fun and easy-to- use free tool that allows schools to improve parent-teacher communication. Lernio will join as an exhibitor at the Premier Global Event at the 22nd World Education Summit', to be held in December 2021, at the Leela Ambience Convention Hotel, Delhi.
The Edtech industry proved its merit during the COVID 19 pandemic by introducing technologies that are helping to streamline the e-learning process. It is requisite for educational institutions to adapt to the changing scenario and accept technological transformation. The educational sector will evolve with the implementation of smart learning techniques in the learning and teaching process.
However, technology will definitely play a crucial role in educational experience. Companies like Lernio are currently helping to shape the education industry. It is evident that edtech companies are going to address the challenges the Indian education system is currently facing in the learning process especially in online learning. Lernio is the most user-friendly platform for online and on-campus schools to connect with parents.

Lernio's product features will help parents interact with their children on a secure network. The application of Lernio is easy to use and similar to any modern-day apps. Elets Technomedia Pvt Ltd. has put its efforts to bring such technology-driven companies in front of our audience so that India's education fraternity understands the need for such tech-enabled solutions in education institutions.
The app has amazing features that are necessary during these times. Many times parents are unable to know about their children's activities in the school. To fulfill this requirement, Lernio is providing this application to have high-quality parent-school connections. With this app, the parents do not feel left out and get involved in school activities regularly. Teachers can simply click pictures and record videos in real-time and post them on Lernio app's timelines. The app has resemblance with Facebook's style and improves engagement between schools, teachers, students and parents.
Needless to say, teachers have proper communication with parents with this platform. Lernio's presence at the 22nd World Education Summit, 2021, will help the audience to be aware of such platforms and build school-parent relationships.
So, save the date to join us and learn more about Lernio's products and services.
Follow and connect with us on Facebook, Twitter, LinkedIn, Elets video
>